Valentine's Day is about love and is the day to celebrate the spirit of love. Valentine's Day is not only for adults and teenagers, it is also for young kids in daycare and elementary school. It is not about how much money you spend on the gift cards, but to show your appreciations to the ones you love and care.
Beginning of the year is a good time to shop winter boots, or winter jackets and parka as we blogged a few days ago. But please expect to get deep discounts for Valentine's Day gifts. Besides, V-Day is not about shopping like a Christmas, although retailers do want to sell you as many as possible for the holiday. For parents with kids at daycare or elementary schools, they need to shop for gifts for teachers and students. You don't have to spend a lot of money to make everyone feel special. Here are some ideas: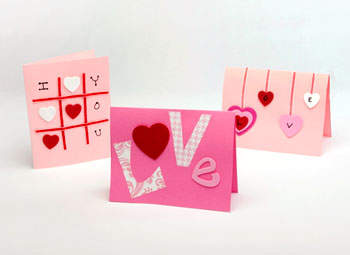 1. Take your time make a card for everyone. Here are some ready-to-print cards ideas. Then decorate the cards with crafts such as pink hearts, shining beads, etc.
2. Write Valentine's cards by hands. Write your own words, or copy a poem from internet. Make each card unique so everyone feels special.
3. Attach lollipop to each Valentine's Day card.
4. Write down you name on each card. Or attach a photo.

5. If you have extra budget, prepare a goody bag for everyone, filled with pencil, heart-shape eraser, stickers, bouning balls, or sticky hand, etc.
And last, don't forget to decorate a shoebox. Your kids will be asked to put all the valentines into the shoebox and bring it to school on Valentine's Day.
Orientaltrading.com and BirthdayInAbox.com are the two websites I would shop for goody bags. We have many coupons for Orientaltrading, such as $15 off with $85 purchase or more, or free shipping with $49 purchase. BirthdayInAbox.com never offers coupons, but their prices are very competitive. I can't tell you which one offers better prices, because they have totally different products. I like Orientaltrading's toy assortments very much, and they are good for all occasions.
For teachers, gift cards are the best. A $10 one is good, while some people may spend $15 or $25. GC for Target, Walmart, and Barnes & Noble are the most popular ones. Barnes & Noble had an offer in the past holiday season: receive an $10 e-giftcard for free with $100 gift card purchase online. If this offer come back again next year, you should use it and get your Valentine's cards ready in advance.