For people shopping bras only at Victoria's Secrets, I have to tell you that there are more options online now. There are more selecitons, more colors, more sizes, and more discounts at online stores. Don't get me wrong, I don't hate Victoria's Secrets. There is just no need to waste time on trying bras, since I know exactly what sizes or styles I need. If you are not sure, here is a guide on how to measure the right bra size.
BraSmyth.com is my number one place to shop bras. It is running a "2 For Deal" sale, 36 styles are included. It does not offer coupon codes. But price drops or free shipping deals are available all the time.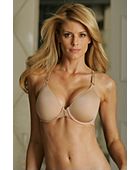 Le Mystere Signature Y-Back Underwire Bra Buy 2 and Save.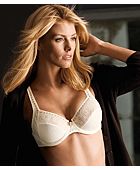 Chantelle Arteforme 3-Part Cup Underwire Bra Buy 2 and Save.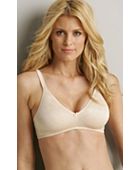 Grenier Dream Comfort Buy 2 and Save.
Soma.com is running a "Buy 1 Get 2nd 50% off" sale, 22 styles included. Receive free shipping with $100 order if you place the order before Feb. 6. See Vintage Satin Bra($48.00), Minimizing Susana Bra($49.00), Ravishing Push Up Holly Bra($42.00), Ravishing Plunge Push Up Bra($45.00) in the picture. With 50% off the 2nd item, prices are unbeatable! Soma is also running a "70% off Semi Annual Sale", many bras, panties and sleepwear to choose from. Coupons do not come very often for Soma.com. Try to use code 11178 at checkout. It will save you $20!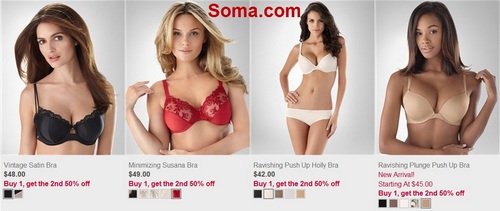 EssentialApparel.com is running a 20% to 25% off all bras sale. It offers bras for your essential needs at a very affordable price. See price below, they are only $25 each! And it offers 10% off coupon quite often, however there is active one as of today.

FreshPair.com is offering $10 off sports bras today. There is no active coupon code as of today. Freshpair has the largest selections of bras, and many of them are 20% to 30% off the original prices.