Winter will be gone within a month or two. People who can't wait for the summer are looking for shoes for spring/summer already. But do you know now is the best time of the year to buy boots, especially winter boots? Let me show what boots are sale and how to save you big money at different online retailers.
6pm.com: Designer boots on sale this week, all boots are 70% to 80% off MSRP. Look at these boots, Lisa for Donald Pliner only $59.99! 6pm also carries boots by Joan & David, Michael Kors, Cole Haan, and many more. Most of the prices now are from $50 to $200, compared to the original prices from $300 to $500!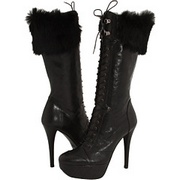 My favorite brand is Stuart Weitzman. See this glamorous boot, made in Spain, now only $161, was $535! 6pm.com only offers 10% coupon for Black Friday and a few days during the Christmas season. Otherwise do not expect any other valid coupons for 6pm.
Endless.com is part of Amazon.com, offers largest selection of shoes, from low prices to designers' brands, from active shoes to dress shoes. It is running a boot sale lately, all boots are up to 45% sale. And it is also running a sale on select athletic shoes: 20% off with order of $75. See these 7 for All Mankind boots, one of my favorite brands. Endless.com only offer coupons duing the holiday season. I had never shopped at Endless, because of its prices are always a little bit higher than other stores.


Bloomingdales is also running a boot sale, with prices 30% to 65% dropped. There are 350 items in sale, way less than 6pm and Endless.com. But you can assure the quality of Bloomingdales. Bloomingdales.com offers coupons very often, including coupons for $25 off $100 order, or 20% to 30% off family and friends sale.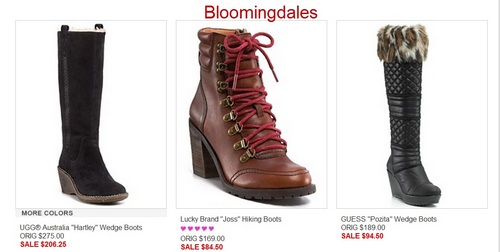 Macy's is another store to shop boots. Boots are 20% to 65% off the original prices. And best of all, Maycs.com has coupon for 15% off, enter promo code BEHOME to redeem the coupon. Valid through 2/6.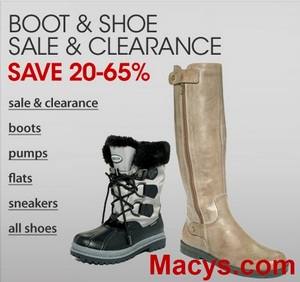 Sears offers low prices boots. See these boots, only $24.99 to $39.99! Plus, you can an extra 15% and receive free shipping by using coupon code SEARSJAN. Valid on all shoes. Sears has coupons very often, usually 10% to 15% off on select products.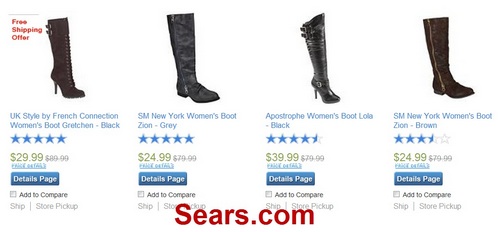 ShoeMall.com has 982 boots to choose from. And currently it has a coupon for 25% off all boots, when you enter promotion code: BOOTS25 on checkout page. After applying the coupon, boots here are certanly the best deals. See these Aerosoles women's boots.

Bluefly.com: Designer's boots 40% off sale! We have coupons for Bluefly.com for discount of $30 off or $40 about once a month. The coupons will be valid only for a few days. But if you are new to Bluefly, enter code AFF30 to save $30, valid all time. See these most wanted boots at Bluefly.com.