If you ask me when is the best time to a winter jacket, I would say whenever you need it. Most people will start shopping for winter jacket before winter start, say October or November, while some people wait for the Black Friday. People thought they will get big discounts on Black Friday. But believe me, most likely you won't get what you really wanted. New items and popular items are always excluded from the sale list, and very few retailers will offer site-wide discount on Black Friday.
Winter jackets' price will start to fall in January. Why? Because retailers want to empty their winter stocks before the spring/summer starts. You probably don't need a new jacket for this winter any more. But shop for the next winter would be a good idea, especially for kids, who will need a new one every year, or for men, when jacket styles don't matter too much to them.
I wouldn't buy winter jackets at a super market such as K-Mart, or Target. Their prices may be low, but you don't get the quality you deserve. You only need one or two winter jackets anyway, so it is better to get a good one. You can also find cheap ones online at Amazon or Overstock.com. Buying clothes from them are not a good idea, because there is no guarantee on the goods. These big online retailers are not specialized on clothing.
EMS.com, Altrec.com, Backcountry.com Sierratradingpost.com, Rei.com are ones I will recommend for you to shop winter jackets or parka.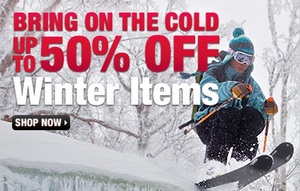 EMS.com is the official web site for Eastern Montain Sports, one of the nation's leading outdoor gear retailers. It started business in Colorado in 1967, now has 65 retail stores in 12 states. It carrys brands like Columbia, Isis, Marmot, Montbell, Mountain Hardwear, Outdoor Research, Rab, The North Face, Western Mountaineering, etc. EMS does not offer general coupons. But it offers sales on certain categories every week and free shipping when your order is over $48. Now EMS is a running a 50% off sale on winter items, which includes all the winter jacks and vests.


See this THE NORTH FACE Women's Metropolis Down Parka at EMS.com, was $289, now on sale at $231!
Altrec is a online only store, which means you will never need to pay sales tax no matter which state you live in. It offers free shipping to all states on any order. And best of all, it offers lifetime return. Read the detail here. Altrec.com offers a large selection of winter jackets, – 113 men's styles, 158 women's styles, 17 boys' styles, and 25 girls' styles, including brands of The North Face, Columbia, Marmot, Patagonia, Mountain Hardwear, and Canada Goose etc. Altrec will have a $10 off $100 coupon once in while. 10% off coupons also available on certain products or categories.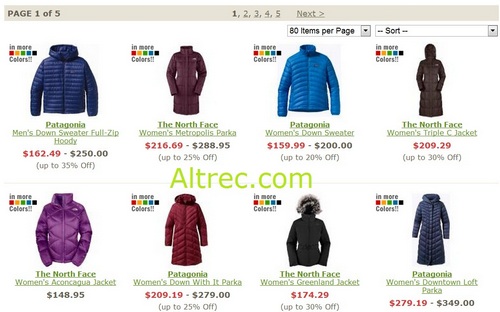 Backcountry.com started in 1998, a fast-growing internet only retailers specialized in outdoor clothing, ski, hiking, climbing, and camping gears. It carrys a largest selection of winter down jackets: 129 men's styles, 160 women's styles, 17 boys' styles, and 29 girls' styles. And it is running a "Save Big On This Year's Gear -Up to 50% off" sale till the end of the month. An iPad application can be downloaded for your easy shopping. Each product comes with lots of pictures, or even a video. The best part about Backcountry is that you can select a few items and compare them side by side. Free 2-day shipping on orders over $50. No general coupons available for Backcountry.com. But they have sales very often on select categories. Signup their newsletter to receive the promotions in time.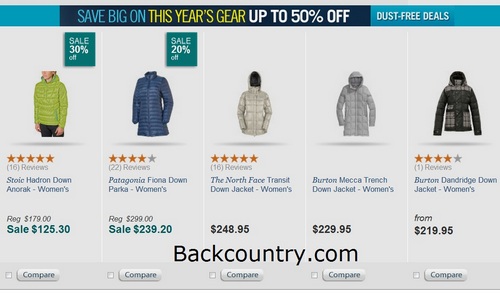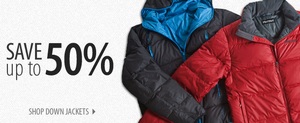 Sierratradingpost.com is running a 50% off sale on down jackets today, valid through the end of the month. Shipping in not free, but it offers coupons very often. 20% off to 35% off coupons are available all the time. They even post coupons on their own homepage. But you better check out our Sierra trading post's coupon page, because we sometimes have a coupon with bigger discount. For winter jackets, it has less selection than that of Altrec and Backcountry, but more than EMS.
REI has the least selection of winter jackets with the highest prices. The only reason you might want to try REI.com is that you want to return items to their local stores. It has 110 retail stores in 30 states. With the sales tax, the price would be higher. Not recommended! And they never offer coupons, not even during holidays.