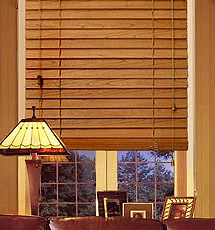 Before the internet era, the only way to get window blinds or shades is go to Home Depot or Lowes. They don't display all the blinds, but they do have sample blinds about 1 foot by 1 foot. Now you can do your shopping online, and most of online retailer offer free samples too. For example, at Justblinds.com, you can request up to 10 samples for free, and at SelectBlinds.com, you can request 15 free samples at a time! And the best about online shopping is the price. The prices are only fractions of that of Home Depot or Lowes. Today we want to show you where to shop, and how to get the lowest prices with use of coupons.
Buying blinds online are very easy. Step 1: Select a style. If you are not sure, read their reviews, or watch their videos, or consult their sales rep. Step 2: Select size.Step 3: Select color. If not sure, request free samples first.Step 4: Select features, such as mount type (inside or outside), tiler location (left or right), tilter control (cord or wand).
Following are the most popular online blinds and shades retailers. We compare their prices based on a similar wood products at the same size and color.
StevesBlindsAndWallpaper.com:Steve's Blinds offers lots of coupons. See their "Extreme Price Drop" on top. All their coupons are listed here. But we offer some special coupons they don't have. For example, 20% off sidewide coupon with code: WP20. Their prices are the best amony all the stores we compared today, even without a coupon. For example: Wood Blinds 2″ Slat2″ Paints and Stains, width: 24″, height: 48″, only $39.06!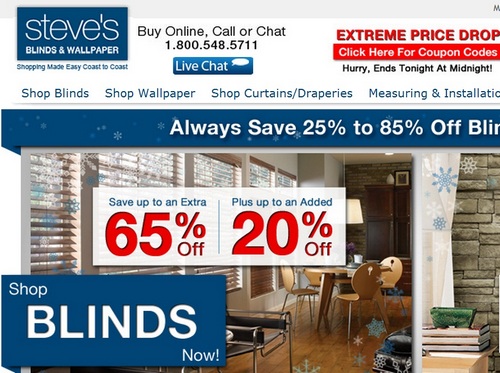 JustBlinds.com: It doesn't offer coupons very often. But now it has a $10 off coupon, with minimum order of $150 with code: Save102006Z12. Just Blinds' prices are very competetive too. For example, 2″ Premium Wood Blinds, width: 24″, height: 48″, only $44.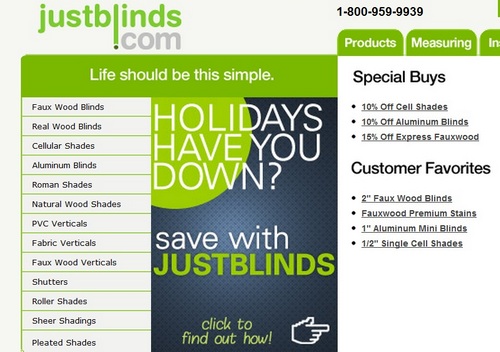 At Selectblinds.com, a 2″ wood blinds with same size(24″x48″) starts from $65.97. It has 30% off coupon very often. Enter Upgrade30 as discount code on checkout page the price drops to $46.18. And another offer it is ruuning now is buy 3 get 1 free. You can mix match any 3 blinds or shades, and get the 4th one free! If you combine it with the 30% off coupon, SelecBlinds.com is your best choice!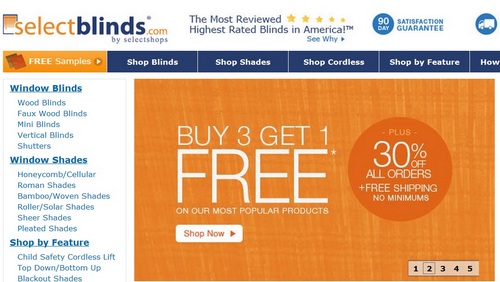 Blindsgalore.com does not offer sidewide coupons in my experience. But somehow today it has a 10% off coupon with code: GETGALORE. They have coupons for certain products very often though. Their prices are ok after 10% off coupon, for example, Hardwood Blind: 2″ Slats, width: 24″, height: 48″, $46. But they charge processing fees, which is unacceptable. It has a lot more selections than Just Blinds, which is the only good thing about it.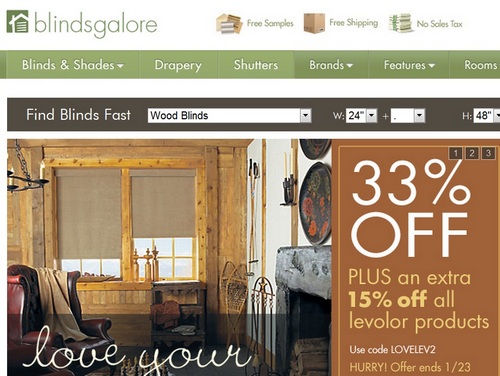 Smith & Noble offers high end blinds, so their prices are also the highest, for example, 2″ Wood Blinds, width: 24″, height: 48″, $102. If price is sensitive to you, don't choose Smith and Noble. It offers 10% to 20% off coupon very often. But there is no coupon available today. And their prices are very high. I wouldn't consider it at all.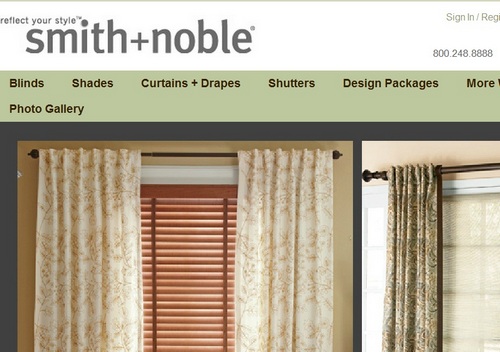 If real wood blinds are too expensive to you, I would suggest faux wood blinds. The prices above are all for real wood. The faux blinds would be 20% to 30% cheaper, while it is hard to tell the difference any way.