Before the Internet age, Walmart and Target are my favorite places to buy toys. Walmart always has the lowest prices on toys, while Target offers better toys, especially real wood toys which Walmart never sell. Toys R us has the most selecitons of toys for all ages, but their prices are always highest. I bought my children to the tore for fun, but I rarely buy anything, unless something I couldn't find at Walmart or Target. A few years back, most of the toys are bought from Amazon. Amazon isn't that cheap, but it is convenient to search toys I need, or research top sell toys others recommended.

Last week I wrote a blog post on Barnes and Noble, because I just realized that Barnes and Noble are now very price competetive on books, comapred to Amazon. And now I just found that it offers very good prices on toys too. Yesterday there is a 40% sale on all Melissa & Doug toys, one of my favorite brands. I bought a princess doll house at only $57. Today its price went back to $95! Too bad I didn't write a post in time to recommend it to you guys.
Today it is running a 25% sale on all Fisher Price toys. Visit the Barnes and Noble toys page, in the middle of the page you will see "Today's Deals". I want to recommend to you some all-time favorite toys from Fisher Price before the prices go back again.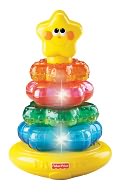 $10.46, was %13.95. Fisher-Price Little Superstar Classical Stacker is for 1 year old kids. But my son play it from 6 months till he is 4 years old. It is a simple toy, but kids just love it. The same piece is $13.62 at Amazon.

$13.46, was $17.95. Laugh & Learn Say Please Tea Set are little girls' favorite, for ages 6 months and up. It is not only a play set, but a learning toy, – it teaches baby about numbers, and shapes. Girls never had enough of this kind of toys, and they can play it forever, even into teenage. It is $17.75 at Amazon, $17.88 at Walmart, $19.99 at Target.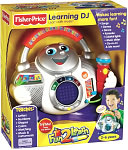 $23.96, was $31.95. Fisher Price Learning DJ is another all time favorite. I saw this toy over 10 years ago. And it is still one of the top-selling toys. With 16 song, kids can sing along and learn along with numbers and letters. Its price at Amazon is $40.19!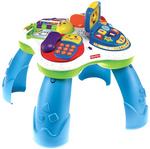 $33.71, was $44.95. Fisher Price Laugh & Learn Fun With Friends Musical Table is for ages 6 to 36 months. It will keep your babies busy for hours. It is an interactive learning center, which plays songs and teaches letters, numbers, counting, first words, colors, shapes, opposites and animals. It is $44.97 at Amazon and Walmart, $45.99 at Target.
By the way, if you are new to barnesandnoble.com, you can save 10% on one item order with coupon code: F7C8V8N.