Thrift Store Day arrives in the middle of August this year and will provide everyone with a good reason to celebrate the joy of thrift shopping. For so many people, thrift shopping is more than just purchasing items that don't cost a fortune. It can be a way of hunting for treasure, making extra money, or simply creating a wonderful vintage wardrobe. If you're not sure how to shop at a thrift store, then these ten tips will allow you to get more out of every trip to the thrift store. If you're lucky, they may even help you find a remarkable purchase that will bring you plenty of joy.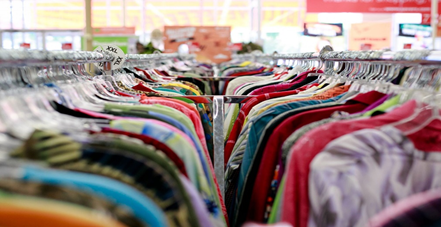 1. Give Thorough Check
When you find an item, one of the most important things you can do is give it a thorough check. A lot of people get excited by the find and then get home and discover the item isn't useable due to damage. For vintage clothing, or any clothing, make sure you check the seams to make sure they're not going to give way when you wash and wear them. Although this tends to be repairable, it can diminish value if you're looking to resale. Electronics should always be tested before purchasing in order to ensure you're not getting a dud. Another thing to check is book pages, the surface of vinyl records, the way a piece of furniture is put together, and so on. This should help you get your money's worth and not force you to make returns or just deal with a broken product.
2. Check the Back of the Rack
While you're on the prowl for vintage clothing, one of the best things you can do is check in the back of the rack. More often than not, this is where new arrivals are going to be placed, so checking here first might hep you to find some hidden treasures. Even if you aren't looking for vintage items, you might be able to find more modern fashion pieces here, which will allow you to keep up with trends with ease. Of course, this doesn't mean that you won't find hidden treasures buried within some of the racks, but if you're trying to maximize your time, your best option is to look in the back.
3. Research
When you're shopping at a thrift store, knowing your stuff is definitely going to put you ahead when it comes to purchasing items that might be of value. However, nothing is going to assist you quite like old fashioned research. If you have a smart phone, then you're actually able to stop the shopping process and research an item right there. If you're looking for clothing, then you can check out labels to see if the brand is going to be worth anything. You can also tell if an item is going to be of high quality by looking at its brand or where it was made. When it comes to vinyl, books, and collectible, you can easily find information on the items that you find online. You might bookmark collector's websites or download apps based on collecting before you head to the store.
4. Consider Repurposing
If you're shopping at a thrift store and items aren't catching your eye, then you might consider looking at things from a different perspective. There are so many items that are perfect for repurposing on offer. You might have to think outside of the box, but if you look hard enough, you're certain to find something. One of the most common items to reconstruct is dresses. You can take bits and pieces from different dresses and sew them together to make something new and innovative. Of course, you can use any piece of fabric found in the thrift store for other items, including bedding and curtains. If you are interested in furniture, then you might also consider reusing some of the items you find at the thrift store. You might be surprised how much good sanding and painting a piece of furniture can do. Even office supplies, old electronics, and toys can be transformed to create something out of this world.
5. Know When to Shop
One of the key elements to thrift store shopping is knowing when to shop. More often than not, if you just go in whenever you feel like it, you'll find that many of the items are picked over and the only things left are actually things that you probably don't want. The best thing you can do is find out when each store you enjoy shopping at restocks. This will allow you to make a game plan so you can discover all kinds of new products as soon as they hit the shelf. Most stores won't mind letting you know when they restock, so don't be afraid to ask. Of course, when it comes to shopping, you might choose to skip out on weekends, because this is when numerous people will be shopping.
6. Shop Sales
Believe it or not, but most thrift stores do offer sales. These stores aren't designed to churn a high profit, but they do want to make money on the items they are given so they give the profits to charity. So, like most stores, when they need to move their products to make room for more, they have sales. When it comes to sales, one of your best options is to ask the store when they will be hosting them. Some stores have special ticket days, while others will have blow outs quarterly, and so on. Almost all stores will participate in major holiday stores.
7. Know What You're Looking For
If you want to get the most out of your shopping experience, then you should always know what you're looking for. If you plan on casual shopping, then you might find that you are spending way too much money. You should try to plan to sticking to one area of the store, so you don't wander and find items that you might not necessarily be in the market for. For instance, if you are looking for vintage clothing then stick to the clothing size, gender, and style that you're looking for. This will save you a lot of time in shopping and will help you stay disciplined when it comes to tempting items that are impulse buys instead of well thought out purchases.
8. Utilize discounts
Just like sales, most thrift stores will also offer a huge selection of discounts to help people afford their products. Some of the more common discounts offered are senior, military, disability, and student. However, you might find discounts for teachers, first responders, and so on. Other than discounts, some stores might also offer a rewards program. These are usually based on the money you spend in store but will help you to save in the long run if you plan on giving the store your business long term. If you're not sure what discounts are on offer, make sure to ask. Even if the store doesn't currently offer it, they may be more likely to instate it if they know there is an interest in it.
9. Set a Budget
No matter where you're shopping, one of the most important things you can do is set a budget for yourself. It doesn't matter if you have a lot of money to spend as setting a budget will help you to make wiser decisions when it comes to your money. If you can, bring cash along with you and never pull out your card. This will help to keep you right on budget without forcing you to cave to your whims. This can help improve on your discipline too. If you don't want to handle cash, then put money on a gift card to spend, as this too will act as cash, so you won't be able to spend more. By sticking to your budget, you will find more pride in your shopping experience while allowing yourself to learn when you should and should not buy.
10. Be Willing to Put in Work
When it comes to thrift store shopping, you may find that you're going to have to put in a little work. Some items will need to be thoroughly cleaned before you can use them, which might mean doing a bit more than tossing them in the washer. Other items might need to be repaired, which could force you to pick up some electronic or carpentry skills. Many items will need sewn, repainted, reinforced, and so much more. One of the best things about thrift store shopping is the love that you get to put into the items you choose.
Thrift shopping can actually be a world of fun and might even top shopping around for brand new items. These ten tips will help you to get the most out of your thrift shop experience though, so you can embrace your love of shopping on a budget. If you're new to thrift store shopping, then Thrift Store Day on August 17 might be the perfect time to start.