National Boss Day is just a couple of weeks, so there is still plenty of time to plan to do something special for your boss. This holiday is a great time to share your feelings for the person that helps keep everyone on track so everyone can find the success they dream of. Of course, you don't have to spend a small fortune to show your boss a little appreciation on their special day. Here are just ten ideas that will inspire you to enjoy National Boss Day while making your boss feel special.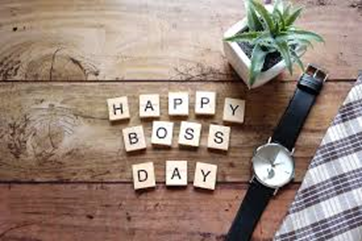 1. Bring Cupcakes to Work
One of the easiest and cheapest ways to celebrate your boss is to bring some cupcakes to work for everyone to enjoy the day. Making your own cupcakes is going to be the cheapest route as well, so you might hint around to try to figure out what your boss likes. However, if you choose to work from a box mix, you might consider just making a wide variety of cupcakes to suit everyone's needs. This year, the holiday is on a Saturday, so the cupcakes might be a nice Friday treat that will allow everyone to unwind and mingle after a hard week. Cupcakes are also easy for people to grab and go, which will make the treat something everyone can enjoy.
2. Giant Card
Another really cheap option that will show some love is creating a giant card. You can make it out of paper, poster board, or anything else that you have in your craft supplies. You can also print out a message and glue it onto a card if you're hoping to make a card, but don't want to invest in the time. Once you have your card made, pass it around the office for everyone to sign. Gathering signatures might take a little time to do, so you might consider taking a few days prior to the holiday to get it done. Of course, if you're not feeling crafty, you can buy a large card for next to nothing, which can save you time.
3. Best Boss
If you have a boss that likes to have a little fun, then a Best Boss Sash is bound to make the day incredible. The best thing about gifting a sash is you don't have to spend a fortune on the gift. You can purchase a party sash at most stores and then add on letters to improve its appearance. You can also save on the sash by creating your own. All you need is a little fabric and the ability to sew, and you're all set. The letters for the sash can be sewn on, painted on, or you can use fabric stickers. Once complete, the sash will show off some love while making your boss the center of attention all day long.
4. Handmade Lunch
Lunch can be a stressful time for so many, especially since it often ends up being something from a fast food restaurant if you're in a hurry. Rather than spend a fortune on a lunch for your boss, you might consider hinting around to find out what types of food your boss likes. From there, whip up something that suits your skill level and bring it in as a treat. If you're not sure what to make, then you might consider creating a large pot of soup, or something else in the crockpot so it is easy to bring in. This will help keep your budget down while allowing you to do something nice to show your love.
5. Small Gift
If you're a little short on time, then you might consider just purchasing something to make an impression. This doesn't mean you have to spend a small fortune. Rather, you might want to shop around and find something small to offer as a token of your appreciation. A few simple ideas are mugs, candles, office supplies, and anything else that might be considered office-friendly. Customized products also create a great vibe that can help bring on joy to help make the day special. Keep your gift simple and on the budget-friendly side to help ensure everyone feels comfortable with the gift.
6. Bring in Coffee
Coffee is a great way to show you care. So, if you're looking for a simple way to show your boss a little love, then you might want to bring in some coffee. You can easily stop by your boss's favorite coffee shop on the way to work to pick up something to make your boss happy. You can always ask ahead of time to see what your boss would like if you aren't quite sure. Another option is to make lattes at home in your crockpot. You can bring this in as a nice treat for anyone hoping for a little extra coffee in the morning. There are lots of latte recipes online to choose from, so have a little fun with it. Of course, this year the holiday actually falls on a Saturday, so you might even consider dropping off some coffee on this date.
7. Host a Potluck
If you're not interested in making an entire meal for your boss or paying the high price of going out, then a potluck might be the right way to go. You can get in touch with your colleagues to plan out the big event for the holiday. If everyone can pitch in enough items to make up a meal, then you're good to go. This might be a great way of helping everyone bond as well, which can definitely bring your boss even more joy. There are lots of recipes for cheap dish ideas online too, so if you're not sure what you want to cook you may be able to find something fun before it is time to whip up the meal.
8. Gift Basket
Another simple gift is a gift basket. This will allow you to add in a mixture of items to ensure your boss has something special that will go beyond Boss Day. You don't have to spend a lot of money here, as gift baskets can easily be filled with cheap snacks and treats to make the day a little more special. If you want to put more into the basket, then you might want to approach other colleagues to see if they would like to add to the basket too. If you make it a group effort then you may really be able to go all out and make the basket pop with balloons, treats, and other fun items that will help create a great mood for the holiday.
9. Pitch in for a Gift
If you have a lot of people wanting to participate in Boss Day, then you might consider having a pool for a gift. The more people that pitch in for the gift, the more options you can choose from. This is one of the best ideas if you have a really great boss that you would love to celebrate. Although there are many things you can purchase, you might consider keeping the gift something office-related. However, gift cards are also a simple option that isn't too personal while still allowing you to enjoy celebrating with your boss.
10. Indoor Plant
There is no doubt about it, one of the best office-related gifts that you can give is an indoor plant. You might be surprised by how much this can help improve the energy in an office. There are numerous office plants to choose from, which can definitely help you bring some joy to your boss. The best thing about office plants is they tend to not cause allergies, so they're great for almost everyone. These plants work to help improve air quality while adding a touch of life to any space. They can even improve the mood of an office and boost health, so you may be giving everyone else in your space a gift too.
Recognizing your boss might be something you've never thought of before, but this holiday can truly add to the fun of the office dynamic. These ten gifts are a great way to make your boss feel special without forcing you to spend a fortune. You never know, this tradition might help to improve the entire dynamic in your workplace.