It is hard to believe that September is just a few days away! If you're not already looking at autumn decorations, then you might start soon as many people are excited about the upcoming season. With so many people at home, decorations are flying off the shelves like so many hope to bring more comfort to their homes during the pandemic. Luckily, this season provides lots of amazing trends that will not only allow you to decorate your home in a trendy way but will also help you to let your crafty sideshow so you can save some money and have some fun while you prepare for the season.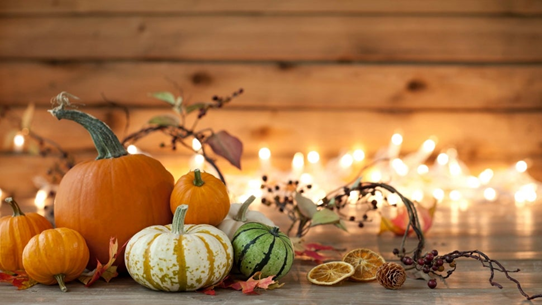 1. Knit Blankets
Knit blankets are going to be one of the top trends this year. With many areas of the country seeing unseasonably cold temperatures and even some ice storms that left many without power last year, this trend is certainly going to keep people warm if these problems persist. Knit blankets can be purchased anywhere and in almost any style, including weighted blankets. However, you can easily make the blankets yourself. Using online tutorials, you should be able to keep this craft budget-friendly as you learn a new and exciting hobby. However, you will also find that you can purchase kits to help you make your project even more exciting. No matter which route you take, you will still have something warm and comforting to get you through the next few months.
2. Candles
Candles and autumn seem to go hand in hand, which makes it easy for so many people to decorate during the autumn months. There are so many candles you can choose from, which will not only make the home inviting, but will also allow you to enjoy a warmer environment. Candles can be purchased for cheap if you know how to shop for the right deals, but you can even make them yourself. This will especially allow you to customize your options while giving you a great hobby to pass the time.
3. Macrame
Macrame always seems to be lurking around, may it be in older homes, thrift stores, or places that follow a bohemian chic vibe. However, it hasn't been on the trend list in quite some time. Macrame can be purchased in many different places though, and you can even find customized shops so you can cater the macrame to your needs. However, you can also try your hand at making your own macrame. There are lots of tutorials and online classes to get you going, so you might even be able to pick up a fun hobby out of the trendy. You can place macrame almost anywhere too and it makes a great accent piece for end tables and more.
4. Baskets
Baskets are going to be just about everywhere this season, which is perfect for those that are trying to get their home organized. You will find all sorts of baskets on offer, but woven baskets seem to be top of the trends currently. This is great considering you will be able to make these types of baskets yourself if you're feeling a bit on the creative side. Of course, baskets aren't the only option that will satisfy this trend. You will also find that there are plenty of storage trays that also fit the bill. These are also easy to make out of surprising things that can be found around the home.
5. Wreaths
Without a doubt, wreaths are probably one of the most popular decorative items you will find when you're decorating. Autumn wreaths have become far more popular over the years and feature all sorts of beautiful foliage as well as images from your favorite Halloween themes. You can save yourself a whole lot of money by making your own wreaths though. There are lots of tutorials online to help you and you can also find supplies in bulk which will save you money. If you enjoy the craft, you may even be able to make some money by selling some of your creations.
6. Houseplants
When it comes to bringing some life to the home this autumn, you might want to consider bringing your plants indoors. There are many indoor plants to choose from and a lot of them actually require very little sunlight. One of the most popular plants for the season is succulents, especially since you can pair them with fun vases. However, there are so many leafy green plants and small trees to choose from too. You can even use your macrame to add to the fun of your plants, which will make your home trendier than ever. Of course, if you do have pets then you might consider a researching before you bring any plant into the home.
7. Fall Themed Images
If you love art, then you might consider updating your home gallery with fall-inspired images for the season. This doesn't mean that everything has to fit a fall theme. Rather, you will find plenty to enjoy when you look for images that feature the warm autumn tones. Of course, you can also create your own art, display autumn-themed family photos, or take your camera out to create your own photographs of autumn in your area. When you're finished collecting your images, you can even set them up as if they were your own personal gallery, which can add so much fun to any room in the house.
8. Decorative Pillows
One of the easiest ways to decorate this season is going to be decorative pillows. Simply find a pillow cover you love and place it on a pillow that you already own. This will help you to save quite a bit of money while also allow you to show off your personality. If you're not crazy about spending money on pillow covers then you can also make your own designs. You can even cut the covers from fabrics that you already have on hand.
9. Pumpkins
It seems like you can never go wrong with pumpkins when it comes to autumn decor. If you're looking for a cheap way to always offer a great look, then pumpkins are definitely going to be the way to go. If you're trying to save money then you might consider purchasing faux pumpkins, as they can be used year after year. You can also paint these to suit trends or your own personal interest. If you're willing to wait until the season nears Halloween, then you can always use real pumpkins and then carve them when it is time to celebrate the holiday. Of course, you can do so much with pumpkins, so it is up to you to choose how you want to add them to the fun.
10. Festive Garland
Garland is another item that can transcend holidays and has become increasingly popular over the last few years. Your garland can be made of almost anything too, which makes it a great addition to the home. You can stream it everywhere for festive vibes that will truly help you enjoy the holiday fully. You will love being able to show off your style with this piece of decor too. Apart from looking great, the garland is incredibly easy to make, which makes it another great item to add to your hobby list. You can find tutorials online which will definitely help you to learn how to make the craft your own.
Decorating for autumn will certainly be a lot of fun with all of this year's amazing trends. These ten tips will help you choose items that are perfect for showing off your craft skills while saving you quite a bit of money. With any luck, your home will feel warm and inviting as you welcome in the new season despite everything that is going on in the world.