Over the last couple of weeks, many students have headed back to school into an uncertain environment. With the delta variant of Covid-19 working its way through the country, many schools are already sending their students home for distance learning. Even schools that have yet to begin classes are struggling to figure out if online learning might be the best way for students to head back to school. Distance learning can be daunting, but there are a few ways for students and teachers to get the most out of it. These ten tips are designed to help teachers, or even parents, make distance learning more bearable for children.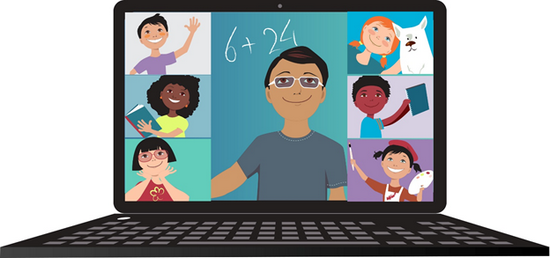 1. Consider Themed Days
One of the quickest and easiest ways to transform your students' day is to add themes to your days. Since kids are at home, they can actually have a lot of fun with this. You can keep things simple by having students wear a specific color on certain days and then tie lessons into this theme. Or, you can create a costume day or pajama day. Many students might even feel excited to do a school pride day like they would have been able to participate in while in school. These are just a few examples, but there are so many to choose from based on your curriculum, holidays, and more.
2. Bring on the Games
Games are one of the best ways to encourage students to participate in class, especially if there is no pressure. So, whenever you can, try to add in a fun game so that students aren't just sitting in front of a computer screen listening. One of the easiest things to do is add in some trivia questions at the end of each lesson with a reward for those who answer correctly. Students don't even have to speak up in class as they can write down their answers to present them for judgment. Bingo is another fun option that can help students retain information while having fun. There are also memory games, or good old fashion games to kill time and allow students to refresh their minds.
3. Make it Funny
Humor is one of the best ways to help information stick in the minds of anyone. When you make someone laugh, it actually increases oxygen to their brain which helps with cognitive functions. So, making your lessons as funny as possible can help your students truly improve on their studies. One of the easiest ways to do this is to add in jokes, tell funny stories, or even dress up. You will have to work with your own personality and the needs of your students, but as you work together to find what works best for your classroom, you will certainly find a balance that helps your students grow and thrive in the classroom.
4. Know Your Students
One of the most important things you can do for your students is getting to know them. Every student has their own learning needs, so getting to know each student's learning method will help you to enjoy teaching all the more. Although you might not be able to master this for some time if you want to get a jump start talk to your students' past teachers and their parents. You might also try a variety of learning methods in the early days of learning, so you can see who is responding the best. Before long, you will be able to offer lessons that work for everyone.
5. Challenges
Children enjoy being challenged, but often school can seem boring to them. Challenging a student with assignments and tests isn't always going to work for everyone. You might start by asking your students to do hands-on activities. For instance, they can create a drawing based on a lesson they learned. For those that enjoy writing, a quick story using a lesson as an example might be fun. You can also send students on scavenger hunts around the house to help them learn and grow without having to be stuck in front of the screen for hours at a time.
6. Take Breaks
Sitting for long periods of time is hard for adults, so you can only imagine how it feels for the children in our lives. When it comes to working at a computer, it is very uncomfortable to sit around for long periods of time staring at a screen. So, while you work, make sure you take breaks. Have everyone stand up and do something away from the screen for a couple of minutes. Students should also be reminded to take eye breaks every twenty minutes so that working from a screen does not harm their eyes. This should help them maintain attention and might even help you teach more efficiently.
7. Stand Up
The human body is not meant to sit for hours at a time. As a matter of fact, this is incredibly harmful to your cardiovascular system, your posture, and can even affect your mental health. One of the best ways to encourage children to learn is to have a period that they are meant to stand up and learn. You can ask them to do exercises, present a story, or even just stand while you're working on a lesson. Studies have found that many children learn more efficiently when they are asked to stand up during a lesson.
8. Offer Choices
One of the easiest things you can do for your students is offering them choices. Distance learning can be immensely hard for everyone, especially since everything is done alone at home. So, when you plan a lesson, come up with a couple of different ways students can show that they've learned the material. Some students might prefer to write an essay, while some might like to turn it into a project that fits real to life examples. Adding in art and science options is also going to work wonders for students that are stuck at home.
9. Let Them Be Creative
This year, try to let kids be as creative as possible. Children are missing out on their elective activities, sports, clubs, and simply hanging out with friends. Their outlets are limited, so encouraging their creativity is going to be one of the best things you can do for them. Even if you can't add creative fun into a lesson, consider asking kids to take a break to draw a picture, play an instrument, or do whatever they choose to express themselves. You might be surprised by how this opens up your students and allows them to take in new ideas while learning how to think for themselves.
10. Listen to Their Opinions
Your students have a lot going on in their lives. Although they might not be chatting about this in class, they have a lot of opinions about the world, their lives, and what they want when it comes to their education. So, make sure to ask their opinions. You can start by asking how students feel about certain lessons, what they enjoy about the lessons, and what they would like to change. This can help you plan lessons accordingly while allowing them to have a bit of control over their lives and education. This can truly change the way your students participate in school and find empowerment in all that they learn.
Another year of distance learning probably feels frustrating and exhausting. It is for teachers, parents, and students, but that doesn't mean we can't make the best of it. These ten ideas can help you to create a fun and engaging learning environment on a budget, so your students can get all that they can out of the school year.