As May rapidly progresses, graduation times quickly approach. 2020 is a special year for graduates, as they are trying to navigate their coming of age in a world that changed very quickly within just a few months. Where most students would be planning out ceremonies and after-parties, today's graduates are trying to figure out where life will take them in such a changing and seemingly hopeless world. It's important that we take the time to show these students we haven't forgotten about them and their big achievement though. So, if you know a graduate, may it be a high school graduate or college, you might want to try out one or more of these frugal ideas to help make their accomplishment shine.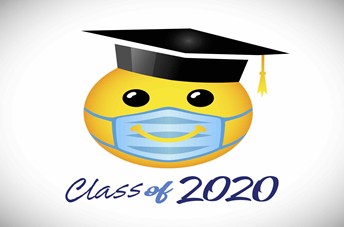 1. Virtual Toast
Many graduates love to receive a toast that helps show them how much support they have for their future, as well as how proud people are of them for their accomplishments. However, with most restaurants closed or only offering reduced occupancy, and people social distancing, a toast isn't going to be an option for so many. That is why a virtual toast will help give your student the same warm feeling. In order to do this, make a plan with friends and family to meet up on your favorite video chat program. Everyone can gather up a meal and drink in order to make the toast feel normal. Then, invite your student to the chat and have everyone say something special. It might not be the same as having everyone available for hugging and more, but it will still bring hope and pride to those that should be walking across the stage.
2. Online Graduation
Many schools are actually talking about having online graduation, which is one of the best ways to help students feel special about their achievements. These online graduations are largely hosted by the school, but many famous people have stepped in to help create huge graduation ceremonies to ensure everyone gets the graduation experience. If your school isn't talking about this, then you might want to talk with the parents of fellow students, or if you're in college talk with your classmates. If you can get a lot of people on board then you might be able to talk the school into hosting a virtual graduation experience.
3. Contact a Billboard
One problem that many graduates are facing is the lack of recognition they are getting. Thus, one way you can truly make a difference is to place your student on a billboard. If you want to go the extra mile then see if you can get the entire graduating class on a digital billboard. Right now, so many companies are trying to help show support for graduates, so you might not have to do a lot of talking in order to get the task done. All you will need is the school's permission, as well as the pictures and names of the graduating class. If you succeed in getting this accomplished then the school should be able to inform everyone of the news, so they can check out their name and image. This is almost like graduation in a sense, as students will definitely be known for their accomplishments.
4. Photoshoot
A lot of seniors are missing out on getting their senior photos taken, which is a huge part of the graduation process. However, you can remedy this problem by getting the photos taken at home. If you have a good camera or know how to use your cellphone like a professional camera, then you're well on your way to senior photos you can be proud of. Most students can get a cap and gown with ease if they don't already have one, so check online or talk to the school about it. Once you have the outfit your student wants to wear then find the perfect place for the photo shoot. It probably won't take you long to get the pictures you need to remember the special year. You can also turn your photos into cards or a memory book to add to the memories.
5. Special Meal
After graduation, a lot of students like to go out for a special meal in order to celebrate. This is still a possibility, but you might have to skip out on the going out aspect. Instead of eating out, you can most likely order some of your favorite meals from an assortment of restaurants as so many are doing take out and carry out. You might not be able to have a meal with friends and extended family, but it will allow you to still celebrate the special moment. You should also make or purchase a celebratory dessert to make sure the graduate feels extra special.
6. Yard Sign
A lot of parents are trying to make their students feel special through other means. One of the most common examples is a sign located in the yard. This is a great way to show off some pride when you can't have others around. You can actually make a sign yourself if you're feeling creative. However, there are many websites available that will allow you to print a sign out that will look amazing in your yard. You might include your child's achievements to make the sign even more rewarding. This shouldn't set you back a lot either and will allow you to have a keepsake that will last for years.
7. Decorate
Just because you can't have a party doesn't mean you have to skip out on the decorations. Instead of putting the party on the back burner, you should decorate to show your pride. This will allow your graduate to feel like life will go on even when things aren't going according to plan. Plus, it will help you have a little fun with the situation. If you don't have decorations already, you can easily make some, so you don't have to waste money. There are plenty of 2020 print outs to try out, but the real treat is the photos from school year's in the past. This will truly make the decorations show the importance of your child's accomplishments.
8. Memory Chain
A lot of students are craving time with their peers, so a memory chain is a great way to celebrate their achievement. You might set up a social media page so that people can share their memories with one another. Of course, you can also do the chain the old-fashioned way. You might get in touch with friends and classmates that your graduate has talked about. Then, ask them to mail in memory or email it to you. Once you get all of the memories together, take all of them and form a chain. This is a great keepsake and will help your graduate feel a greater connection with their classmates especially since no one can sign one another's yearbooks right now.
9. Drive-by Parade
Drive-by parades have been a huge hit during the self-isolation orders. However, they have largely been used for birthday parties. With graduation here, you might want to use the parade to help celebrate the graduate in your life or the numerous graduates in your community. If you put out a call to action on a local board, then many people are bound to gather to help make sure graduates get the celebration they deserve. You can also have people sign up to have the parade go by their home so you can celebrate even more people. For the parade, people can drive by, shout congratulatory messages, show off signs, and so much more. It will certainly be a great memory for anyone missing out on graduation.
10. Talk About the Future
Although it might feel hopeless right now, it is important to take the time out of your day to celebrate your graduation by talking to them. Although you probably talk to your graduate on a daily basis, there are some major points that you should consider. One of the most important things to consider before you start the talk is to remain positive. It is important that you make sure they know their future does have hope as well as the ability to make dreams come true. You might discuss graduation trips, parties, college, living options, career options, and more. One thing you should discuss is choosing a career that will allow them to work from home if need be. These topics will help make planning more efficient while bringing a little more normality to life.
Graduates definitely aren't getting the appreciation they deserve this year. However, many people are coming up with innovative ways to make their accomplishments shine. These ten ideas are only scratching the surface, so you can make the class of 2020 feel special during their moment to shine.