Right now, many photographers are stuck at home unable to carry on with their skills. There are also many aspiring photographers out there that can't work on their skills or even try the hobby on for size. Getting out doesn't have to be the only way you can embrace your photography skills though. Rather, you can keep your skills finely tuned and improve on them even when you aren't capable of capturing images of people, places, and other things that you might normally capture. These ten tips will help you embrace photography while having some fun during the quarantine period.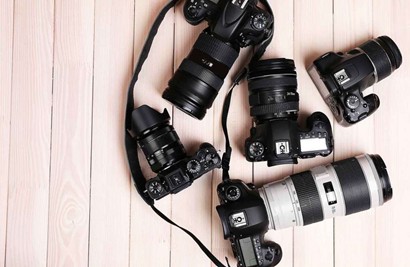 1. Take a Class
Even if you can't physically sit in a photography class, there are so many digital options available that you might not miss the real thing when it comes down to it. For starters, there are lots of photography videos that you can purchase online to ensure you get the most out of your camera. You can even surf on streaming websites for free videos that can help you on your way. In this day and age, there are many digital classes that you can take advantage of too. Right now, you'll actually find a lot that is absolutely free to help you get more out of your quarantine time. However, you can also sign up for classes with an actual institution. These will earn you college credit if you do plan on carrying out photography as a career.
2. Learn to Make Props
Props can be a fun part of photography especially if you're working on portrait photography. However, props can be remarkably expensive, which will leave you wondering if you can even afford to become a photographer or pick up the hobby. Rather than worry about the price tag of props, you might consider learning how to make your own. There are lots of tutorials online that will teach you how to make backdrops, photo props, and even costumes. This can help boost your photography to the next level while ensuring you feel proud of your photography and ability to save quite a bit of money on your skills.
3. Learn to Edit
One aspect of photography that many people overlook is the editing process. Now is the perfect time to learn some editing skills in order to improve your skills. You might start by pulling images you've previously captured and would like to improve on or take a few new photos to play with. Then, figure out which editing program you would like to work in. It really does help to have knowledge in a variety of programs as this will help you edit in every way imaginable. However, if you're just beginning, you should just start with one program at a time. They tend to be easier to learn this way. There are lots of editing lessons online, as well as tutorial videos that you can choose from. When you're finished with the learning process, you might even come out of the quarantine with a new interest in graphic design.
4. Revisit Old Work
A lot of people are suffering from a creative block during today's current situation. A number of things can cause this which is why it is important to keep pushing forward. Being creative can help combat depression and anxiety, which are both huge problems during this period of time. If you can't muster up the creativity to try or learn something new, then take the time out of your day to revisit your old work. You might be able to improve on it by adding new techniques you have learned since you last worked on it. It might even help you feel inspired to work on something new. You never know though, you might be able to create a masterpiece out of some of the things you work on from the past, which can actually boost your love of photography as well as your ability to make money from it.
5. Try Out a New Technique
If you're an established photographer or you at least have a pretty good grasp of the information, then there are still things you can do to keep your skills going strong. For starters, you might consider learning a new technique. Even photographers that have been at it for years can learn a new technique or two. You might start by browsing around the internet to see if there is anything new and innovative to check out. If not, you might go back to basics and spend some time on a technique that you never really paid much mind too. Either way, your mind will be working on something, which will definitely help you learn and improve on your skills.
6. Photograph Things Around the House
A lot of photographers think they need to go out and embrace the world in order to make their photography entertaining and thought-provoking. This isn't exactly the case though, especially since everyone is currently experiencing a world of isolation right now. Instead of feeling bummed out that you aren't capturing your typical content, take some time to capture your current world. You can easily come up with a themed project that will help document how you spent your time in quarantine. This can include self-portraits, images of the people and animals around you, as well as mundane things like your cooking experience or sewing masks. You can take power in your home while photographing, so embrace the opportunity to see your home in a new way.
7. Read
One of the best things about photography is there are so many books on the subject. You can find everything from collections of artwork to the history of the art form. Thus, you might want to grab a few books in order to improve your own photography skills. Today, many libraries are doing a curbside pickup service, so you can still check out the books you need to improve your skills without spending a dime. Many libraries also offer an e-book program, which will also help you read up on your favorite topics. Some websites have even made their literature free for National Photography month, so you can pick up new techniques and more. Apart from that, you can purchase books on the subject from almost any retailer.
8. Explore Your Camera
Another important thing you can do while you're at home is exploring your camera. So many photographers stick with essential modes that don't allow them to fully embrace their camera. If you're still a little curious about your camera, then look up the manual online and explore everything that it has to offer. You might find that there are settings and ways to improve your photography. Knowing your camera better will also help you hone in on your craft, which will improve your skills immensely.
9. Photo Challenge
When inspiration is low, the internet offers a wide assortment for you to draw from. One of the best things to check out is the photo challenge. Of course, you'll probably run into a lot of these on social media, and many of them involve selfies. However, there are actually photo challenges from actual photographers. There are even quarantine inspired photo challenges, which will definitely help you get more out of the challenge. These challenges last anywhere from a few days to an entire month, which will give you an excuse to pull out your camera and take pictures every single day. You can do more than one challenge at a time too, which will help you stay occupied and working on your skills.
10. Practice Daily
Even if you don't have resources to work with, one of the best things you can do is practice your craft every single day. You might consider working on framing your photos, master your focus, or even learn how to make your own filter. Practicing will allow you to learn even if you don't have something to guide you. This will also help you to learn what you enjoy doing so you can get more enjoyment out of your photos. Of course, you can also practice your editing and developing skills, which can truly help you enjoy photography even more.
With National Photography month here, it might be hard to enjoy the craft as much as you normally would. These ten ideas can help you make the most of the situation, so you can still have some fun with photography and learn a few things. You never know, you might come out of quarantine with a new career prospective if you use the time to learn and master your craft.