There's no doubt about it, teachers certainly haven't had an easy time in their career. In an average year, teachers go the extra mile to make their classroom a great place to learn. Often, they spend their own money on supplies and work longer hours than they should. However, this year, they've really had to step it up even more with online learning and so much more. That is why it is important to show your support and appreciation to these unsung heroes. These ten ideas will help you bring some joy to the teachers in your life while still practicing social distancing. This should help you plan for Teacher's Week, which will definitely bring some smiles during the COVID-19 quarantine.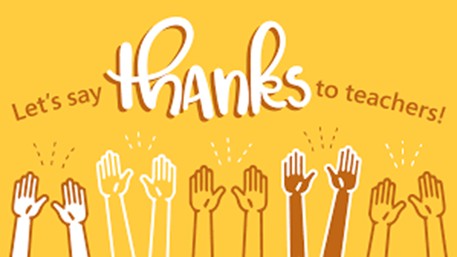 1. Delivery Gift Card
Delivery services are truly one of the greatest things we have right now. They allow us to stay home while still getting the groceries and supplies we need, as well as the occasional treat. Of course, delivery services aren't free most of the time. So, one great thing you can do for a teacher is to send a gift card for the delivery service of their choice, or whatever you have in your local area. This will allow them to get the items they need or save money on a takeout meal that will help cheer them up. One of the best things about a gift card is you can simply purchase it online and send it to their email. No one will have to worry about coming in contact with anyone else, which will help keep your social distancing game strong.
2. Group Project
If you have a way of communicating with your class, or the parents from your child's class, then it could be fun to organize a group project. There are many great projects you might consider doing. For starters, you could have everyone in the class make a quick video of themselves talking about what they've learned over the semester or year. A simple thank you message will work great, too. Once you have all of the video clips, piece them together, and email them to your teacher. This will be a nice surprise and will help any teacher feel appreciated. You can also have kids make up a song that they can all sing together during a video lesson. Of course, digital cards are also a great choice and can help everyone say how they feel in a fun message that can be viewed again and again. There are lots of group ideas out there, so let your class show off their creativity as they brainstorm the best course of action.
3. Parade
Nothing says celebration quite like a parade. Recently, birthday parades have become quite popular. So, you might want to take a note from this fun idea and transform it into a way to thank a teacher in your life. You can get the whole class together to make signs and other fun things that will make the parade great. Once everyone can agree on a time and date, then have cars line up in a local parking lot. From there, everyone can drive by and show their appreciation. You can use music, horns, and so much more to get your teacher's attention too. This can be a great outlet for everyone involved too, which is important in the times we live in.
4. Mail a Card
We don't often use snail mail to get our word across, but it can be one of the easiest things to do during the pandemic. If you want to show your gratitude, then you might use the mail service to send out a card to your teacher. You can have your children make the card themselves to ensure there is an extra personal touch. Once finished, use an envelope or make one to send it out to your teacher. If you don't have stamps on hand then don't worry, as you can actually print them out from the postal service website. The only problem you might run into is not knowing your teacher's address. If this is the case, then send the card to your child's school. It will make for a nice surprise when everyone returns to campus to begin the process of planning school in a whole new way.
5. Gift Basket
One of the best things you can do for a teacher in your life is to provide them with a gift basket. Luckily, there are so many options to choose from right now, which might help you make any teacher feel loved. If you look online, you will find an abundance of gift basket website, but you can also find them online from stores like Amazon and Walmart. You might consider purchasing options with fruit or snacks to help make the self-isolation period a bit more bearable as these items can be tough to get when grocery shopping. However, there are other options to choose from. You might consider an entertainment basket that will help a teacher enjoy a movie night, or a school supply bundle to help take the burden off of their work budget. No matter what you choose, it is bound to please!
6. Nominate for an Award
Teachers rarely get the recognition they deserve, which can really make it hard to keep them motivated in their career choice. One way you can help a teacher out is by nominating them for an award. There are so many teaching awards out there that you are bound to find one that will suit your teacher's amazing talents. It is very easy to nominate a teacher for an award. The hardest part is finding the right awards and even that isn't very difficult if you have internet access. Once you find the perfect nomination, simply submit your teacher's name and why you feel they should win the award. You can even get other people in on the nomination to improve your teacher's chances of winning. Even if your teacher isn't selected for the award, the nomination itself is bound to bring them some joy.
7. Create Your Own Award
If for whatever reason, you can't find something that suits your teacher, then you can make up your own award. There are so many ways that you can pull this off. For starters, you can make an award certificate that has your teacher's name on it and why they deserve an award. You can also have a ribbon or plaque customized to suit the award your teacher deserves. If you're shy on money and want to purchase something, then see if the rest of the class will pitch in. You might not be available when your teacher opens up the item, but you will certainly know that it will motivate them and show that they are appreciated.
8. Get Creative
There are more than trophies and awards to help make your teacher special. If you're working with a younger group of kids, then you might consider getting crafty with them. There are so many fun options that everyone can make to ensure their teacher feels the love for Teacher Week. Older students and adults might consider making or ordering something is a constant reminder. For instance, you can order a fun t-shirt that shows off your teacher's personality. There are also fun yard signs that will let the world know that your teacher rocks. All in all, your creativity stands out here and will truly help you show some love.
9. Send Classroom Supplies
Since the school year was cut short this year, you might find that you have a lot of school supplies left over. Most of the time, these supplies hang around collecting dust, which means they're also taking up space in your home. Instead of just leaving them somewhere, you might pack them up and send them to your teacher or bring them to their classroom when the school opens back up. This will help take a huge burden off of their needs when physical classes do open up. Apart from that, you can also order items online to have shipped to the teacher. This will give them a variety of new supplies, which will help them make learning a lot easier for future students.
10. Simple Thank You
If you're low on money, lacking inspiration due to quarantine, or can't organize a group to help out, then you shouldn't worry. For some teachers, a simple thank you is the best way to make their day. This can be done in so many different ways too. For instance, you can say thank you for a digital lesson plan. If you don't want to interrupt the class, then shoot an email. This isn't just true for students either. Parents can easily get in on the thank you to help show their children the importance of treating teachers with respect and admiration.
Teachers' Week is a prime time to share your appreciation for those that dedicate their lives to teaching. These ten ideas will allow you to share some love, even while you're stuck at home. This special week might even help you realize how much teachers have meant to you in the past, so feel free to reach out to these teachers as well in order to show your appreciation.