Memorial Day is just over a week away, which can be exciting for anyone looking to save money on a little retail therapy. This year, Memorial Day is going to be a little different as most stores will only allow 25% occupancy, if they have their brick and mortar stores open at all. Luckily, most retailers today have online stores that will still allow you to get in the Memorial Day shopping experience without forcing you to get out of your pajamas. So, if you're looking to purchase any of the ten items below, you'll have a lot of fun surfing the deals and enjoying your brand-new sales items.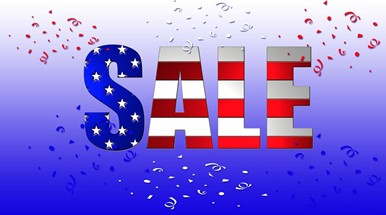 1. Laptops
Laptops are a popular purchase during Memorial Day, especially with so many graduating and preparing to start college. So, you will most likely find some major deals on some of the top brands that you have already come to love. When it comes to laptop deals, you're going to find a whole lot of offers from HP and Dell. These two leading stores will have huge percentages off new and refurbished computers, so make sure you shop around to find exactly what you need. Other stores like Best Buy and Lenovo will also offer similar deals, but probably nothing quite as exceptional as these deals. Major retailers like Amazon, Target, and Walmart haven't released their deals yet, but most stores will have competitive deals with potential price matching options.
2. Mattresses
Without a doubt, mattresses are one of the most popular items on sale during the Memorial Day holiday. Every year, mattresses are in full stock during this time, especially with new editions hitting stores. So, you might want to browse around online to see if there are any options that suit your needs. Some of the stores offering great deals on mattresses, accessories, and deliveries are Mattress Firm, Bear, Casper, AmeriSleep, Zoma, Purple, and Dreamcloud. However, this doesn't mean that you should disregard the local mattress or furniture stores. Of course, shopping for a mattress online can be harder than doing it in person. So, you should do a little research to help you find the perfect option for you.
3. Patio Furniture
This year, patio furniture is going to be a huge draw for so many stores during the Memorial Day sales. Although it is already a big seller year after year, this year more people are interested in the furniture because they are stuck at home during the quarantine. So, if you're looking to improve the exterior of your home then you're going to want to check out stores like Overstock and Wayfairer for some of the greatest deals. These stores typically have lots of great options when it comes to patio furniture, so you might shop ahead a few weeks to make sure you're actually getting the deals you're promised. Macy's is one of the more surprising places you can find deals on patio furniture, but with the company shutting down many stores you will definitely see more and more deals coming from their website. If you have an expensive taste in patio furniture, then World Market is going to be the place to go. You will find competitive prices on items that would normally cost you an arm and a leg. Finally, Home Depot and Lowes will have items you can even pick up in your local area, which might save you even more money and won't leave you waiting on items to arrive as you will be able to do curbside pickup.
4. Appliances
Memorial Day isn't the hottest time to purchase appliances, but if you're on the hunt for replacements then it is still a great idea to shop now. After all, we will be facing shortages on appliances in the coming year, which will mean prices will be higher than ordinary. Some of the best places to shop for your appliance needs are going to be Lowes and Home Depot. These stores offer delivery, installation, and the works, as well as competitive prices. Best Buy is another option you shouldn't overlook though. They will slash prices online, but you might also find an open box special that will get you off on the right track. If you're not sure about open box items, contact your local store to see what they actually have in stock. Of course, if only small appliances are calling your name then Amazon is going to be one of the best places to get your online shopping done.
5. Gadgets
Electronics, other than laptops, are pretty hot options for Memorial Day sales too. For these items, you have a lot of different options to choose from. For instance, Walmart and Target have had a lot of deals on fitness watches, robotic cleaners, and other such gadgets. You might also find some deals on gaming consoles. Best Buy tends to have some of the best deals on gadgets because they specialize in them. So, you might want to start your search there. Of course, if you're looking for Amazon specific items, like the Echo, then your best option is to look there. Camera fans will love the $650 in savings that Canon is offering on some of their camera and lens sets. So, make sure to browse around on your favorite gadget websites to find what you're looking for at the best possible price.
6. Clothes
Whether you're stocking up for a chic summer wardrobe or preparing for your winter climbing trips, there will be quite a few sales for you. Fashion fans will find lots of sales on this season's clothes as well as last seasons on websites like Zappos, Macy's, Nordstrom, Old Navy, Gap, and Levis. These websites are offering discounts on current trends, but many will also take even more off of sales prices from clearance items. If you have kids, then stores like Carters and Children's Place will provide you with some awesome deals. Outdoor fans and athletes will find an assortment of options from Dick's Sporting Goods.
7. Tires
If you're looking forward to road trips when quarantine is over or you just need a fresh set of tires to get to work, then Memorial Day is going to be a great option for you. There are going to be many options to choose from, so make sure you look on websites that you trust to find tires that are great for you. Websites like Goodyear, in particular, will offer huge savings as well as rebates. You can also schedule a time to have your tires installed if this isn't something you can do yourself. Make sure you order from a store in your area if this is an option you require. You should also look for coupons so you can save on this aspect of the purchase, too.
8. Glasses
With so many people working from home, you might find that your need for glasses is dire. Whether you're after prescription frames or you just want something to block out the blue light, there are many options to choose from online. Many of these websites already offer big savings on frames, but you'll find even more during this time. You might also find savings on lenses, which can make your purchase a lot cheaper. GlassesUSA, for instance, has already come forward with their 65% off frames option for the holiday.
9. Jewelry
Although the gift-giving holidays for jewelry have mostly passed, you will find that many stores that offer jewelry will have some pretty great deals on items. Largely, you will find some of the leftovers from Mother's Day and maybe even Valentine's Day, but there will be some classic items that you might be able to find discounts on, too. Apart from classic jewelry, you will find that the company most renowned for crystal merchandise will offer an extra 20% off of their prices. Fossil watches and other accessories will also have a whopping 25% off discount. So, don't skip out on the jewelry just because you think the deals aren't out there.
10. Furniture
Interior furniture is another super buy during the Memorial Day sales, so make sure you shop around for key items for your home. When you shop around for these items, you might check out stores in your local area first. You might be able to arrange a social distancing meeting to check out the item before you make your purchase. You can even save money by picking up the item yourself. Of course, other retailers will offer great savings too, but be careful when you ship items as the price might be a huge setback for all of the savings you think you're getting.
Memorial Day is one of the best times for shopping, so don't let the holiday pass you by because you're stuck at home. These ten items will be on sale at a number of retailers, so get ready to get the items you want at a price that is desirable. You'll love getting in your retail therapy when you have these amazing deals to enjoy.