Recently we have received many phone calls and emails regarding the issues people ran into while using our website. I have been using coupons for years, everything seems to be pretty straight forward to me. But apparently they are not to everyone. There are people who don't know how to use coupon code, people wanted to find out why coupon doesn't work, people called us complaining the order did not go through, people emailed us complaining that his credit card was over charged, people complaining shipping was too slow. For this reason, we list the frequent asked questions here and hope our answers can solve your questions, and help you to make full use our coupons and save your money you deserved to.
1.What is online coupon?
Like the coupons you clipped from your Sunday newspaper, online coupons are used to save your money while shopping online.
2.How to use online coupons?
There are two types of online coupons: coupon code and coupon link. Coupon code can also be referred as discount code, promo code, promotion code, offer code, promotional code, gift code, catalog code, referal code, source code, redemption code, priority code, key code, etc. When you are ready to check out from the retailer's website, copy the code listed on our site and paste into the textbox on the retailer's checkout page where it says "Coupon Code:" (or similar phrases we listed above) and click "apply". Coupon link is a type of coupon without any code. All you need to do is to click on the link and enter the retailer's website, do your shopping as you usually do, discount will be applied automatically when you check out.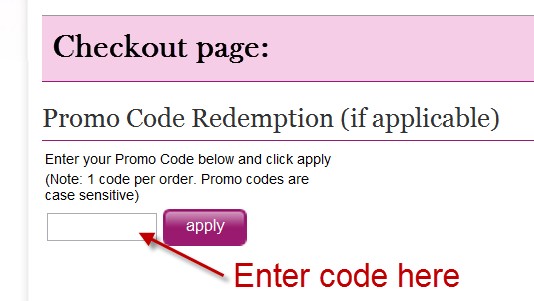 3.What if coupon doesn't work?
Well, if it doesn't work, it doesn't work. We can't do anything about it. Retailers have the right to allow or disallow the coupon. And we do not guarantee the coupon to work.
4.What if I have trouble while shopping online?
I hate to say this, but we have nothing to do with your shopping. If you ran into trouble, please contact the retailer directly. You can always find their contact information on their website. You can either call, email or live chat. If you can't find their contact info, stop shopping immediately!
5.What if I have questiones after I placed the order?
Again, please contact the retailer directly.
6.What if I did not receive the item?
If you have a tracking number, track your order at USPS.com, Fedex.com, and UPS.com. If not, contact the retailer, not us, and ask why.
7.How did you get those coupons?
Every day we read the retailers' newsletters, read their tweets, read their facebook fan page, and check their websites to see if there are new coupons available. Some retailers also write or call us to list their coupons.
8.What can you offer to us?
We collect coupons and list as many and accurate as possible for you to use. But we can not gurantee all of them to work, and we do not have the man power to verify them every day. We list them all for free.
9.Can I use these coupons in stores?
It depends. Some stores will allow you to do that. But to make sure please call the store before you go.
10. When should I use your contact form?
We have a contact form. Contact us if you found a broken link or an invalid coupon. We will try to update our page within 24 hours. But please don't contact us if you have trouble during or after shopping. We can not help either. All we do is collecting coupons for those online retailers. We had nothing to do with them.