With everyone staying home more, it is easy to find lots of projects around the house. However, budgets for home improvements aren't exactly on the high end right now. If you're looking to give your bathroom a little more life, then you're definitely in luck. There are quite a few items that you can purchase that will make your bathroom look and feel amazing. In a world filled with turmoil, you'll love spending time in your upgraded bathroom without having to worry about the high costs.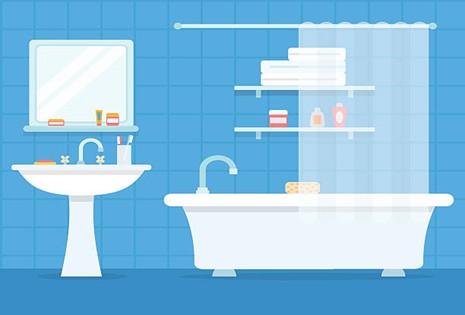 1. Soap Dispenser
Let's face it, the plastic soap dispenser that you get in stores doesn't really look nice, no matter what character or ocean scene is attached to the back of it. If you want your bathroom to look and feel chic, then it is time to upgrade the dispenser. There are lots of great pump dispensers on the market, but if you're looking for something nice, they might cost you more than you want to pay. One of the best options is to purchase an automatic dispenser. This uses a sensor to provide you with the perfect amount of soap. In this day and age, the less you touch in the bathroom the better, so this is practically a win-win. These soap dispensers tend to have more modern looks too and don't cost any more than a reusable dispenser. Plus, they will allow you to shop soap in bulk, which will save you a lot of money in the long run.
2. Stick on Wallpaper
If you're ready to take your bathroom to an entirely new level of awesome, then stick on wallpaper is the way to go. You can find some of the coolest designs on the market and they won't cost you a whole lot of money. Of course, one of the best things about the stick-on wallpaper is it is so easy to take down and move or switch to something else. Stick on wallpaper requires very little work too, which is great if you're just wanting to reach relax mode sooner. One of the best things about the stick-on wallpaper is it can be used for a number of different things. You can line shelves with it, put it in drawers, or cut it to create accents for the cabinets and more. No matter how you use it, you'll love every inch of it.
3. Add a Shelf
Bathrooms tend to be a constant source of clutter. From clothes strung out everywhere to makeup and hygiene products all over the counter, your bathroom can really feel uncomfortable. That is why a shelf is a great way to help keep things put away properly. One of the best places for a shelf is over the toilet as this will allow you to store items that you need in this area there. You might find that wall shelves are also a great option though. You can place some of your makeup or other hygiene products there, place a hook beneath it for clothes and towels, or simply add plants and decorations to improve the atmosphere. You'll also find that you can make your own shelf cheaply, which might encourage you to take on the project right away.
4. Shower Curtain Focal Point
If you're looking to make a bold statement in the bathroom then the shower is probably the best place to do it. You can find shower curtains in so many shapes, sizes, colors, and designs that it will be a breeze to customize the shower curtain to suit the décor of the bathroom. You can find fun shower curtains on many online retailers. Many are more than affordable too, which can help you to feel more confident about your purchase. However, if you truly want to shake things up then you can easily have one custom made to suit your needs. Most custom companies can print any picture or print to make your bathroom an echo of your personality.
5. Add a Plant
When it comes to making a room look and feel better, a plant is one of the best routes to take. Indoor plants are a great way to help improve the overall environment of a room. One of the best things about having indoor plants is the fact that they do help to filter out the air, which is very important. If you don't have a lot of ventilation in your bathroom, an indoor plant can truly work wonders. These plants tend to be a bit low maintenance too, which will make your life easier than ever. There are lots of indoor plants to choose from, so make sure you do your homework before you choose which one you'd like to add to your bathroom.
6. Toilet Roll Holder
Toilet paper is one of the most important parts of the bathroom. However, we often put the tissue wherever we feel like it or leave it hanging from an unattractive handle that usually doesn't suit our décor. So, if you want to make a major upgrade to the bathroom then you might consider adding a toilet roll holder to the mix. You can find a huge selection of these from a wide variety of retailers and most won't set you back a lot of money. You can even create your own to add to the fun, which will give you a nice project to work on while you can't go out and do anything. When you get your toilet roll holder up, you will see that it changes the environment of the bathroom immensely.
7. Waterproof Speaker
Although it might not add to the appearance of the home, adding a waterproof speaker can totally change the atmosphere of the room. Generally, these speakers go in the shower so you can belt your favorite songs without feeling as insecure. However, you can place the speaker anywhere you please. This is great for creating ocean sounds to help make the room a lot more comfortable as you unwind at the end of the day. You can also make it feel more like a spa if you use a spa related playlist. No matter what music you use, this speaker will make spending time in the bathroom a lot more rewarding. Waterproof speakers are pretty cheap these days too, so you won't have to feel guilty about the purchase.
8. Accent Rugs
The floor usually isn't exactly anything to write home about it. It doesn't matter what kind of flooring you have, it is most likely going to add a touch of bland to your bathroom. One of the best things you can do for your bathroom is to add an accent rug. Luckily, you can find bathroom rugs in all sorts of designs that will help you make your bathroom truly shine. Bathroom rugs will also soak up the moisture on the floor to help prevent mold from growing near your bath or shower.
9. Storage Baskets
Another great way to improve the look of your bathroom is to add some storage baskets to the mix. These baskets can be whatever you choose, too, as they will suit your décor. A lot of people go with wicker brackets, but some like the look of metal boxes. You can also think outside of the box and use other decorative items to serve as storage. Once you choose the boxes, use them to keep things organized. They will definitely help you make the bathroom less cluttered, which will make cleaning and enjoying the space a lot easier.
10. Lighting
One of the best ways to change the way your bathroom looks and feels is to add to the lighting element. When it comes to creating atmosphere, lighting can go a long way. You might try out fixtures that offer dimming, so you can enjoy a nice relaxing bath. Vanity lights are also perfect if you tend to find yourself getting ready in the bathroom most of the time. You can also switch out bulbs until you find what you need. If you like to create stress-free environments, then you might consider a salt lamp. If space is tight, they do have salt lamps that plugin as a nightlight, so you can increase the positive vibes in your atmosphere.
Your bathroom is one of the best places to enjoy life and find a little time to relax. These ten ideas will help you take your bathroom to the next level without forcing you to spend a lot of money. When you try out even one of these ideas, you're bound to feel like your bathroom is a little bit cooler as each day passes.