August is family fun month, which can be exciting if you're ready to do some fun things with your loved ones. Generally, this month is filled with trips to the park, family vacations, and other activities that take place outside of the home. This year, you might want to concentrate on things that can be done while you're safely at home. A project can be a great way to celebrate the month while allowing everyone to bond over some fun. These ten crafts won't set you back a lot of money and will allow the whole family to truly embrace the fun they can have together.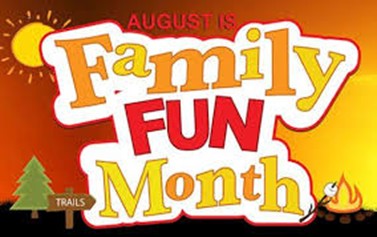 1. Hands Cast
If you're connected to social media, then you have most likely seen a hand-cast on your timeline. This awesome project allows you to memorialize your family's hands as they are right now. This project doesn't take a whole lot of effort either. In fact, all you need is a casting kit to get it done. These won't set you back a whole lot, but if you're hoping to save some money then you'll find that you can DIY the craft too. Of course, if you're not feeling crafty then there are professionals that will ensure you get the decorative item you desire. You can cast your hands in many styles too, which will help you show off your family's personality. You can place the item just about anywhere as well, which will definitely make it fun to have the work of art in your home.
2. Family Tree
Another fun way to help your children learn about your family while enjoying bonding time is to create a family tree. When it comes to family trees, you do have a lot of options to choose from. You can have kids paint pictures of everyone in the family and then hang them up to form a tree. You can also use pictures to do the same thing. Apart from that, you might consider doing a traditional family tree. You can even use twigs and other natural items to help form the tree on a canvas or even a poster board. If you're not sure where to begin with your family tree adventure then you might look up ideas on social media to add to the fun.
3. Family Portrait
If you're looking to have the kids show off some artistic skills, then you can easily have them draw a family portrait. This can be done in a number of mediums too. You can even do more than one portrait and have kids pick out their favorite to put on the wall. Of course, you can also have your family portrait taken. If you have a camera with a timer or even a selfie stick then you're on your way to completing this fun family-oriented project.
4. Handprint Images
Handprints are a great way to work with younger children and can help create wonderful memories for everyone. You can easily make a wide assortment of crafts with handprints too without having to spend a bundle of money. One of the more common crafts right now is a layered handprint picture. The person with the largest print goes first with the color of their choice. Then the next person places their handprint on top once the first dries. This continues until the smallest handprint is added. You can even add paw prints if you want, but make sure you clean all of the paint off of your pet to avoid illness. Once the prints are done, many people add a message then hang up the project. This is only scratching the surface though as there are lots of fun ideas to try out.
5. Blanket
Blankets are a great family-oriented item because they bring comfort and so much more. One fun idea is to make a blanket out of old tees. Then, you have sections that represent the whole family, which is lots of fun. You don't have to go this route though. You can also add pieces to a blanket that shows off family pictures. Another fun idea is to put hand and/or footprints on fabric. Once you have the pieces you need then add them together. You can sew, but there are lots of no-sew options that you can also try out if you don't want to use a sewing machine. When the blanket is finished, everyone will have a great memory piece that they can enjoy for years to come.
6. Create a Recipe
Eating together is one of the major parts of being a family. So, it only makes sense that you would come up with an extra special recipe to help bring you all together. This might take a lot of time and some major experimenting, but when you manage to create your family recipe then you'll have a prize that everyone will cherish and pass down to their own children. Making a new dish can be complicated, so don't stress it too much if you feel a little lost. Instead, let everyone put in their input to try to figure out where you should be going with it. Then, when you've mastered the dish, serve it on special occasions or during a family day once a month. Before you know it, the recipe will become a piece of home that the whole family will cherish.
7. Invent a Game
Games are a great part of the whole family fun night experience. Thus, you might want to consider coming up with your own game to make the whole family happy. You have so many things to work with here, so have a lot of fun with the creation process. If you have younger kids then you might work with a board game like Candyland. However, you can always increase the difficulty level as children grow. Another option is a trivia game to get the mind going. If your family is very active then you can also try out a recreational game like a flashlight tag. Once you work out the finer details, write everything down, and enjoy the game every family fun night.
8. Story Book
Telling stories and making memories are an incredible part of the family experience. Thus, one way to have some fun with this aspect of family life is to create a storybook. This book is a great way for kids to exercise their creativity. Simply ask them to create a story from your family. They might use the time to describe family, share a memory, or even make up their own stories. Once the story is finished, add it to a special book that can be shared with guests or looked over as the years pass. Kids can add to it throughout the year, so by the time they leave for college, there will be a large book of fun memories that show your family's growth.
9. Rock Garden
When it comes to your garden, nothing says fun to a kid quite like rocks. For the family fun month, you might want to venture out to find some rocks that can be used as works of art. These are typically flat rocks, but you might be able to work with just large rocks. When you have your collection ready to go, let the kids have some fun. You might have them paint pictures of everyone in the family, add handprints, or even just paint names. Your kids will have fun with the craft and figure out an assortment of fun things to be done. When everything is painted and dried, add the masterpieces to your garden. It will liven things up a bit while also allowing everyone to see the creative fun your children are having with their family life.
10. Make New Traditions
Traditions and family go hand in hand, so you might take the month of August to come up with a new tradition for your family. Generally, families tend to have traditions around the holidays. If you really want to, you can come up with a new tradition to try out during your favorite holidays. However, you can also come up with a tradition that can be enjoyed all year long. This might be anything from family story day to cooking a special meal one day a week. No matter what you choose to do, the tradition will certainly make your family feel warmer and closer together.
Family Fun Month is truly a great time to enjoy one another. Since going out and having fun isn't an option this year, your family might enjoy these ideas instead. Hopefully, everyone will able to enjoy themselves enough to make the memory last for years to come.