It's practically November, which means the holiday season is coming to us quickly. During this season, many families make a point to get together for the holidays. If your family is meeting up in your local area this year, then you might be looking for a budget-friendly option to keep everyone happy as they reunite. These ten ideas can make hosting a breeze or can even help you offer suggestions if the reunion tends to feel forced. This should help make the holiday season happier, which will allow you to feel less stressed during this financially straining part of the year.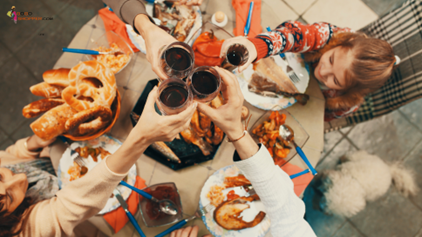 1. Consider Cheap Local Activities
Entertaining a large group of people can be a huge hassle and may seem impossible when you think about it. However, there are many activities you can enjoy that won't stretch the budget too much. For instance, bowling is a great option to get everyone together. Bowling tends to be cost-effective, especially if everyone chips in. You can book a few lanes to suit everyone and can even set up spaces for just the kids to play. Another option is to book a party room at an arcade or other party place. This will give you time to mingle while also allowing you to eat and play games. Most of these party rooms come with perks like free food or a certain amount of game tokens per person, which can save a lot more than you'd expect.
2. Break out the Football
Football season is in full swing, which means many family members are probably going to want to enjoy the sport during the holiday. May it be the game on Thanksgiving and Christmas day or just a game to keep the attention on something, football can be a game changer. Of course, you can also pull away from the TV and play football with the family. Breaking everyone up into teams to play can really kill the time and ensure kids are totally entertained. Even family members that can't play can keep score and cheer on their team of choice. All of the activities will have everyone worn out too, so you won't have to worry about restlessness throughout the day.
3. Breakfast Bar
Feeding a lot of people during the holidays can be pricey, especially if you're planning on hosting a holiday feast. One of the cheapest ways to help everyone feel full without forcing you to spend a lot is to create a breakfast bar. If you serve the breakfast bar a little later in the morning, then it can shift from breakfast to brunch so you don't have to worry about adding a third meal. Breakfast food can be incredibly cheap and filling, which is why so many people rely on it. You can make massive amounts of pancakes or waffles for next to nothing. A large batch of scrambled eggs can go far. You can also purchase croissants in bulk in most retail stores or make up cheap batches of biscuits. These options combined with toast can help guests enjoy breakfast sandwiches with ease. Breakfast meats like sausage and bacon won't set you back too much either. This meal is easily complemented with trays of fruit and yogurt which can be cheaply purchased in bulk.
4. Scrapbook
Scrapbooking is a popular pastime for so many people. There is no better time to enjoy the hobby than when you're surrounded by a lot of families. Before your guests arrive, ask everyone to bring some supplies with them, as well as photos they may want to work with. You can probably find some great deals on scrapbooking supplies as well as have photos printed off for cheap. While everyone sits down to scrapbook, you can share stories of the pictures you chose or talk about past memories that you may want to record as a family. This is also a great time to introduce the younger generation to past memories or family members they may have never known while showing them how to scrapbook.
5. Family Photoshoot
Many families love to get together for a family photo when they have the chance. This can be pricey, especially during this time of the year when so many people want to hire a photographer. Luckily, most modern phones have a great camera that can craft a family photo with very little photography experience. You can use a tripod and set a timer for a family photo of everyone. People can also take turns taking pictures of individual families to ensure everyone gets something they need. Photos can easily be edited with free software as well, which will allow you to feel even more confident with the photo you get.
6. Embrace Traditions
One of the best ways to kill some time during holiday gatherings is to enjoy family traditions. Most families have something they enjoy doing during the holidays, may it be baking, creating ornaments, or singing traditional songs. These traditions are great ways to help everyone bond, while also teaching the next generations your traditions. Of course, if you have lots of time, you can always come up with a new tradition to share with your family. Crafts are an easy way to accomplish this, but you might also enjoy playing games or even watching a moving together.
7. Explore Holiday Festivities
In most locations, there is some sort of holiday festivity to enjoy. Many communities offer caroling, light shows, and even parades to help make the holiday special. Some will even set up special holiday shopping areas or events featuring Santa Claus. Most of the activities are low-cost or free, which makes them a great way to entertain guests during the holiday season. On top of that, you'll be able to enjoy lots of fun things that will help you make memories away from the house.
8. Potluck
Food is a major part of family reunions, but it came to be pretty pricey if you're feeding a whole lot of people. If you're hosting a lot of family members, then one of your best options is to ask for it to be a potluck. Even if people are staying with you, they can pay for and cook a dish to add to the meal. This is also great because it allows you to enjoy dishes that your family members take pride in. It can also allow you to learn some of the dishes that you enjoyed when you were a child.
9. Relay Races
Getting outdoors or even just moving your body can help you keep everyone entertained and happy. These races are very easy to set up without actually spending any money. You can use items around the house to make the races indoor or outdoor, depending on the weather. Relay races can cater to various age groups too. So, you can set up kid-inspired races when adults are cooking or chatting to ensure everyone has a good time and is able to blow off the steam throughout the day.
10. Create a Conversation Jar
Spending time with family can be great, but sometimes there are hiccups when it comes to conversation. Often, the conversation can run dry if you don't spend a lot of time with people. On the other hand, there can be too much to talk about and the conversation may turn to topics that aren't okay with everyone at the reunion. One of the best ways to combat both situations is to pull a topic out of the conversation jar. This is a jar that is filled with strips of paper with interesting topics on it. Once a topic is pulled, everyone must engage in this topic. You might prohibit people from adding in specific topics, like politics or religion to help keep the peace. Kids can even add topics, to show them how to engage in friendly conversation with adults. This jar can definitely help spice up a conversation or take it for a turn you never thought possible.
Having fun with family is what the holidays are all about. However, that doesn't mean that you have to spend a whole lot of money to keep everyone happy. These ten ideas will keep your holiday experience budget-friendly while giving everyone what they need to make amazing memories.