Halloween is creeping towards us, which means there's a lot of fun to be had. However, if you've been shopping for character costumes for your child, then you might be appalled by the prices. Much like everything else, it seems that Halloween costumes have gone up due to inflation, so if you're shopping for a character costume you might feel overwhelmed. Shopping for multiple children may even force you to spend over $100, which isn't great for the budget with the holiday season coming up. There are many great character costumes that you can DIY, which will satisfy your child's desires while giving your budget a little relief. These ten characters are fun and easy to create at home, so you can truly embrace the holiday with less worry.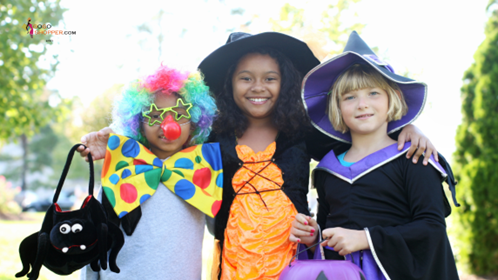 1. Bluey
Bluey is everywhere this year, so if your child has been begging to dress up as Bluey or her sister Bingo, then you may already have trouble finding a costume. Those that are available are priced higher than you'd probably like to pay for a child's costume. Luckily, Bluey and Bingo are incredibly easy to make. In fact, the Bluey website has even offered templates to help you create the two characters. All you'll really need is a pajama set or sweatsuit in the character of your child's choice. Then, you can create the tail out of felt or fabric, and the masks out of paper or cardboard. It's incredibly easy to do in a hurry and may even look better than the costumes offered on the market currently.
2. Daniel Tiger
Daniel Tiger is a common character that preschool children tend to ask for. However, it is a little tough to find it in a lot of local stores because it is a product of PBS. You can find it online, but it tends to run a little pricier than other options. Luckily, the costume is incredibly easy to make at home and you can find a wide variety of tutorials to help you along the way. All you need is a red hoodie or sweater to create Daniel's signature look. Red shoes are also a bonus, but you can work around this. Pair the look with yellow sweatpants that have felt glued or fastened to them and you have the body portion of the costume ready to go. There's quite a bit of flexibility when it comes to the ears. You can fasten hand-drawn or felt-made ears to a headband or hat with ease. There are also custom hats you can order or templates to help you knit a hat. Of course, this method might take a bit more time, so make sure you order or begin the hat as soon as possible.
3. Harry Potter
Harry Potter is a timeless choice that is simple to create with items around the home. For starters, you can start with a simplistic scarf if you don't have one at home. This can be made by piecing gold and maroon felt together with glue or simple sewing. Of course, if Harry Potter isn't your child's choice, you can make the scarf out of any of the house colors. Your child can dress in a long coat or a brown bathroom, or you can keep it casual with everyday clothes or a red sweater. If Harry Potter is what your child is going for then you face paint to add on a lightning bolt and a pair of glasses. However, you can also buy prop glasses for cheap. As far as props are concerned, your child can carry a broom, or you can also use a stick as a wand.
4. Pete the Cat
If your child loves Pete the Cat, then creating a costume is incredibly easy. All you will need for this costume is a yellow long-sleeve shirt or yellow raincoat, as well as dark blue or black pants. From there, you will want to make large, colorful buttons out of paper to fasten onto the shirt or coat. If you want to go all out on the costume, you can craft a tail in the same color as the pants you choose. There are lots of great tutorials for this online. For the ears, you'll need a cheap headland to fasten paper or felt cut-out ears. You can also paint on whiskers if you want to take the look even further. This makes a great dress as your favorite book character look as well.
5. Peanuts
Another great option to try out is the Peanuts. You can recreate so many looks here, which makes it especially great for group trick-or-treating. Of course, the most iconic option is Charlie Brown. All you need is a pair of black shorts and a yellow shirt with black felt secured in the classic Charlie Brown way. For Linus, you just need black shorts, a striped, red shirt, and his iconic blue blanket. Peppermint Patty is easy if you can make a wig out of yarn or style hair in her signature look. Once the hair is set, then you can add black shorts, a green button-down shirt, and flip-flops. Other than that, you can add Lucy to the mix with a blue dress and saddle shoes.
6. Miraculous Lady Bug
Miraculous Lady Bug has been a popular costume for the last couple of years, which might make it fly off the shelf in your area. If you're looking for the costume and have no luck, then you can easily DIY it with very little effort. All you need for this costume is a red sweatsuit, or a red shirt and red pants. These can be cheaply purchased in stores like Walmart. From there, you can cut out circles using felt, you can paint them on with fabric pair, or use a permanent marker. Once you have the suit made, you can create a mask using paper or felt, as well as string to hold up it.
7. Sesame Street Characters
Sesame Street characters have been popular costume choices for decades now, and you should be able to find them at most retailers. However, not all characters are on the market and the costumes can be a bit pricey. If you're looking to save money, then you might consider starting with sweatpants and a hoodie in the color of your child's preferred character. From there, you can add defining details, like Cookie Monster's googly eyes or a mask that offers a longer nose and feathers for Big Bird. You can also print off a mask from templates online if you don't want to go the extra mile on the fine details. Most characters can be accomplished in this manner, which will allow you to work with your child's needs.
8. Jedi Knight
If your child is a Star Wars fan, then a Jedi Knight might be the perfect option for you. This is an easy costume to create too and can be customized to suit your child. To start your Jedi journey, all you really need is a pair of tan pants and a white top. You can add to the look with a tan vest or tan fabric that can be wrapped around the waist like a belt. Once you have the costume made you can create whatever hairstyle or face paint style that suits your child's preference. Finally, you can create a lightsaber using cardboard, but you can also find this prop for fairly cheap in stores if your child doesn't already have one.
9. Carebear
Carebears have made a comeback over the last couple of years, which has definitely made them a popular option for Halloween. However, the costume market doesn't always cover all of the Carebears, so your child's favorite character might be left out. If this is the case, or you're just looking to save money, then Carebear costumes are incredibly easy to make. You can start with a hooded sweatshirt and solid-colored pants in the color of your bear of choice. You can create the bear's belly using paper and then glue the symbol onto the sweatshirt. You can even download images of Carebear's symbols online if you don't want to draw them. If you want to go the extra mile you can create bear ears out of felt and add them to the hood of the sweatshirt. You can also paint your child's face the color of the bear.
10. Baby Shark
The entirety of the Baby Shark family can be created in the home with ease. All you need is a hoodie for every shark you choose to make. Add white felt to the brim of the hood to create the teeth. You can do the same for eyes. However, you can also recreate the face of the shark on the body of the hoodie. You definitely have a lot of freedom when it comes to this costume, so have some fun with it
Dressing your child up for Halloween shouldn't have to be pricey. In fact, these ten-character costume ideas will ensure your child gets what they desire while still catering to your needs. You will save plenty of money while adding even more fun to the holiday. This will definitely help you to add new traditions to the holiday that will cut back on consumerism.