The holiday season is right around the corner, which means it's time to start planning how you're going to spend your holiday. Booking early is always the wisest thing to do if you'd like to travel during this season, so choosing a destination sooner rather than later can save you a lot of money. These ten destinations will allow you to travel abroad or stay within the country so you can make your travel dreams come true.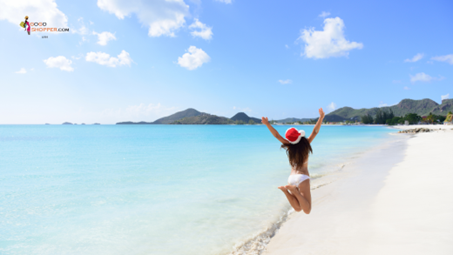 1. Mexico
If the heat is what you're channeling, then this is going to be a great place for you to visit. There are so many wonderful travel destinations in Mexico to choose from, so make sure you shop around to choose what is right for you. One of the best things about traveling to Mexico is you can drive to your destinations, which means you won't have to worry about rentals or catching your flight. There are numerous budget-friendly resorts in Mexico too. You should always look at reviews before you book anything though. You'll find that food can be incredibly cheap as well, which can help combat the price of the trip. You'll also be able to spend much of your time at the beach which can cost you next to nothing.
2. Curacao
Want to combine a European adventure with lots of sunshine? Then Curacao is the place to be. This little island will give you plenty of beach time that you'll forget all about the cold weather waiting for you when you return home. You'll get the same kind of island vibes as you would traveling to Puerto Rico, but there's a definite twist to this island. Much of the architecture will make you feel like you're walking through Amsterdam. It's a beautiful sight to see, especially combined with the wonderful sunsets. You'll also find that there are many Dutch-inspired things to enjoy on the island, which can take your vacation even further.
3. Dominican Republic
Another beautiful place to explore if you're looking for a sun-filled holiday is the Dominican Republic. This destination is more than affordable and will allow you to easily bring plenty of fun to your vacation away. The weather is really great during this time of the year, which means you can get out in the sun without feeling overwhelmed by the heat. Accommodations tend to be on the cheaper side too and you can find incredible places to eat which will make you forget all about your classic holiday meal. You'll definitely want to check out guides to get the most out of this destination.
4. Czech Republic
If you want to get away while still embracing the holiday mood, then the Czech Republic won't fail to disappoint. This destination offers all the beauty of Europe so you can take in the culture you've dreamed of seeing set against the stunning winter weather. You'll find everything from museums and restaurants that will have you longing for more. Best of all, you can visit the Czech Republic without spending a fortune, which will feel like a gift to yourself. Apart from that, you'll learn so much while you're there that you'll want to return immediately to see the city blossom in the spring.
5. Thailand
Another great option for traveling abroad is Thailand, especially if you want to get very far from the cold. Thailand will provide you with the warmth you've been craving while also giving you plenty of amazing new things to explore. There is a lot that you can enjoy in Thailand, so you'll need to do research before traveling so you'll know where you'd like to actually go and what you'd like to do. You definitely won't be able to see it all while you're there, so try to plan plenty of time between destinations. If you shop around enough, you'll be able to book inexpensive rooms in places with plenty to see and do.
6. Las Vegas
If you're looking to stay in the states for the holidays, then a trip to Las Vegas is going to be one of your best options. Vegas is notorious for having some of the cheapest hotels around, which will make your budget scream with joy. While in Vegas, you can find a ton of great things to do without having to spend a fortune. Even walking around the city can kill plenty of time while still allowing you to have some fun. There are also many ways for you to get free tickets to shows while you're in Vegas which can help you save more while maximizing the fun you have there. As long as you pace yourself with activities like gambling, then you should also be in for a fantastic holiday.
7. New York City
Another fabulous place to spend the holidays is New York City. Although New York City often gets a bad reputation for being expensive, you can easily find budget-friendly options to ensure you get your budgetary needs met while still having fun. If you shop around, you should be able to find a hotel that will make you feel comfortable financially. There are many free things to do in the city, including free museums and activities. You can look online to choose the activities that work best for you. You can also find cheap places to eat, which will help you save quite a bit. Apart from that, the city will have plenty of holiday-themed things to enjoy, which will allow you to truly find joy in the holiday.
8. Chicago
Chicago is another great place to visit if you love the city during the holiday season. Like New York City, you'll get to check out a huge Christmas tree as well as an abundance of other city decors, which can help make the holiday vibes even more fun. You'll also be able to check out the German Christmas Market, which can be a great option if you love delicious treats, or you want to pick up unique souvenirs for loved ones. Apart from that, you'll be able to enjoy everything else that the city has to offer. A tourism guide can help you along the way, which will allow you to plan your trip accordingly so you can fit in as many activities as you can.
9. San Diego
You'll still be able to soak up some sun when you head to San Diego. Unfortunately, hotels tend to be a bit pricey here, but if you shop around you might be able to find a good deal or an Air B&B that will allow you to save. There are so many things to do in San Diego that will allow you to enjoy yourself without spending a fortune. For instance, the beach is free as long as you don't need to park, which can save you a bundle and kill you a lot of time. There are many beaches in the San Diego area including La Jolla and Coronado. La Jolla is home to Dr. Seuss's late house and is also a great place to spot seals, take snorkeling classes, and so much more. Coronado is home to the iconic Hotel Del, which is actually free to tour. It also offers golden beaches and a cute shopping strip with plenty of exciting foods to try. You'll also be able to enjoy a Christmas parade.
10. San Antonio
San Antonio is another great place to spend Christmas if you love cheap amusement parks. The city is home to Six Flags and Sea World, which gives you plenty of activities to keep you busy while you're on vacation. Apart from that, you can enjoy many activities like the boardwalk, which is always decked out for the holiday season. If you grow tired of San Antonio, there are many amazing things you can branch off and do. For instance, Fredericksburg is a couple of hours away and has its own Christmas village as well as wine tasting and an incredible safari area that allows you to spend time with elephants, giraffes, and more. You will also be a couple of hours from Austin and Houston which both offer plenty to see and do.
Taking a vacation during the holiday season doesn't have to be a cause for bankruptcy. These ten tips will help you to feel confident about your time away while ensuring you have the fun you deserve. Whether you choose to stay within the country or you go abroad, one of these destinations is certain to help you meet your needs with ease.