Fall is here and so is pumpkin everything. If you're looking for fun ways to enjoy all of the pumpkin fun while still saving money, then you're in luck. There are so many great ways to enjoy pumpkins this season that you may not have time to do them all. So put your credit card away and check out these ten fun pumpkin ideas that will help satisfy almost everyone in your family.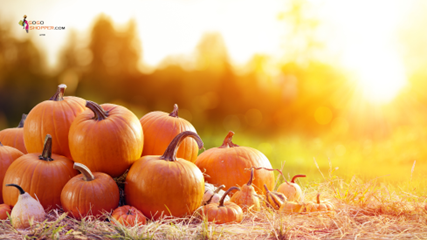 1. Visit a Pumpkin Patch
A pumpkin patch is probably one of the most common ways to embrace pumpkin season. There are pumpkin patches all over the place and farms that offer these gourds often set up activities to help draw in potential customers. You'll have to look around to see what is offered in your community before you plan a trip to the pumpkin patch. Many pumpkin patches will charge an entrance fee which will cover a day of simple activities and photo opportunities. Some will even have small rides or petting zoos to enjoy. Apart from that, you can purchase the perfect pumpkin fresh from the vine to enjoy for décor or Halloween fun.
2. Paint Party
This is a great activity for a party, which can be enjoyed by adults and children. All you need for this is a few pumpkins, but if you want to save money ask people to bring their own. You can use real pumpkins or the reusable kind that you can enjoy year after year. Apart from that, this allows everyone to decorate and show off their own personal creativity. You can create paintings that speak to all of the fall vibes, those designed to be presented for Thanksgiving, or even just Halloween options. There are many stencils online if you're not sure where to begin the fun. If you want to make the paint party even more fun, you can offer a small prize for the painter with the best pumpkin.
3. Pumpkin Carving
Pumpkin carving is a timeless activity that most people tend to partake in when it comes to the pumpkin season. This traditional activity can be a lot of fun for everyone, which is why you will definitely want to enjoy it during this season. You can find pumpkins for a low price in most grocery stores, which will allow you to fully enjoy the season. Pumpkin carving doesn't have to be an expensive activity either. You can purchase a scoop and carving tools for very little. These are reusable too, so you can enjoy them year after year. However, you can also use items you have around the house. There are templates online to choose from as well, which can help cut the cost of the activity down to almost zero. Other than that, you will find you can use regular candles to light the pumpkins or reusable battery-operated tealights.
4. Baking
Having excess pumpkins around the house is a great excuse to get into some baking. You can really go crazy when it comes to baking with pumpkin, which can save you money on baking supplies while allowing you to channel your love of autumn flavors. One pumpkin can stretch very far too, which will allow you to save more money. You can make anything from pumpkin bread, cookies, and cakes, to pumpkin pies that will make your holiday season incredible. You can also bake in bulk and freeze your creations so you can enjoy them throughout the year.
5. DIY Pumpkin Puree
Pumpkin puree can be used in so many things in your kitchen. You can use it for pies when it is complete, which can be a big staple for the holiday season. However, you can use pumpkin puree for much more than pies. For instance, some of the best fall-inspired soups are created with a little pumpkin puree, you can also make your favorite pumpkin spiced latte with pumpkin puree. It's pretty simple to make pumpkin puree as well. You can find a recipe to make your own pumpkin puree online, so you can make the most out of your pumpkins.
6. Gardening
Pumpkins can be a great asset when it comes to gardening. To begin with, you can compost your old pumpkin, so you can use it to improve the soil in the upcoming months. Pumpkins compost really well, so you won't have to worry about any waste when you've finished using your pumpkin for seeds, decorating, and baking. You can also pull out the seeds to grow your own pumpkins. These are fairly easy to grow as well, so it can be a fun project for kids. Of course, some people just leave their pumpkins out in the yard where they'd like to see a pumpkin patch grow. This takes about zero effort as Mother Nature will completely take over.
7. Bake Seeds
If you love to snack on pumpkin seeds, then this might be one of your favorite aspects of pumpkin season. Once you're ready to carve your pumpkin, simply pull out the inside and wash the pulp away. When you have your seeds separated, let them dry and then bake them to perfection. They taste great on their own, but you can also add some fun seasoning to the mix. There are lots of recommendations online, but you can also have fun trying to figure out which flavors work best for you. If you have a lot of pumpkins, then you may consider giving some of your seeds out as little gifts to others.
8. Temporary Storage
Pumpkins can be used for more than just looking great or baking with. In fact, you can store a lot of items in a pumpkin. For instance, you can clear it out and use it as a flowerpot. This will allow you to plant some of your seasonal favorites without worrying about the pot not working with your flowers. Other than that, you may find that you can use pumpkin as a drink container. Simply add a spigot and your favorite pumpkin recipe will flow straight from the pumpkin to satisfy your party style. Apart from that, you can also use it as a cooler. Hollow out the pumpkin and add ice to store your drinks. It's a great look for Halloween, but you can also use it in a pinch. Other than that, you can use smaller pumpkins as bird feeders. These projects are all easy to make, but if you need a tutorial there are plenty online to choose from.
9. Get Crafty
Pumpkins can be great for crafting too. To begin with, you can remove the tops and clear the inside of a small pumpkin to put wax in. This creates a wonderful candle that suits the theme of the season. You don't have to fill it with wax if this isn't something you're familiar with. Instead, you can use a tea light instead to help illuminate the pumpkin. Another option is to place small pumpkins inside other containers. This will help create a charming look that can be displayed all season. Of course, you could always just place your pumpkins on display to suit the season.
10. Beauty Products
Believe it or not, you can also make your leftover pumpkin into beauty products. You can make a lot of different things out of pumpkin which can definitely add to your beauty routine. These products are simple to make at home with items that you already have on hand, in most cases. There are many recipes to choose from, so you can make everything you need to enjoy your beauty routine while making the absolute most out of pumpkin season.
Pumpkin season can be all the more enjoyable when you give these ten things a try. These ten tips won't just bring fun to the season but will help you save money while getting more out of the pumpkins you purchase. You may even find a few new ways to celebrate the season when you try out some of these suggestions.