There is no doubt about it, the refrigerator can be one of the toughest places to keep clean and organized. There is always food coming in and out of it and if you're not careful, you'll quickly run out of space to store your perishables. There are quite a few ways to keep your refrigerator organized though. These ten ideas will actually help you to save some space in your refrigerator without spending a fortune on supplies to organize. So, take a deep and get ready to get your refrigerator in tip-top shape.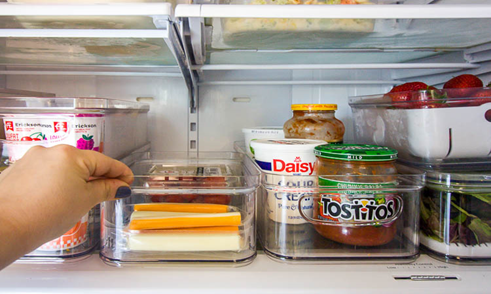 1. Magnetic Containers
Do you often find yourself using small containers in the refrigerator only to have to spend too much time locating when you need the food that they are storing? There is a very quick solution to this that will cost you next to nothing. Simply invest in some magnets and hot glue them onto the lid of your containers. Then, you can simply place them on the top of the side of your refrigerator. You'll never have to go hunting for them again and you won't have to take up extra space on your shelves for items that are very small.
2. Chalk Labels
Saving plastic containers to use again and again is a great way to lead a sustainable lifestyle. However, it is incredibly hard to see what is inside of the container. Even some storage containers that you purchase can be a little indiscreet. The best way to remedy this is to add some labels to the mix. One of the easiest ways to do this is to glue on a chalkboard label whenever you have a new container. These won't fall off when washed and they will allow you to label everything with ease. You can even add labels with the date, so you'll know that your food is still safe to consume. These labels are very cheap, so you won't be put out when you purchase them. You can also use a special chalkboard paint if you don't want to deal with glue.
3. Lazy Susan
If you tend to have a lot of items in jars in your refrigerator, or you keep a lot of condiments, then this is going to be a great match for your needs. Simply put a Lazy Susan in your refrigerator and stack all of these goodies on top of it. You will be able to spin to get all of your items without having to move everything to get to them. You can also add small bins to the Lazy Susan to place your kid's snacks and drinks on, which can definitely help reduce the clutter in your refrigerator. Plus, it won't take up any extra space. This can create a lot of conveniences when it comes to cooking, cleaning, and living, and you might consider adding Lazy Susans to many areas in the home.
4. Wine Rack
Even if you aren't a fan of wine, you might consider adding a wine rack to your refrigerator. This is perfect for keeping a wide variety of things organized and cool without forcing you to have a lot of different things rolling around in your refrigerator. You can even keep soda bottles stored in the rack, which can help give you even more space while allowing you to fit taller bottles in the refrigerator without stacking them awkwardly. Of course, it is also great for storing wine.
5. Drawer Organizers
Let's face it, the drawers in a refrigerator can be tough to manage at times. They hold so many different foods that you may find that they have become a mixture of items before you have a chance to organize again. This is especially true if you have kids. One of the best ways to combat this is to purchase drawer organizers. You can use smaller, stackable bins for holding items like produce or kid's snacks. This can actually help keep some of your products fresher, which will save you some money. Best of all, it will allow you to easily keep track of the foods you have because everything will be in a certain space instead of mixed together.
6. Clear Bins
If you feel like all you're seeing is clutter when you open your refrigerator then clear bins might be in your future. These bins make the space feel a little less claustrophobic, which will make you feel better about the cooking process. Clear bins come in all shapes and sizes too and you can even find them in bulk packs to ensure you save quite a bit of money. Bins can hold a variety of items and will make it easy for you to spot exactly what you need so you can grab and go.
7. Tension Rod
A tension rod can be your best friend when it comes to your freezer. All you need to do is fix the tension bar to the edges of your freezer. From there, you can hang up bags of food with clips, which will make it incredibly easy for you to spot exactly what you have. This will also allow more space on the bottom of the freezer for things like meat containers, ice cream, and other items that aren't typically bagged. You can even grab reusable bags to store items like leftovers or even things that are packaged in a box rather than a bag. Tension rods are pretty cheap too, so you can cheaply create multiple layers if you think it will suit your needs.
8. Egg Carton for Condiments
Condiments tend to be one of the most taxing things to organize when it comes to your refrigerator. Luckily, there is one quick way to keep them in order that can actually keep your refrigerator cleaner too. When you finish up a carton of eggs, tear off the top of the container and use the bottom part to store your condiments. In more cases, the top part of the container will fit perfectly into the carton, which will allow you to place more of these items on the shelves connected to your doors. Best of all, if your condiments leak, they will do so on the egg carton. You can also replace it as it gets dirty, which can make things so much easier for you.
9. Extra Wire Shelf
In most department stores, you will find wire shelves in the organization section. These shelves are great for your pantry, but they can also do a world of good in your refrigerator too. The shelves can actually provide you with extra space for items, especially if your refrigerator has large gaps as this can help you to gain even more space. The wire shelf can be moved anywhere in the refrigerator too, which makes it easy to cater to your needs with every trip to the grocery store. They are also easy to clean, which can definitely make things easier than ever on you.
10. Reusable Bags
Another great way to keep your refrigerator organized is to invest in reusable bags. Bags can actually take up less space in your refrigerator, which will allow you to make things feel neater when you store them. You can store most leftovers in a bag too, which can be very handy. Best of all, the bags can be cleaned and used again and again, which will save you money and prevent you from causing too much waste. Apart from that, you will find that bags are easier to store than most of your storage containers which will help you keep other aspects of the kitchen organized too.
Your refrigerator is the heart of the home, so keeping it organized is a great way to make life easier and more efficient for the entire family. These tips will not only allow you to keep your refrigerator looking magazine-worthy but will allow you to better keep an eye on the products that you have stored, so you won't wind up with things going bad because you've forgotten them there.