Hanukkah is practically here and with the kids, on Thanksgiving break, you might have a little extra time to create. Luckily, Hanukkah is a great time to help children connect with their religion and culture through crafts. These ten crafts will allow you to have a blast over the holiday season while utilizing the things that you create for décor. This can help save you money and will ensure the time you have together for the holiday is well spent. So, get ready to have a whole lot of fun with these incredible crafts.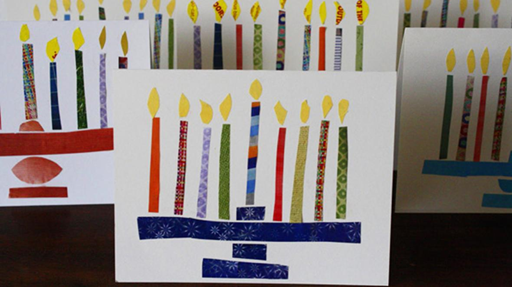 1. Sun Catcher
Suncatchers can be an exciting craft for kids. You don't need a lot of supplies for this craft either. You might start with card stock to help make the shapes of your suncatcher. However, you can use other materials if you do not have this on hand. Cardboard from the recycling bin and other similar supplies will work wonders too. To make the interior of the suncatcher, you will need clear tape and tissue paper. Simply place the tissue paper on the tape that you connect to the frame and you'll be all set. You can shape the sun catcher in the Star of David, dreidels, menorahs, or anything else you might want to create to represent the holiday.
2. Garland
Another fun craft to make is garland. This can easily be made out of any form of paper and string. If you're going for durability, then cardstock or a lighter wood might be your best option. Once you have the materials you would like to use, you can cut them into pieces that you'd like to add to the garland. Many people would prefer to stick with one theme, like a dreidel, while others will mix it up with lots of symbols of the holiday. When you get the pieces cut out, children can paint or color them before placing them on the string. Garland can be placed on anything in the home, including the mantle, on window frames, and so on.
3. DIY Lanterns
Without a doubt, lanterns can really set the mood for the holiday. You can make lanterns in so many different ways too, which will help keep the activity fresh and exciting for the whole family. One of the most common ways to make a lantern is to use a mason jar. You can use glue as a way to place the tissue paper on the exterior of the jar or you can actually paint the jar. The key is to make sure that one area of the jar isn't entirely covered so you can let the symbol you would like to show off shine through. When you've finished creating your jar add a tea light or an electric light into the jar and watch as it lights up. These are great additions to tables, mantles, and more. Of course, if you're looking for alternative methods for the lanterns then you will find great tutorials online.
4. Recycled Menorah Craft
The menorah plays a big role in the holiday, which is why children might be eager to craft their own. There are so many fun crafts you can create to allow your child to make a menorah of their own. Best of all, it can all start in your recycling bin. Let children pick out the materials they would like to use and then help them get to work creating a stunning work of art. Toilet rolls and paper towel rolls might be some of the best options to choose from here, but children can use also anything to create their menorah. You can even use items in your green waste bin, such as sticks. Once the structure is built, children can paint the menorah, add glitter, sequences, appliques, or anything else they'd like to show off their creativity. You might not want children, especially younger children, to actually utilize the menorah. So, it might be fun to create lit candles out of construction paper or similar supplies to make the creation even more realistic.
5. Star of David Frame
Help show off your favorite holiday memories when you create Star of David picture frames. All you need for this craft is popsicle sticks, paint, and frames. You should always start by painting the popsicles sticks before you piece them together. Once they are dry, create two triangles with the popsicle sticks and then place them together to create the Star of David. Once you have the piece together, you can add final details before attaching the photo of choice to the star. Once the picture is in place, you can hang the frame on the wall by placing the double-sided tape on the back or using tacks around the frame rather than through the wood. You can also add a string to the frame and hang it in that manner. Of course, you can make other shapes, but this might require cutting the popsicle sticks up.
6. DIY Dreidel
If your kids love to play dreidel then allowing them to make their own is a great way to bring some fun to the holiday. You can easily find a template to help you make a dreidel out of paper. However, these DIY toys can also double as décor. Simply put the dreidel together with your craft supplies of choice and then hang them from the ceiling, mantle, or anywhere else you can think of. If you're working with younger children, then making a 3-D dreidel might not be the easiest option. In this case, let your child make a flat dreidel to hang up. You might consider using construction paper or card stock for these options.
7. Candles
Another fun option is to make your own candles. Of course, this is more of a craft for older children to do, but you will still need to supervise. You can purchase candle-making kits for fairly cheap, but if you want to try to DIY the craft completely on your own then you will find plenty of tutorials to guide you along the way. Kids can have a lot of fun playing with colors, scents, and more. Plus, the candles can be passed out if you make an abundance of them. This might even become a new favorite craft that the whole family can enjoy together.
8. Table Décor
If you like to make a big presentation for your guests, then having the kids make crafts to decorate the table will definitely help. There are so many options to choose from here, which can easily be made with items found around the home. Napkin and silverware holders are some of the easiest options, which can be made with construction paper and a bit of glue or tape. You can also come up with holiday-themed nameplates and other items to help guests feel more comfortable. The centerpiece of the table can also be crafted with fun holiday-themed pictures or even paper flowers made by the kids.
9. Mobiles
Without a doubt, mobiles can be a lot of fun as far as décor and creation is concerned. This craft is simple for children of all ages to work on too. In order to make a mobile, you might begin by cutting out the shapes you desire to be on the mobile. You can use a wide variety of materials for this, so it is very easy to work with what you have. Once you have your mobile pieces ready to go, use your string of choice to attach them to a base. One of the best strings to use is the fishing line because it is clear, but any string will do. The base can be made out of a variety of things too. If you used light materials, then you might consider attaching them to cardboard as this is easy to attach to the ceiling. One of the more popular mobile choices is a hanger though, which can be covered to add beauty to the look.
10. Color Sheets
If you have younger children that aren't ready to work on crafts or simply don't have the attention span, then color sheets are a great option. These can work wonders for short periods of time when you don't have activities planned out, as it will keep kids busy so chaos doesn't ensue. The color sheets can be placed on the wall for even more décor while giving the children a sense of pride over their work. You can find color sheets almost anywhere online, so make sure to look around for the styles you enjoy.
You shouldn't have to worry about spending too much this Hanukkah when you decorate with the wonderful crafts that you've made. These ten ideas will help cater to a wide age range, which can help the entire family have fun while creating the décor that will make your home feel festive.