October is National Adopt a Shelter Dog month, but it is also the perfect time to bring home any new fur baby. Adding a pet to your family can be a pricey thing, but that doesn't mean you have to shy away from it. There are so many ways that you can save money on your new pet, which will help reduce the burden on your new family member. These ten tips will help with most pets, so you can enjoy your new fur baby and worry less about the high price of pet ownership.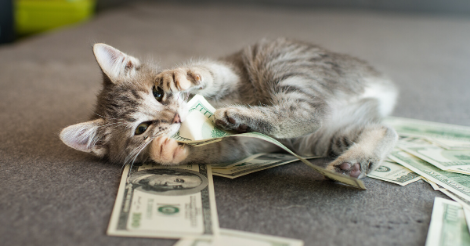 1. Bulk Buy Food
One of the best ways to keep your pet's food needs satisfied is to purchase the food in bulk. Before you start shopping around, you should research the type of food you need for your pet. Some animals will need a special diet, so it is important to consider this when you're shopping around. Before you purchase bulk options, you should buy a small bag to ensure your pet will eat the food and that it doesn't irritate their stomach. Once you have the right option for your pet and your budget, then it is wise to shop around and find a bulk deal that works for you. Some websites will even offer a discount if you sign up for a subscription, which will add even more savings to your life. However, even if you sign up for a subscription, you should still continue to price the food so you're going to get the best possible deal.
2. Look into Spay/Neuter Vouchers
Spaying or neutering is an incredibly important part of bringing home a new pet. When you have your pet spayed it can help prevent your fur baby from running away. This can stop unwanted pregnancies which often end with more animals living on the street. It can also prevent your pet from harm or death, as there is no telling what can happen to your pet while it is on the run. Apart from that, it can help prevent some illnesses and can give your pet a longer lifespan. Spaying and neutering don't have to be an expensive procedure either. If you adopt your pet from a shelter, then there is a good chance you will receive a coupon for the procedure. However, most cities will offer vouchers to qualifying households to help offset the cost. Most veterinarians and shelters will know how to access the information for vouchers, so make sure to ask.
3. DIY Beds
A pet bed can set you back around $60, especially if you're shopping for a large dog. This doesn't have to be the case though as there are so many ways you can make your pet a bed that they will love all year long. One place to begin is to start looking for items that your pet gravitates toward. Sometimes, it might be a blanket, a pillow, or even a piece of cardboard. If your pet loves these items, then you can easily transition them into something your pet primarily uses. Blankets can be stuffed and sewn up, while other items can simply be placed in a pet-friendly section of the home. Many people are even using recalled baby pillows, which seem to suit smaller animals perfectly. Animals, like cats, might even be satisfied with just a box on the floor with a blanket to keep them warm during the winter months.
4. Look Into Pet Insurance
Did you know that pet insurance exists? A lot of people are unaware that they could help cut back on their pet expenses immensely simply by purchasing pet insurance. This insurance tends to cover annual visits and vaccinations as well as basic medications. It can also cut down on some of the major medications and procedures that might occur as your pet grows old. Of course, you will have to shop around to find the best policy for your animal and your budget. There are many websites dedicated to helping you make the right decision for your needs with comparisons and summaries of policies.
5. Pet Proof the Home
Just like bringing home a baby, you're going to find that you need to pet-proof your home. One of the easiest ways to approach this is to actually begin with classic babyproofing techniques. Chemicals should be placed up high and/or locked away so your dog can't get to them. You should also make sure any foods that might cause your pet an allergic reaction should be put away too. One of the more common items is chocolate, but you should research other allergens prior to bringing your pet home. You might also consider upgrading trash cans to cans that have a lid. Fencing, especially, should be inspected to make sure your pet can't escape.
6. Research Training Tips
Training is another aspect of pet ownership that people will spend a small fortune on. However, in this day and age, there are so many resources you can utilize to help get your pet where you'd like them to be. One of the best resources is actually streaming services, so you might look around at the tips available to you. Of course, if you don't think a tip is working for your pet, then there is no harm in moving on to a different resource. You might also find that there are plenty of books and blogs on the topic to help you out too. These can help you save quite a bit of money, but if nothing seems to work then you might go through a more traditional route. You should always research classes before signing your pet up though and make sure you check out reviews, so you know what you're getting into.
7. Join Loyalty Programs
There are so many loyalty programs in the world that you can enjoy to help you save quite a bit of money. Usually, these programs are designed to cut back on the amount you spend in the store. Generally, you will receive a small discount on items or will receive a special membership price. Some of the programs will add up points to provide you with rewards like freebies, gift cards, or discounts. Most of these programs are free to join, so you won't have to worry about signing up, which will help you maximize your benefits with ease. However, if you would like to know more information about the programs, there's plenty of websites that will compare and contrast for you.
8. Look Up Pet Recipes
Bagged and canned food isn't all it is made out to be. If you're worried about what is in your pet's food then there are some great options for pet food that you can make in your kitchen. These recipes are designed to help you enjoy creating healthy meals for your pet while catering to their unique needs. Most of the recipes won't set you back a lot of money either and will allow you to make large batches and freeze them, so you can save time and money on all of your pet's feeding needs. There are even recipes to help you make treats, which will ensure you won't have to worry about purchasing anything from the pet store.
9. Learn to Groom
Another major expenditure is grooming, which can also be done in the home. Bathing your pet can be easier than you think, just make sure to stop and research the products you use for shampooing and flea control. Once you have the right products for you, then you're certain to be on your way to easy grooming. Trimming your pet's hair is another task that is easy to do at home. You will have to invest in sheers, but once you do this you will be surprised by how easy it is to get the job done. Cutting your dog's nails is probably going to be the hardest task, but there are numerous tutorial visits to work through.
10. Research Services
Whenever you bring a new pet into your life, it is important that you know who is going to help you take care of this animal. To begin with, which veterinarian will you use? Have you looked up reviews for this veterinarian and do you know if their prices are affordable? If your pet does require a lot of grooming that you can't do at home, which service will you choose? Another great thing to consider is pet-sitters or boarding services. You might not leave home often, but if there is an emergency it might help to have someone on standby to take care of your animal in your absence.
Bringing a new pet into your life is definitely something that will bring you joy. However, making sure that you have everything taken care of before you bring the pet into your life will help you immensely. These ten tips will allow you to easily find confidence in your ability to take care of your animal while saving some money.