If you haven't gone shopping for Halloween costumes yet, then you might be in a real bind if you don't do it soon. Apart from the best costumes flying off of the shelves, it might also be harder to shop at an affordable price. Of course, if you do want to skip the shopping chaos this year, there are so many costumes that can be made from home with items that you probably already have lying around the house. These ten costumes are cheap to make, can be a lot of fun, and are great for children and adults!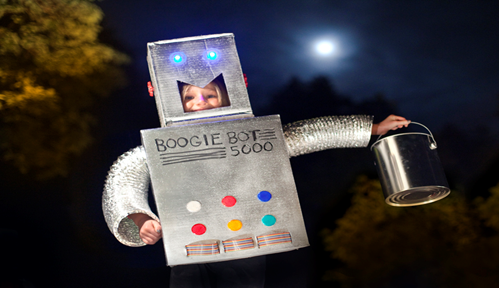 1. Emoji
Emojis have become a part of our day-to-day life, which might make you feel inspired to want to be one for Halloween. If the emoji is calling your name, then you will feel happy to know this costume doesn't have to be complex. All you need is a poster board and markers. Simply purchase posterboard in the emoji color of your choice, yellow is the most popular, and then draw in your face of choice. You can attach this to an old shirt using a stapler, Velcro, hot glue, or even just string. The style will really come to life if you pair the posterboard with the same color as the outfit you pair it with, or with simple black clothing. You can also accessorize with items like headbands to make the look pop. This costume is great to make for the whole family too, as everyone can represent a different emoji.
2. Coffee Cup
Channel your love of coffee when you dress up as a coffee cup for Halloween. You can start with purchasing a white tee with your favorite brand's logo on it. However, if you don't want to spend money then draw a logo onto a plain white tee. From there, make a brown circle around the shirt to act as a cup sleeve. Toss the tee on with a pair of white pants and you're a simple coffee cup. If you'd like to take the look to the next level, then add some pillow fluff to a headband to act as some foam.
3. Cat
A cat costume is a pretty classic look that has been popular for decades. This costume is perfect for all ages too, including infants, which can make a first Halloween easier than ever. One of the easiest routes to take is dressing up like a black cat. However, you can customize the look to suit your supplies and personal tastes. If you're dressing up as a black cat, then one of the easiest things to do is dress in all-black clothing. Then, find a headband that is also black. You can use black and pink felt to create ears and then hot glue them onto the headband. There are also many tutorials to help you create a tail out of items commonly found around the home.
4. Robot
If sci-fi is your favorite thing then a robot might be a great costume for you. Simply start out with a few cardboard boxes. These can be spray painted and painted on to create unique designs that will suit your style. You can tie or glue the boxes to a pair of sweats to make the costume easy to wear. You can also paint the sweats to suit the costume if you feel like it will look better. The best thing about this costume is you will primarily use recycling to create it. However, you can also add special touches like buttons that light up, or even things that make sound effects.
5. Cowboy/girl
Channeling the wild west is always an easy option if you already have the right hat and boots at home. This costume is a great way for kids to have fun and can be altered to suit their favorite cartoon characters or even athletes. You can enjoy a wide number of props with the costume too. One of the easiest to carry around is a lasso, but you might also consider a stick horse. These can be bought for fairly cheap at home if your child doesn't have one, but you can also make one out of a broom handle and print it out if you want to keep things cheap.
6. Vampire
Another easy and classic look is a vampire. The best thing about this costume is it allows you a lot of freedom. If you want to go the classic route, you can easily dress in a gown or a suit that you have lying around. If you don't have these things, you can purchase them for very cheap at a thrift store. However, if you are interested in a modern look then simply dress in your favorite street clothes. All you really need for this look is a set of fake vampire teeth, which you can purchase at any dollar store or department store. You can also add some sparkly makeup to your look if you want to channel your love of the Twilight series.
7. Red Riding Hood
Fairytale fans will love showing up with this costume. The best thing about Red Riding Hood is everyone is going to know exactly who you are, which makes it a lot of fun to show off your costume. Red Riding Hood is fairly simple because you only really need two things to make the character. That is, a cape and a picnic basket. You can use almost anything for the basket, or you can purchase one for cheap at a department store, dollar store, or thrift store. The cape can be made at home, which will save you a lot of money. You can create it using a red blanket, felt, or any cheap fabric you come across. There are many tutorials for adults and children online too.
8. Waldo
If you loved Waldo when you were a child, then this is a great option for you. Waldo is one of the easiest possible costumes as all you really need is a red and white striped shirt and beanie, as well as a pair of blue jeans and boots. If you don't have the shirt or beanie on hand then find a redshirt if possible and use white duct tape to create the stripes or vice versa. This won't you an arm and a leg and will add to the fun of the experience. Plus, you will be recognized by so many as Waldo is such a popular character.
9. Tourist
Another fun look is to show up on Halloween as a tourist. You can channel your inner vacationer by wearing Hawaiian shirts and khaki pants. If you add a bucket hat to the mix you'll be well on your way to looking the part. Tourists can accessorize in a wide assortment of ways too. For beginners, you might consider wearing sandals with white socks that come up to your mid-calf. You can also wear a camera around your neck. If you don't have a cheap camera, then make one out of cardboard for a fun look that will truly help you to have fun during photo opportunities.
10. Scarecrow
Channel your love of autumn by dressing up as a scarecrow for the holiday. This costume is incredibly easy to make with your gardening clothes. If you're lacking some of these items, then you should be able to find what you're looking for at the local thrift store. For a scarecrow costume, you will mainly need a plaid shirt and a pair of oversized overalls. You might also consider a sun hat to add to the overall look. You can add hay to your clothing if you would like, but it might be more comfortable to use yarn to complete the style. If you can, add a fake crow to the shoulder of your clothing to ensure the costume has a little bit of a spooky element. To complete the look, you can paint your face like a scarecrow made out of burlap, or you can create a pumpkin face. The look is easy to piece together last minute as well.
Dressing up for Halloween doesn't have to be a high expenditure. Nor does it mean that you have to shop for expensive items in order to get the look you're after. These ten tips will make it simple to create a striking look that is fun for all ages.