Thanksgiving will be here in the blink of an eye shortly followed by the other family-oriented holidays. If you're hosting family members this year, then you might already feel the stress of hosting. You shouldn't have to deal with the pressure of hosting as there is still plenty of time to make sure your home is in tip-top shape. These simple tips are cheap and efficient, so you can enjoy having loved ones in the home while feeling confident about your hosting abilities.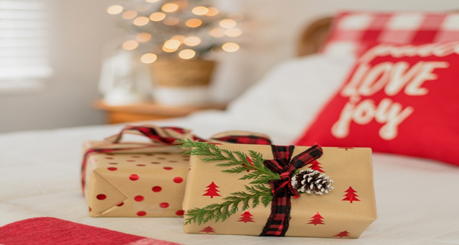 1. Declutter
Situations can feel stressful when there are a lot of people in a very small space. One thing that makes them even more uncomfortable is all of the clutter surrounding everyone. So, before everyone arrives at your home, you might want to take a moment to declutter. Clear off extra items on your cabinet, put out décor that is minimal while still festive. Find a space for all of the extra items hanging out around the house, including all of the pillows on your couch, even if means placing them in a box tucked away somewhere until the holiday is over. This will help to create more breathing space for everyone, which will definitely take some of the pressure off of you and will even make cleaning up easier.
2. Pull Out Extra Linens
Another must is to pull out all of your extra linens. It is important to have clean sheets and blankets for guests, but you should also make sure you have plenty of towels available too. Before guests arrive, make sure everything has been cleaned appropriately and is set out in a way that allows guests to know the linens are fresh for them. You might also have extra blankets draped over chairs to ensure that the cold holiday weather won't have anyone feeling uncomfortable. This is pretty easy to accomplish the day before arrivals, but if you're feeling pinched for time, you can always slowly tackle the chore a week before everyone's arrival.
3. Stock Snacks
Snacks are one of the keys to happiness for when guests arrive. They can especially be important if you have children joining the home for the holiday. You might stock up on some of your favorite snacks that are cheap to buy in bulk like crackers, chips, and cookies. However, you can also make these items from scratch to help cut back on spending. Snacks can quickly improve the mood of your home while allowing people to find simple forms of entertainment even more enjoyable. On top of that, they can help prevent you from having to make three large meals in a day, as many people will be satisfied with enjoying snacks.
4. Consider Crock Pot Soups
Chances are, you're going to pour a lot of your food budget into the holiday feast. It is also going to wear you out a bit, because, let's face it, these meals are time-consuming and require a lot of hard work and planning. So, if you are having guests come in before the holiday then you might consider making soup in a crockpot to help feed everyone. There are many cheap and easy soup options that you can make in a crockpot, so you won't have to feel like your meal is limited. There are even some soup recipes that utilize leftovers, so you can make something new and exciting if your guests are staying past the holiday. Soups are fairly cheap and can go a long way, so you can worry less about what you're feeding everyone.
5. Plan Activities
Keeping everyone busy for hours each day can be a lot of hard work. So, one of the best things you can do before people begin to arrive is to make a schedule for the home. Set out times for popular TV shows that everyone loves. Set out games and make a gaming hour that will suit everyone. You might even schedule some crafts. Of course, you don't even have to stick to the schedule, especially if everyone is already having fun. You will also be able to fall back on the items you skipped if you do find boring periods throughout the day.
6. Add Extra Toiletries
One special touch that you can add to your bathroom is to add extra toiletries. You're going to want to make sure you have plenty of toilet paper on hand while your guests are around, so this is a must to stock up on. However, you might also consider having extra soap and lotion on hand too. You can even add a basket of travel-sized soaps, toothpaste, and other items to help everyone feel at home. This will ensure no one has to run out to purchase items that they may have forgotten to pack too, which will add so much convenience to the trip.
7. Swap Air Filters
Another must is to swap out your air filter. These are meant to be changed every few months, but a lot of the time they go forgotten. So, in order to keep your air fresh, you might want to go ahead and do this. You can actually get filters that will help to kill any viruses and bacteria in the air, which will add an extra layer of protection during today's trying times. Plus, your air filter can also help with allergies. Some will even offer a gentle fragrance in the air, which can definitely make the home feel more comfortable.
8. Set Up Coffee and Tea Bar
Coffee and tea tend to be a big part of everyone's day, so you might consider setting up a tea and coffee bar. This doesn't have to be anything extravagant either. You might consider setting out a few different types of coffee so that everyone has something they will like. You can pick up single-serve creamers if you tend to only keep one flavor, if any, in the home. Adding a spot for sugar, cinnamon, and other add-ins will also help people to find comfort in their stay. A variety of tea can be purchased for cheap too, which will allow you to add an assortment of options. Finally, make sure you have plenty of mugs set up for everyone.
9. Add Extra Storage
Your guests are bound to bring extra items with them, so in order to keep things comfortable, you might consider adding some extra storage around the house. This can be as simple as emptying out some drawers in your guests' rooms or adding baskets for people to place things in. Doing this will help people not live from their suitcase, which can make the holiday experience a lot easier and more comfortable for everyone. Plus, it makes it simple for guests to pack up their belongings when it is time to go and will make it less likely for people to leave items behind because items won't be left on the floor during the duration of the visit.
10. Decorate
If you are having people over for the holidays, then one of the best things you can do to make the occasion better is decorating. You don't have to go all out but adding some seasonal items to the living spaces will help to make everyone feel even more festive. You can even work on crafts as a family during the visit to hang up. Another thing to consider adding to the mix is holiday-scented candles. This can help set the mood even if you don't have a lot of decorative items to put up.
Hosting guests for the holidays doesn't have to be as stressful as it feels. These ten tips can be started now, so you will be prepared for everyone's arrival. Best of all, they will help you save money before, during, and after the holidays, which will make the entire experience even sweeter.