Halloween is a few weeks away, but you've probably already noticed that your neighborhood is booming with Halloween décor. If you're ready to get started on your decorations, then you might want to consider some of the DIY projects that will save you money when it comes to decorating. These ten projects will help to make your home look exceptional while allowing you to keep your money in the bank. So, make the most out of the holiday with these fun projects that are great for the entire family.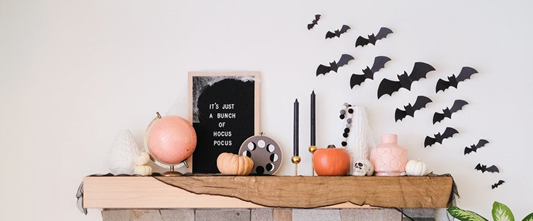 1. Jack-o-Lantern
Is it really autumn if you haven't taken the time to carve a pumpkin? Although it might not be a written rule, many households use Halloween as a time to embrace the autumn pumpkin harvest. You should be able to purchase a pumpkin or two from your local grocery store without setting you back too much. From there, you can draw on the design you would like to create or print out something to help guide you as you carve. As far as carving is concerned, you can keep it simple with knives and spoons, but pumpkin carving kits will only cost you a couple of dollars and can be used year after year. If you have electronic candles on hand then you also won't have to worry about candles for the project, nor will you have to worry about the potential of a fire. You can also save the inside of the pumpkin for snacks and baking.
2. Light Up Web
Spiders are one of the spookiest aspects of Halloween, which is why so many people love to add spider webs to their décor. You can take your love of webs even further by creating a light-up web. All you really need for this is the white holiday lights that you probably already have in your storage. However, you can also take it up a notch by using any color light that suits the season. After you've detangled your lights, simply hang them in a web formation. You can add a spider to the web if you'd like, but it will still work fine without one.
3. Can Lights
Old cans are something that tends to be found in most recycling bins, so you won't have to search far to find the main component of this craft. Larger coffee cans are some of the best items to use, as they are easier to work with, but just about any can will do the trick. Once you have your cans ready, puncture holes in them to create a shape or word. It is important not to cut out an entire shape, rather use dots to create the image or word. When you're finished, spray paint the can black, or any other seasonal color. After everything is dry, add a tea light or an electronic candle and you're set to display it.
4. Tombstones
Another easy-to-make classic Halloween decoration is the tombstone. This craft allows you to really show off your creativity too. The first thing you need to do is decide what you're going to make your tombstones out of. If you live in a dry area with very little wind, then creating the décor out of cardboard should be fine. However, you might consider using something more substantial like Styrofoam or plywood. Once you have your materials, cut out the shape you desire and paint it. Then, you can add fun messages to the tombstone that will make visitors want to stop and read everything. In most cases, these items can be put up and used for years, so you'll always have décor to play with.
5. Wreath
One of the easiest things you can create for your home is a wreath. All you need is something round to add items to and you're set to go. You can purchase wreath circles at almost any dollar store, but you also use a wire hanger, or a pool noodle if you'd like to go large. Once you get your base ready, you're set to add on anything you'd like. You can keep it simple with fun items that you get from dollar bins, or you can go out and add items from your favorite Halloween movies. The choice is entirely yours, which is what makes the craft exceptionally fun.
6. DIY Bats
If you love adding batty vibes to your Halloween décor, or you want to accent some of your vampire décor, then you can easily create your own DIY bats. All you really need for this craft is materials like felt or cardstock to make the bats. If you're skilled with a pencil you can free-hand your bat, but if not, then there are numerous templates that you can download for free. Once you have your bats cut out, simply do a little folding to create movement and hang them on the wall or from the ceiling. Your creativity can really shine here as you can even add pipe cleaners to the back of some of the bats to create a 3D effect.
7. Mummify Anything
When it comes to mummies, you can really have fun with your décor. All you need is some gauze or an old sheet and you can easily come up with some fun things to transform into a mummy. For example, your decorative pillows. Simply wrap some fabric around one and add a pair of black felt eyes and you're good to go for an adorable Halloween look indoors. If you prefer to decorate outside, then follow suit with your plants. This will truly bring joy to everyone that stops by. This craft is very cheap too and can be done on almost anything if you approach it from a creative angle.
8. Create Potion Bottles
If you can't get enough potions, then you can easily recreate them with minimal effort. You will need to start on this craft by finding bottles around the home. They don't necessarily have to be empty either, which will make it much easier for you to find the best possible options for your needs. From there, you can paint potion labels on each bottle or you can download templates to place on the bottles. These are great for displaying in windows, on mantles, or anywhere else that you might want to add some spooky vibes.
9. String Art
One fun craft that will definitely help to keep you busy is string art. This is also inexpensive but will take a little more time than some of the other projects. You will need a board, nails and string for this craft. You start by nailing the nails to the board in the design that you want to make. If you're not sure the best way to do this, then there are templates you can download to help you out. When all of the nails are set up, then you simply wrap the string around the nails to connect them while making the image pop. If you're still not certain how to make this work then you will find many helpful tutorials online.
10. Ghost Tablecloth
Make your table look festive when you transform it with a ghost tablecloth. You can dress up the table just like you would a person, toss a white sheet over it. You can add eyes to the sheet to give it a ghostly appearance. If you really want to take it to the next level, separate the sheet into different sections using gray string or fabric. Then you can add eyes to each section. Add a cute effect by placing some sneakers under each section if you want to give it a less haunting appearance and a more trick-or-treater vibe.
Making your home look phenomenal for Halloween doesn't have to mean shopping for all of the latest décor. These ten ideas will add to the fun of your holiday while giving your home a great style too. Best of all, they will keep you on budget so you can spend more on candy, your costumes, and other Halloween expenditures.