With the holidays coming up, you might be wondering what to get the toddler in your life. There are so many toys to choose from on the market, but many of the toys are going to find themselves in the bottom of the toy box after a few days. If you really want to engage your child, then a STEM toy might be one of the best options to choose from. These toys will help children gain an understanding of science, technology, engineering, and math before they even set foot in preschool. You can find many affordable toys in this category, which will make your holiday shopping seem even more rewarding.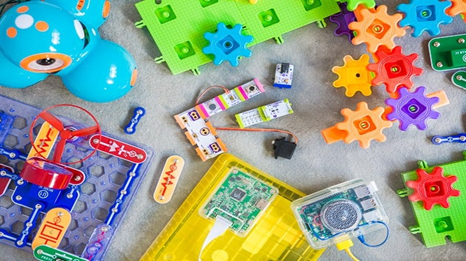 1. Puzzles
Without a doubt, puzzles are going to be one of the best options for you to choose, especially if your child is very young. Even puzzles that have two or three pieces to work with will help introduce your child to logical thinking. This can help spark an interest in science that will carry on throughout life. You can typically find puzzles in bulk packs which might be the best option for saving money. There are lots of different types of puzzles on the market too. Luckily, most of these puzzles will help further your child's love of science as they tend to offer farm animals, marine life, dinosaurs, planets, and even numbers. Puzzles are also very easy to keep in rotation if you're trying to keep your child's play space Montessori-based.
2. Lincoln Logs
A lot of children are drawn to engineering, which is why Lincoln Logs have been a popular toy for decades. These simple blocks are made of wood, which makes them better for your children to play with. Of course, they also have a simplistic design that makes them easy for children to figure out on their own. These blocks can be used to build homes for toys, fences, and anything else your child can think to construct. They are also a great toy to bond over with your child, as most generations alive now probably spent some time playing with Lincoln Logs. If you're looking to save money on this toy, you can probably find a large collection in thrift stores.
3. Toddler Laptop
Toddlers love to mimic us, which is why toddler laptops are such a great learning resource for little ones. Not only do they get an item that looks like something their parents would work on, but they also will have a device that offers plenty of resources. Most toddler laptops offer a wide variety of fun graphics, songs, and games that will help children learn the basics. The lessons offered tend to include shapes, letters, numbers, colors, and more. You can check out plenty of buyer guides when it comes to toddler laptops too, which can make finding the right item for your child easier than ever.
4. Magnetic Blocks
When it comes to taking building to a whole new level, magnetic blocks are definitely the way to go. Children can learn to make 3D shapes, castles, vehicles, and so much more. These blocks come in an assortment of stimulating colors too. Although your toddler might not be able to understand how to make intricate things, they will be able to play around with the magnetic blocks to learn how to build and make new things. This is definitely a toy that will grow with your child, which makes it an incredible investment. This toy also helps to improve critical thinking and problem-solving skills, which is great for helping to learn the basics of science.
5. Flower Garden
Flower garden toys have become really popular over the last few years. There are many brands of this toy to choose from, but in short, your child will use the pieces in this set to build their own flower garden. The toy is designed to help with stacking, engineering, creativity, critical thinking, and so much more. This toy can also help children develop an interest in gardening, which is a great way to fuel their passion for biology and horticulture as they grow.
6. Telescope
If you're looking to help your child gain an interest in the world around them then you might want to check into getting your little one a telescope. They do make telescopes for toddlers, so you should be able to find the perfect option for your little one. Of course, this telescope won't have the same features as its adult options. It also won't be as hazardous as some of the adult options. However, it will help your child see the stars better while allowing them to learn the basics of astrology. Some of the telescopes even come with accompanying apps to help children learn about stars, constellations, and more.
7. Mega Blocks
Mega Blocks are a great way to help introduce your child into the world of engineering. These blocks have been incredibly popular for decades and are a great way to introduce your child to the world of LEGO. These blocks pose no threat to your child because they are too big to be placed in the mouth. They also pose less danger to your feet but can still cause a bit of pain when stepped on. Mega blocks come in an assortment of colors to help stimulate the mind and are easy for children to handle thanks to their larger size. Best of all, you can purchase them in a large bulk pack, which makes it easy for your child to let their imagination soar.
8. Tool Sets
One way to inspire your child to love science is to offer them a toolset or items that require them to use tools. There are many toys out there that require a toddler to use a hammer during play. However, you can also find a great plastic toolset that will inspire your child's imagination as they pretend to build and fix the items in the home. As they grow and learn about tools, you will find that there are numerous toys that allow children to build their own toys. These can be great introductions to the world of engineering and technology, which will help your child take an interest in some of the leading career fields. You might consider starting your child out with a simple toolset and then work from their interests. You may even find that your child is a mechanic in the making with little help from you.
9. Butterfly Kit
Teaching your children about the world around them is important. One of the best ways to do that is by allowing them to witness the lifecycle of a caterpillar. Luckily, there are numerous kits that will help you allow your child to do this firsthand. These kits can be found online or in many department stores. All you need to fulfill the kit is to find an egg or a caterpillar. You might have to wait until spring to pull off this activity, but it can be fun and engaging for most children. This toy can also help you plan other lessons around it, including crafts and outdoor activities. This all can boost your child's love of science, especially when it comes to biology.
10. A Box
One of the cheapest and most efficient toys for any child is a box. More often than not, especially in the toddler stage, children will choose the box over the toy that came in it. Boxes allow children to fully connect with their imaginations which can take them to all-new levels. A box is a place for creativity to grow while helping your child to find new and innovative ways to problem solve and figure out how to make things work to suit their needs. Children can engage in box play without assistance, which allows their minds to truly shine.
Finding great gifts for children doesn't have to be hard. You can easily find toys that foster growth in your child while allowing your little one to build an interest in STEM. These ten ideas are only scratching the surface, but they will allow you plenty of options to help your child gain an interest in science without spending a small fortune.