Playdough Day is on the way, which might leave you wondering how you can get your child to enjoy playdough without having to spend a fortune on the numerous accessories and kits that people tend to purchase. There are so many cost-effective ways that you can enjoy this sensory toy without forcing yourself to spend a small fortune. All of these tips will leave you enjoying the activity more while allowing your children to gain even more from the sensory activity.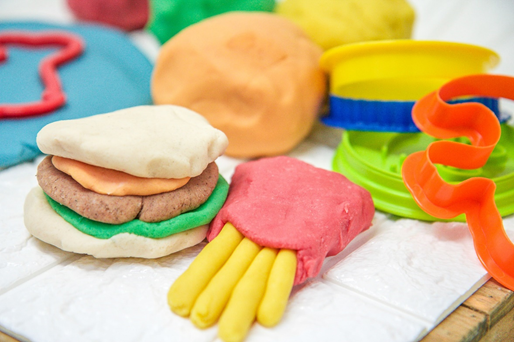 1. DIY Your Own Dough
One of the best ways to enjoy playdough is to make your own. You can do this with items commonly found in the home, which will allow you to easily save quite a bit of money on the dough you do use to play. When you create your own dough, you can make the colors and textures that you like while also adding fun things like aromas or glitter. This can help bring out even more in your playtime while allowing you to worry less about ingredients. You can even find gluten-free recipes for children that might not be able to use traditional playdough. As long as you store the dough properly, it should last for quite some time, which will allow you to save even more money.
2. Playdough Mats
If you're looking to boost your child's education, then playdough mats are a great way to go. These mats can be used to help shape your child's ability to learn a wide assortment of things including letters, numbers, and shapes. You can even begin basic math and spelling using playdough mats. Apart from educational fun, you can choose mats that boost your child's imagination. For instance, a farm mat might encourage your child to create farm animals and so on. You can find a wide variety of playdough mats online, which can be printed for free. Once printed, simply laminate or place packing tape over the mat. From there, your child will be able to play with it time and time again.
3. Sculpting
Playdough is a great way to introduce little ones to sculpting. You might start by pulling some of their toys out of their play bin so you can use them as models. Younger children can simply place the playdough over the toys to help them get the feel of sculpting. Older children, on the other hand, might enjoy recreating the toys in their view. Once the sculpting is complete, children can use tools to create texture. If you're willing to let the dough dry out, then they can even paint the items when they're finished. You can also turn sculpting into a game by allowing children to create body parts that they can place on Mr. Potatohead's toys and so on.
4. Playdough Cutters
Cutting shapes into playdough is one of the most common activities for children. You can spend a small fortune on cutting toys for this activity though when you really don't need to. One of the best things to do for this is to use items already in the home. Cookie cutters are one of the easiest options, but you can get inventive with this too. LEGOs, toys, and anything else you have on hand to cut a variety of shapes will help your child learn while having fun. Some older children can even use child-friendly scissors to help make the process even more fun.
5. Beading
It is incredibly easy to shape playdough into beads. Even younger children can enjoy this craft. Beading is a lot easier than you might think. All you really have to do is have your child roll pieces of dough into little balls. Then make a hole using a straw. When the beads are dry, children can string them together to make fun jewelry that can be enjoyed day after day. Of course, kids can make their beads as complicated as they would like. Some might like adding texture, utilizing different colors, or even forming shapes. No matter how they choose to bead, it will help occupy their time, while allowing them to exercise their creativity with ease.
6. Beginner Pottery
One of the best things you can do if you're feeling bored with playdough is starting using the dough to pick up some beginner pottery techniques. You can easily do this by watching tutorials online. One of the most common ways to take advantage of this is to begin making pots using coils. Simply roll out the dough and piece it together until you create a vase, bowl, or mug. You can also learn basic techniques to create all sorts of wonderful designs that might actually inspire your child and you to want to learn even more about pottery. This can add a new hobby to your life while helping to bring a touch of peace to the day.
7. Create Gifts
With the holidays right around the corner, you might want to take your playdough time and transform it into a gift shop. With your kids, you can make a wide variety of amazing gifts that will warm the hearts of the people nearest and dearest to you. Kids can create holiday-inspired figures, nameplates, picture frames, and so much more using just their playdough. Of course, these items can also be used as toys at home. If you're not sure where to begin when it comes to making up your own gifts. You might even come up with a unique idea that will become a signature project for your family.
8. Kitchen Fun
Children love to recreate the dishes that their parents make at home. One easy way to do this, without wasting food and money, is to allow them to recreate their favorite meals with playdough. Kids can use kitchen items like spoons, rolling pins, and so on to create the perfect meal. They can even show off their skills of remaking foods as they present them on a plate for you. This can be a great way to boost imagination while allowing your child to feel a sense of independence that might encourage them to want to learn more about kitchen tasks as they grow.
9. Create Play Environments
Another great way to add to the fun is to create a play environment for your child. You can use playdough to make trees, volcanoes, and more for a dinosaur realm that will definitely make your child feel like they have gone back in time. You can also create a wide variety of other play spaces. Another example would be the moon, which can help children pretend to be astronauts while learning about outer space. Other than that, you can create just about anything that the imagination comes up with. You can even lookup ideas online to help you make playtime even more engaging.
10. Suncatchers
If you're in the mood for a fun craft, then a sun catcher is a great way to go. You can easily create a sun catcher using a Playdoh lid that you might already have sitting around the house. Once you have the lid ready to go, simply place a variety of dough onto the lid. If you're working with older children then making the dough thinner will help to create a great look, but even if children put a little too much on the craft will still look pretty when hung up. When the playdough has dried, add some string to the back of the project, then leave it to sit for a few hours to a day. When everything is dry, you can hang it in the window for a beautiful look.
These ten tips are great for National Playdough Day as well as any other day. This should give you plenty of sensory playtime fun while keeping your budget for the activity on the low end. You may even feel inspired to come up with some innovative new ways to play on your own.