If you missed out on appliance sales during the big sales of the year, there is no need to fret. In fact, you're more than likely going to find that those sales would have only saved you slightly. If you're in the market for a new appliance, then you will find that there are lots of great options to choose from when the year comes to an end. Starting in October, you will find all models will be reduced in price to help make room for the next year's models. So, if you have your eye on something fancy then you might want to use the end of the year to shop around. These ten appliances are great options that will help you save while suiting your household's needs.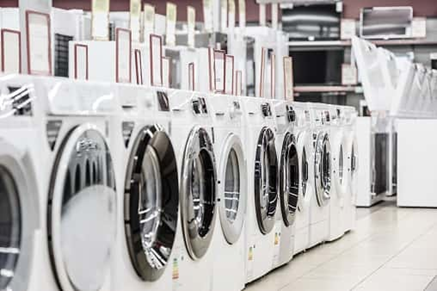 1. LG LSXS26366S Refrigerator
When it comes to giving your kitchen rockstar vibes, nothing will suit your needs quite like this LG LSXS26366S Refrigerator. This refrigerator is Energy Star certified, so it won't become a burden on your family's energy cost or the environment. Apart from that, the device looks incredibly chic and can be paired with almost anything else that is stainless steel. The stainless steel design itself looks amazing with any décor or color scheme, so you won't need to do any extra planning around the device. Apart from looking spectacular, this refrigerator has a lot of bells and whistles. There is even a door inside of the exterior door which provides you with the perfect space to store all of your condiments. Best of all, the current price is just over $1k, which is already a great price, but it is also bound to drop as the year comes to an end.
2. Insignia NS-RTM18WH7 Refrigerator
If you're not interested in the bells and whistles that many modern refrigerators offer now then this Insignia NS-RTM18WH7 Refrigerators is going to be a great option for you. The refrigerator offers a classic design with the freezer on top and the cooler on the bottom. There are no added lights, digital screens, or anything else so you'll have plenty of space to show off artwork or calendars. It also comes in a crisp, clean, white color so it will work in any space. This model won't set you back much either, nor will it be a drain on your energy bill. So, you'll be getting a lot more out of the appliance than you could have ever imagined.
3. Samsung #NE63T8751SS Range
When it comes to the bells and whistles, this Samsung #NE63T8751SS Stove is going to give you all that you desire and then some. This appliance is electric but is energy efficient, so you won't have to cringe every time you plan on making a big meal. It comes in a stainless-steel design that is fingerprint-resistant, which makes it incredibly easy to clean. The stove goes the extra mile with a fifth burner so you can bring on the convenience by cooking multiple things at once. Other than that, you will find that it has a standard oven and a separate compartment for its built-in air fryer. This feature alone will help save you electricity and cabinet space. This appliance is already dropping in price by the hundreds, so you're certain to see even more savings in the near future.
4. Frigidaire FGF348KS Range
Keeping things simple won't be a problem when you invest in this Frigidaire FGF348KS Range. This free-standing range comes in a simple white color that offers a quaint look that will inspire all of your home-cooked meals. You will find that this range offers plenty of amazing features despite its simplicity, including a fifth burner. It is a gas range, so you won't have to worry about your electric bill skyrocketing when you use the appliance. Apart from that, it is easy to clean and will cost you less than $600. It is also from a renowned brand, so you know it will last a while.
5. Amana ADB1400AGW Dishwasher
If you're in the market for a new dishwasher, then this model is definitely going to serve you well. The Amana ADB1400AGW Dishwasher might not have a lot of extras for you to enjoy, but it is incredibly efficient and a great option for smaller kitchens. It comes in a crisp white design that is perfect for minimalistic rooms. The dishwasher is Energy Star certified, so it will use less water and electricity which is a great option for any home. It offers the classic upper and lower basket design that many dishwashers feature, so you can get in a full load of dishes with each cycle. It also has countless good reviews, which might make you feel inspired to purchase the item, which is currently under $500.
6. WhirlPool Model WDTA50SAKZ Dishwasher
Of course, if you're looking for something that is entirely modern then you can't go wrong with the WhirlPool Model WDTA50SAKZ. This remarkable dishwasher pulls out all of the stops. It has a chic design, comes in five colors, and is fingerprint-resistant. The model is also Energy Star certified, so you can run it daily and still not have to deal with huge energy or water costs. It offers a third rack for all of those small or sensitive items that you would otherwise have to handwash. It even has a leak protection system, which can save you big on your water bill and any damages that might have been incurred due to the leak. This model is less than $1k as well and will soon be dropping in price even more.
7. Electrolux EFLS627UTT Washer
Washing laundry together can be complicated with so many sanitizers, add-ins, and accessories. So, if you want to keep your washer simple then the Electrolux EFLS627UTT Washer is going to be the way to go. This washer doesn't offer anything that is going to leave you feeling overwhelmed. Rather, it utilizes the same classic design that was used in generations before yours. This vintage style does offer a stain-soaking cycle, steaming, and a few other options that are upgraded from older styles. It also won't cost you a small fortune, which is always a win.
8. Samsung #DVG52M7750V Dryer
If you're interested in a dryer that is going to do it all for you then the Samsung #DVG52M7750V Dryer is a great model. The washer is gas-powered, so it will save you a whole lot of money on your energy bills. Apart from that, it is Energy Star certified, so you will find that your energy bill won't be as high when you use this machine. It comes in a chic black design that will transform your laundry room into something modern and fun. One of the biggest draws of this model is the fact that it can take on large loads of clothes, which will make laundry day go by so much faster.
9. Whirlpool WED4815EW Dryer
If you're looking for a dryer that can get the job done without forcing you to use a BlueTooth connection, the Whirlpool WED4815EW Dryer is going to be great. The model is designed to make life simple for you as it takes on large loads of laundry so you can move on with your day. Apart from that, you will find Whirlpool is known to be a reliable brand that is perfect for all household sizes. This is an electric model, but it is Energy Star rated, so it won't cost you a small fortune. Apart from that, you will find the price is more than agreeable.
10. LG #WM3499HVA Washer/Dryer Combo
When it comes to apartment living, nothing is going to appease you quite like this LG #WM3499HVA Washer/Dryer Combo. The combo is designed to get everything done with just one machine which is pretty amazing. These machines are largely designed for smaller households, as you won't be able to get through as much laundry as you otherwise would. However, the unique design of this machine will certainly save on space and money. It will also save you on power as it is Energy Star rated and ready to go.
Appliances can be a real setback when it comes to your budget. With the end of year coming, you will find that the high price of these items won't set you back as much, which will make life easier and less stressful. These ten options are only scratching the surface, but they will definitely make your shopping experience even more enjoyable.