With summer just a month away, it is important to begin to plan out your sun protection strategies. Summer is one of the harshest times for UV rays and with kids out of school it's crucial to keep them safe when they are outside playing. Of course, you should consider sun protection all year round too. After shopping for sun gear, you may begin to worry about your budget though, as there's lots of expenditures that seem like they might break the bank. Luckily, there's lots of great things you can purchase to keep the suns rays at bay. This should help make your summer and the rest of the year healthier and happier.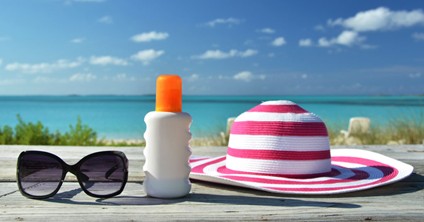 1. Bulk Sun Block
Sun block can be pretty pricey no matter what season you're purchasing it in. This can be rather frustrating since you're supposed to apply sunblock multiple times on a daily basis. Your sun block consumption is even higher during the summer months, which will add to the price substantially. Luckily, most brands will allow you to purchase their items in bulk. Spray on brands often package their cans in larger packs, so you can enjoy the savings. However, if you really want to save you will need to stick to the classic rub on sunscreen. If you look at wholesale stores or even on your favorite brands website, you should be able to find large bottles of your favorite sunblock. This should help you save money while helping your supply last much longer. Of course, you should always do research on your sun block options, before you use large amounts of a product.
2. Extra Clothing
Unfortunately, summer clothing tends to show off a lot more skin than other seasonal clothing would. This is especially common when it comes to women's and girls' clothing. However, if you really want to keep your skin healthy and safe then you may want to look for other options. For instance, when it comes to swim gear, the bikini might not be the best option. Rather, you might want to consider board shorts and a rash guard shirt. This can come in handy for little girls too. Boys can still wear swim trunks but might settle on keeping a shirt on too. If you are going out for the day, consider clothing that is longer, but lightweight. This will help offer more protection from the sun while still allowing you to remain cool.
3. Skip the Tan
So many people go into summer hoping to get a good tan. However, this is probably the last thing you should do. It is especially bad if you begin spring with going to tanning beds, so you'll look great for summer. Instead of doing this, wait for the sun to naturally tan you. It will take some time, but this just shows that you are protecting your skin from the sun efficiently. A tan isn't a sign of health. Rather it could cause permanent damage to the skin. Dark tans, especially those caused my sunburns can really be cause for concern. So, don't worry about the color of your skin. Instead, enjoy the sun but do it in the safest possible manner.
4. Seek Shade
Your best friend in the summer time is the shade. This is especially important when the UV index is very high. Whenever you go out to enjoy the sun, you should always make sure to locate a few shady places in the area. Then, frequent them a few times an hour. This will help take away the burden of the harsh rays while allowing you to cool down your body. If you're spending a lot of time walking, then make sure to bring an umbrella with you. This is certain to keep you cooler but won't force you to stress out about the painful rays. Parks tends to have lots of shady areas, so make sure your children stick to them too. Even if it means playing in the lower sections of a play area, keeping to shade can help keep your children healthier.
5. Find a Good Hat
Summer is the perfect time to channel your inner fashionista. A good hat makes the perfect accessory for some summer fun. Wide brimmed hats are especially great during the hot season, so you might begin your search for the perfect beach and garden hat as soon as the fashion lines hit the market. These hats not only look great when you're hanging out on the beach, but they help protect you from the sun. A wide brimmed hat can easily prevent the sun from getting on your face and much of your body. Of course, you can keep it simple with a baseball cap or other form of hat that has a brim. However, visors might not be the best option, as they will leave the top of your head exposed to the rays. All the same, your choice of hat can really make all the difference in the summer. It is certain to give your eyes and skin a break from the harsh rays.
6. UPF Clothes
UPF clothing is a recent addition to the skin protection that we can find in local and online stores. This clothing is designed to help prevent the dangerous UV rays from targeting your skin through your clothing. A lot of UPF clothing comes in bathing suit form, which makes beach and pool time a lot safer. However, it may help to use cover ups even in these clothes as bathing suits tend to not cover much skin. Luckily, more fashion brands are beginning to use UPF in their fashion lines too, so you might find that some of your favorite clothing items will offer this important protection in the future. For now, you might have to browse online for clothing that uses UPF.
7. Sunglasses
Your skin isn't the only thing that needs a bit of protection from the sun. You should also work hard to protect your eyes. A pair of sunglasses is one of the best ways to do this. You don't have to spend a small fortune on these though, as even sun glasses from the dollar store can help keep your eyes safe. However, if you typically wear glasses then you might want to consider getting a prescription pair or transition lenses, so that you won't have to worry about choosing your prescription glasses over eye protection. There are accessories that clip onto your glasses to help you have sun protection without forcing you to remove your current glasses. Soon, we may even see contact lenses that adjust to the light to ensure you are protected.
8. Drink Water
It doesn't matter if its summer or winter, you should be drinking the recommended amount of water on a daily basis. This is not only good for your entire body, but it will help your skin out too. When you drink a lot of water, your body has the ability to heal more efficiently. So, when you're exposing your skin to the harsh UV rays, your skin has the ability work through the damage so that you don't have to heal quite as long. It may even help cut back on your chance of getting a burn if you take all of the proper precautions.
9. Research Remedies
Although we can try very hard to prevent sun damage, it isn't always possible. Sometimes, the unthinkable happens and we end up with a sun burn. However, the way we deal with these problems can help prevent further damage along the long. Some may even help ease our pain and heal our bodies quickly. One of the best things to try out is aloe vera. You can take this from a household plant or buy a special gel from the store. This natural remedy is designed to help you heal quickly while reducing the sting of the burn. Vitamin E can be crucial when dealing with this problem too. Of course, you may also browse around online for more remedies. One unusual tip is placing brewed Earl Grey tea on a rag and letting it sit on the burn. These remedies will be trial and error though, so you will have to experiment to see what works best for you.
10. Watch UV Index
One of the greatest steps you can take all year round is watching out for the UV index. You can easily do this with a weather app, or simply look it up daily. The UV index can make or break your day if you're trying to protect your skin. Most of the time, it is safe to go outdoors with sunscreen, but there are some days, particularly in the summer, when the UV index might encourage you to stay indoors as much as possible. Generally, wearing sunscreen, plenty of clothing and staying in the shade, should ensure you will be safe while outdoors.
Hands down, sun protection is one of the best things you can provide for your health. Although it might not seem like the sun is doing a lot of damage, you may find that your health is greatly affected by the problems UV rays can cause. These ten tips should help you save a lot of money on your sun protection methods.