Memorial Day is coming up on us at lightning speed. So, it might be time to consider how you're going to spend this holiday with your kids. More often than not, Memorial Day activities tend to cater towards adults. From drinking at a barbecue to checking out all of the amazing sales, kids often end up tagging along behind their parents. There are lots of great ways you can help your children enjoy this holiday, or at least get something out of it. So, if you're at a loss for how to entertain your kids during this long weekend, then you might want to check out these ten simple tips that are also incredibly easy on the budget.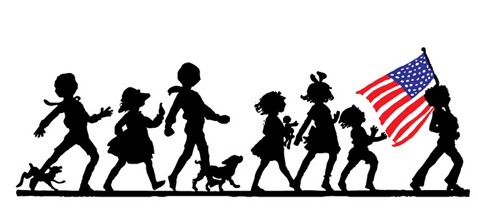 1. School Cleanup
For a lot of students, the long Memorial Day holiday actually marks the first weekend of summer vacation. So, it might be time to help them cleanse themselves of all that the last school year had to offer. There's a pretty good chance that there is a backpack filled with about 6 months' worth of old homework, trash and who knows what else somewhere in the home. To celebrate the end of term, you might have your student dump out the contents and get rid of everything that isn't needed. You can set a limit for art projects, papers and tests that can be saved for the memory book while everything else can be recycled or thrown away. Once the school work is out of the way, check out their old school supplies. Some of these items can be used for the upcoming school year while others might not even be worthy of your craft bin. Of course, if your students aren't out of school then they can easily begin this process over the long weekend. However, you might not want to throw anything away until the year is officially over. When everything is clear, wash the backpack and put it away for the next school year.
2. Summer Clothes Fashion Show
If you like to put away clothes for each season, then now is certainly the time to pull out your boxes of summer attire. Once everything is down, have the kids put on a fashion show so you can see what items they will need for the upcoming summer. Having kids try everything on will allow you to judge tightness, shortness and overall quality of the clothes. Plus, it will let younger siblings enjoy some of the older sibling's hand-me-downs for the first time. You can also have the kids show off their new items too, just to boost their confidence. Once you have all your clothes sorted, you might consider donating the discard pile to a thrift store that supports veterans or the current troops.
3. Check Out a Parade
One of the most kid friendly things that happens on Memorial Day is the parade. Your own town might put on their own parade, but if this isn't the case then you can easily watch one of TV. You can also visit a local town that might be have a parade. No matter how this works out, a parade will not only excite your children, but will help them learn more about the message of the holiday. To make the occasion even more fun, you might dress the kids up in red, white and blue clothing to celebrate. You can also try to get some of the veterans to stop and talk to the family about their stories and the stories of those they have lost.
4. Sign up For Summer Activities
Although summer isn't officially here for a few more weeks, now might be the time to get your kids registered for summer activities. Most local community centers and YMCAs will have their list of activities up on their websites to help you make the right choices and plan accordingly. You might even be able to register the kids online, so you won't have to worry about the long registration process. You might also check out other activities like martial arts, dance and gymnastics. Swimming lessons and other water activities should also be considered, especially if you are signing up for a community summer program. Getting ready for these activities might also save you some money by allowing you to take advantage of early registration perks.
5. Make a Schedule
Without a doubt, adjusting to having everyone home from school is pretty rough. Having aimless children can be the worst part of summer though. So, instead of letting your kids flow from one hour to the next, you should get them on a schedule as soon as possible. The long holiday is the perfect time to work out this schedule though, so you don't have to stress about getting it done in just a few minutes. In the schedule, you should consider their activities, but also pencil in playdates, chores, field trips and even homework that you assign them. The schedule will help prevent everyone from getting bored and spending the entire day snacking in the kitchen or watching TV.
6. Research Water Activities
Getting through summer without some fun in the water is practically unheard of. However, your kids are going to have two full months of water activities to enjoy, so it might be time to sit down and research a few newcomers to add to the classic activities that you've played for years. You and the children might sit down and look for ideas online. From there, plan out the items you need to make the top activities a reality. Activities that require similar supplies should be considered first as it will save you even more money. Branching out like this will help broaden your kids' creativity while keeping them from getting bored. You should be able to find so many ideas online, that everyone might end up playing rock, paper, scissors to see which exciting activity will make the cut this year.
7. Backyard Camping
You don't have to spend a fortune to go on a camping trip. In fact, you can enjoy the activity in your own backyard. The Memorial Day holiday is one of the best times to kick off your backyard campsite. All you need for this is to pitch a tent that can be left up throughout the summer months. You might also consider adding a fire pit to the area or some way for children to stay warm if the summer nights do wind up cold. Once the basic site is set up then stock up on treats, like items to make smores. You can help the children have fun by staying up with them and singing songs or telling ghost stories. The campsite can even become helpful while children are playing outside as it will offer a shady area for games, like cards.
8. Patriotic Foods
It almost doesn't seem like it's officially summer without a whole lot of patriotic food. Memorial Day is the best time to try your hand at some of these fun foods. You can even invite the kids into the kitchen to help you out with this. You can stick with the classics like parfaits, pies and jello, but you might also branch out with items like fruit pizza. There is an abundance of recipes online, so choosing some patriotic foods will be a breeze this year. You may even branch away from the sweeter foods and try a few savory or healthy dishes too.
9. Listen to Stories
Memorial Day is all about honoring those that have fallen in the line of duty. So, now might be a great time to take your children to a place where they can learn more about these extraordinary people. One great place to go is a nursing home or VA hospital. There should be plenty of people willing to talk about their parents, grandparents, siblings, friends and even spouses that fell in line of duty. Not all of the stories have to be about war if you have concerns about your children's age. In fact, many people would probably talk about the person's life instead and honor their memory in this way. Another great place to visit is a memorial site, which often has curators that share stories or simple stories printed on placards. If you can't find people to share stories, then the local library is an excellent resource. You should be able to find novels and other books to help learn more about the fallen soldiers. Video streaming websites can also be helpful as there are many interviews of this nature to enjoy.
10. Getaway
A lot of people choose the Memorial Day holiday in order to get in their summer getaway. Often, the summer crowds haven't made their plans for vacationing yet, so you might be able to find a deal in some locations. However, many locations will be off limits if you want to save money. You might want to browse around online to see which family friendly locations are up for grabs at a cheap price. Vacations don't have to take place far away either. You might consider staying close to home and visiting the beach or lake instead. Of course, the time is ticking so this should be done as soon as possible. If not, then you might use the holiday to plan out your vacation that will occur later in the summer or even in the fall.
Memorial Day is a great day for spending quality time with your children. These ten ideas should offer you a more frugal way to help them celebrate that also helps to plan the holiday around their needs. With any luck, you'll be able to prepare for their summer vacation period during this holiday too.