Memorial Day will soon be here, which means its time to step into some exciting deals. This Memorial Day you'll be in for a lot of treats, so make sure to save up so you can get everything you need and want during this huge sale. If your home is in need of appliances, bedding or more, you're going to find so many good deals that you won't be able to contain your excitement. So, brace yourself for a day of shopping til you drop because you won't want to miss out on these top deals that are headed your way. You may even luck out and find some of the deals early, so keep checking back with your favorite sites to find the perfect deal for you.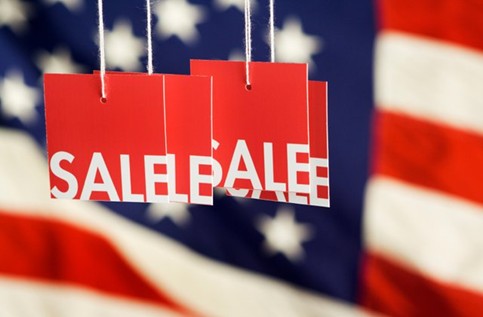 1. Mattress Sales
Mattresses and Memorial Day have gone hand in hand for quite some time, which is why you should always wait to purchase a mattress until this holiday arrives. This will give you some of the best options around, so you can maximize your savings and get the mattress you truly desire. Of course, you also won't find another big mattress sale until Labor Day, which might give you even more incentive to shop around during this big sale. There have already been some major hints as to what we find on Memorial Day this year. Tempur-Pedic, for instance, has some huge sales in-store and are even offering a payment plan, so you grab the mattress you want now. JC Penny is another major contender in the mattress sales, so you'll be able to find an assortment of mattresses that you can even check out in store. Mattress Firm is planning some competitive deals, as are many local and small business mattress stores.
2. Large Appliances
Big appliances are going to be a huge attraction this Memorial Day. There are so many new makes and models available that you're bound to find something new and shiny that your kitchen or laundry room is in desperate need off. This sale comes at a great time as graduation and the newly wed season is upon us, so anyone starting out in life can truly maximize savings and get exactly what they want. Sears is one of the best vendors for shopping bundle deals when it comes to Memorial Day. However, Home Depot and Samsung will have some exciting prices on kitchen appliances that you might not want to pass up. Whirl Pool is also planning to offer washers and dryers for up to 60% off during the holiday sale so it might be the perfect time to upgrade to something that is smart and energy efficient.
3. Small Appliances
If you're looking for a wedding shower gift, graduation gift or even a baby shower gift then you're going to find Memorial Day to be the perfect time to shop. Small appliances are definitely going to be in abundance everywhere that you look. Walmart is going to be one of the best places to shop for these items though. You're bound to find toasters, coffee makers, blenders and even ice cream makers at a more than fair price. You'll also find items like this on sale at Sears, Big Lots, JC Penny, Lowes, and Home Depot. You'll have to shop around quickly though because the low prices might not last and long as you would hope.
4. Travel
If you're trying to plan a last-minute vacation then these deals are bound to give you something to celebrate. There will be a ton of travel deals to enjoy on Memorial Day, so secure your vacation now, so you can lock in a flight before the good prices and seats are gone. Southwest is offering a whopping 55% off tickets to Cancun so you can make your beach dreams a reality. The website will also help you secure amenities while abroad, which will save you a lot of money all around. Many airlines will be offering huge discounts on tickets to Europe, so if you've dreamed of taking in the beautiful architecture and cooler weather, then you're in luck. Finally, there will be a ton of domestic flights on sale, so you can visit family, check out a destination you've always dreamed of or even travel cheaply for business. If you are booking a vacation, then look around for bundle deals as you might receive a discount on your hotel or rental car too.
5. Technology
Memorial Day is a great time to set up for success when it comes to your gadgets. Amazon is one of the top vendors for tech on this holiday, especially if you're in the market for a new Kindle or other Amazon technology, like the Echo. Amazon will be pushing other tech deals too, especially when it comes to security cameras and top of the line headphones. Walmart is going to be the place to go if you're looking for a new tablet though, as the sales are certainly mind-boggling. They will also be offering up to 85% off their online clearance so you might be able to find something cool for a lot less than you'd expect to pay. You should be able to find some great deals at Best Buy too, especially if you're in the market for older models of phones and tablets. Dell, HP, Apple, and Samsung tend to offer customers a little something special too.
6. Televisions
This Memorial Day, you might want to hit the stores so you can grab the latest technology when it comes to televisions. This is the perfect time to stock up for large screen televisions as well as 4K models. Although Memorial Day isn't always known for the best deals on these items, you'll find some great prices this year. For instance, Best Buy is planning on offering some major discounts on their top of the line televisions. Walmart will be participating in huge sales too, both on and offline. Apart from that, you'll find Overstock and Samsung deals worth talking about. Most of these retailers tend to be offering up to 65% off of some of their items, which is a real steal of a deal.
7. Athletic Wear
Prepare for summer workouts when you grab the clothes you need to be a success. Many clothing stores are really pushing their athletic wear this season, which will certainly help you prepare to get in shape as the hot weather arrives. You will find everything from shoes to leggings and tanks that wick away sweat with ease. Some of the best deals are going to be at Academy Sports and Kohls. However, if you prefer to shop online then you might look out for deals on the Champion website. You might even find leading brands like Nike, Puma, and ADIDAS offering prices that you won't be able to refuse.
8. Outdoor Supplies
Tis the season for spending more time outdoors and soaking up the Vitamin D that summer has to offer. Thus, Memorial Day is bound to bring you some deals that you won't be able to refuse when planning out your backyard oasis. Walmart will have deals on patio furniture, pools, garden accessories and so much more. Home Depot is going to be your one-stop shop for finding some of the best deals on grills that you'll see all year. You will also find lots of incredible deals on outdoor goods at Sears, especially when it comes to lawnmowers. If you're in the market for patio furniture, then Home Depot has you covered. However, if you prefer to skip the crowds then shopping with Tippet and Hayneedle online will save you some big money while providing you with lots of stylish choices.
9. Plants
It might not be the prime season for gardening anymore, but there are still a lot of plants that will flourish during the summer months. Thus, you're going to want to check out some of the deals on plants in your local area. Memorial Day tends to bring lots of sales on plants at local nurseries. However, you will also find that Lowes and Home Depot will have a ton of sales on their plants. You may even be able to find some clearance plants to nurse back to health. If anything, you might find a tree to plant which can offer you shade in the upcoming years.
10. Food
If you don't want to go on a shopping spree, then you might still find some great deals. For instance, there are a lot of restaurants that are participating in the deals on Memorial Day. Some of the most popular chains out there are Hooter's, Twin Peaks, Dickeys BBQ, and Dominoes. Of course, most of the deals are discounts for veterans, so if you've served in the military make sure to take advantage of this. You'll also find that grocery stores will have some great prices, especially when it comes to food designed for grilling.
Memorial Day is a great time for anyone hoping to get in a little retail therapy. If you're hoping to make a game plan before the holiday arrives, then you'll certainly want to keep an eye out for deals in these ten categories. With any luck, you'll be able to enjoy some awesome prices that will help make life even more efficient.