While spring might still be a little chilly for some areas, the summer weather seems to be rapidly moving in for others. If you find yourself wondering how you're going to budget in a hot weather wardrobe for your kids, then you don't need to stress out just yet. There are actually lots of ways to cut down on the cost of your kids' summer attire. These ten tips will help you get ready for the heat without forcing you to hit the mall. Best of all, a good number of these tricks won't cost you a cent. This will certainly take the burden off of your summer budget so you can concentrate more on vacation time.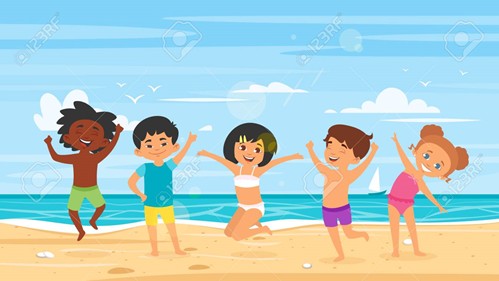 1. Bucket Hat
From infants to tweens, a bucket hat is one of the best fashion accessories that you can get for your child. The wide brim of these hats helps to keep the sun out of your child's face, which protects their eyes without forcing them to wear sunglasses all of the time. On top of that, the hats are designed to reduce the amount of sun that touches the face and neck, so sunburns are less likely to happen in these fragile areas. This can help with skin cancer prevention for the future too. Best of all, the hats are designed to help kids stay cooler. This is important when the temperature rises, but kids still want to play outside. Many bucket hats on the market today feature UV protection as well as material that dry quickly. This makes the hat the perfect option for beach days or simply having a water battle in the yard.
2. Swim Fashion
Let's face it, kids spend a lot of their waking hours in the summer in their bathing suit. So, why not make your child's swimwear a part of their fashion sense. Instead of buying a lot of shirts and shorts for the summer, help your child make the most of their swim gear. For instance, boys can wear swim trunks as a regular pair of shorts most of the time. Simply grab a tee or tank and he's good to go. Girls can do the same with board shorts and a top. Of course, girls can also wear their one piece as a body suit, which pairs well with shorts. Even rash guards can be used as a top for both genders. Since most kids spend all day in the water or outdoors, the clothes will dry so they can keep them on even after playing.
3. Cut Offs
If your child has a lot of jeans and trousers left over from school and your younger children won't be able to wear them, then cutting them off is one of the best things you can do. Since most kids outgrow the length of their jeans, you might also look at older pairs of jeans to ensure the waist still fits. If so, you will have even more pants to cut off. Cutting pants is very easy too, especially since all you have to do is make sure the cuts are even on your child's legs. If you want the shorts to look professionally made, then simply add a hem to the cut. You'll be surprised how easy this is to accomplish with simple tutorials online.
4. UV Clothing
Another must for your child's summer style is UV clothing. These clothes are designed to help block harmful UV rays, which can help protect your children when the sun is at its peak. These clothes might cost a bit more, but they can be used year-round to ensure your child will be safer when outdoors. On top of that, most of these clothes come in a wide variety of styles so you can suit your child's needs as well as their happiness. You might also find that the clothing is the perfect option for gym class too, which will help you get even more out of your money.
5. Second Hand
As you probably know, second-hand clothes can be a huge lifesaver when it comes to your child's fashion needs. One of the best places to start your journey is by asking family and friends if they have any summer clothing that will fit your child. You might even be able to trade some clothes if you have children in different age groups. Another great option is to check out thrift stores. You will be surprised by how many nice things you can find in thrift stores. Plus, all of your purchases go to help out a charity, which is a great added bonus. Garage sales are another great option for shopping around, too. Of course, you might already have a pretty good stash of hand me down clothes from previous children, which will definitely help save you some money. A newer option is to check out consignment shops online, as many stores now sell gently used clothing that looks great.
6. Invest in Sandals
Sandals are a crucial part of summer fun, especially when it comes to kids. Luckily, there are a lot of great sandals that work for all sorts of play during the summer heat. Although flip flops are a handy purchase, you might find that they aren't very functional for anything outside of the pool. A good sandal should have plenty of treads so that kids can run around and play in them without worrying about slipping. Another great feature is the adjustability, as it will help keep kids comfortable as their feet change. You should also choose sandals that have a thicker sole so that children can still walk on the hot pavement, climb and even hike without worry. Sandals are even great for playing in the water and dry quickly, so you don't find yourself in a dilemma after a day at the beach. You might check out some of the top-rated sandals, so you'll get your money's worth out of them.
7. Go Plain
One of the main issues with clothing is there are so many options that will truly cost you a fortune. Children love wearing clothes with their favorite characters, sayings and more. Often, kids outgrow these characters, or they merely want to wear clothing with their new favorites. Instead of spending money on their every whim, try to choose clothing that is plain. These items are actually much cheaper and so much easier to keep clean. Best of all, you can buy the clothing in bulk so you can easily save a lot more money. Plainclothes can even be customized as an art project, which will help you plan entertainment sessions during the summer months too.
8. Stick with Old School Clothes
If your child still has a closet full of school clothes that fit comfortably and will suit the heat, then you're covered. There is no reason to go out and purchase new clothing if your children still have plenty of options in their closet. Of course, if you do have uniforms that you expect to last until next school year, then you might put those away. Other than that, let your kids have fun with the clothes they loved when school was in session. Your kids will already feel comfortable in these items. Plus, you'll get even more use out of them, which will help make the purchase even better.
9. Shop Ahead
Although it might not help you this summer, you can always get ahead for the next. When summer clothes go on sale, shop ahead to ensure that all of your kids will be covered for the hot months. When shopping in this manner, you should take into consideration how your child will most likely grow during the year. Usually, it is okay to shop size or two ahead, but if you find clothes you really like then you might grab a couple of different sizes to ensure kids can wear them for longer. If you do shop ahead, you might keep the clothing in close proximity so that you can pull items out if your child grows into them faster than you expect. This will certainly make your life easier too and might even give you a jump start on school clothes.
10. Clearance/Sales
Your best option for saving big is to keep an eye on the clearance and sales rack. This tactic will help you purchase clothes throughout the year, so you never have to worry about your child needing an abundance of things at once. Usually, you will see summer clothes on sale towards the end of summer and early autumn, but you can still shop for clothes throughout the seasons. For instance, the light colors and fabrics from the spring line will still work in the summer months. You might even find that some autumn clothes, especially rain attire, will suit your needs.
Shopping for summer clothes can be a lot of fun if you let it be. These tips will help prevent summer shopping for your kids becoming a burden on your budget. This will help keep you and your family happier and healthier as the heat waves move into your area.