Whether you're moving into a brand-new place or you're trying to give your old home a freshening up, it's easy to spend a small fortune to make a home yours. There are many simple things that you can do to help make your unique home suit your own personal needs. These ten home renovation tips won't cost you a bundle but will leave your home feeling better than ever. Best of all, these tips will allow you to put in the elbow grease without any professional assistance, which is certain to make your life easier and cheaper. So, don't waste any time living in a house that you feel doesn't suit you, as these tips will help you quickly feel right at home in your own space.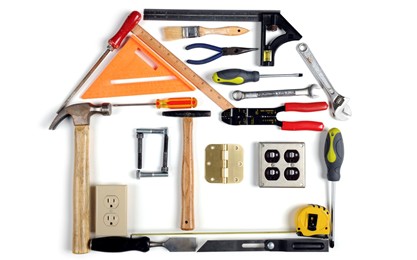 1. Swap Light Fixtures
One way to make a huge impact on your home without doing a lot of work is to simply swap out your light fixtures. You aren't forced to keep the fixtures that come with the house, especially since most of them are pretty bland. Instead, head to your local home improvement or lighting store and see what you can find. You might be surprised by how low the prices actually are on some of the items you love, especially if you wait for the event of a sale. Once you pick out your lighting, all you have to do is turn off the power and install the item in place of the old fixture. You might also consider swapping a simple light fixture out for a ceiling fan in order to prove energy bills and keep your home more comfortable. If you're renting, make sure to place the fixture in a safe place. However, if you own the home and don't plan to go back to the old items, then you can always make a little money by selling them or get a receipt for donating them in order to receive a tax deduction.
2. Add Shelves
Storage is one of the biggest issues for many people. One of the easiest ways to solve this problem is to add shelving to the home. You can do this in so many areas of the home, so make sure to plan the most convenient areas before you carry on. Although you can purchase shelving at a fairly inexpensive price from department stores, you might be better off building your own shelves. Premade shelves often fall apart faster with time and sometimes don't last if you need to move them. Building shelves that attach to the wall can add value to the home and will give you more customization options. Shelves can be added for books and décor, but you can also place them in closets for even more storage. Luckily, shelves aren't hard to make either, so you won't have to hire anyone as long as you're willing to put in the work.
3. Paint Cabinets
Cabinets can play a huge role in the décor of the home. If you're looking to rejuvenate your kitchen or your bathroom then you're bound to find that painting your cabinets can make an incredible impact. Luckily painting cabinets don't take a lot of work, so you can do it yourself without the need of professional assistance. However, before you go all out on paint, make sure to test what it is going to look like on your cabinets. Since there are so many cabinet designs, your paint job might look different depending on the wood or material your cabinets are made of. You might also consider a stain if you still want to maintain the wooden look. If you really want to add more space to your home, then consider removing the doors of some of the cabinets and painting the interior. This creates an open space that is perfect for decorations and dishes.
4. Replace Drawer Handles
Another fun way to shake things up a bit is to make some drawer handles for all of your cabinets, dressers and so on. Since drawer handles typically look similar in style, you will definitely enjoy adding your own personal touch to these items. In most cases, you'll find that by simply changing the handles up you can actually change the appearance of the entire item. There are so many cool handles to choose from, so make sure you take your time to browse around your local stores as well as online options. However, if you want to save some money and have a bit of fun then you might consider making your own. This is actually fairly easy and will give you so much creative freedom. There are lots of ways to go about this too, so look online for options that will work well for your needs.
5. Embrace Rugs
A rug can easily become one of the best accent pieces in the home. That is why you should always consider a rug when looking for a way to spice up your home and make it suit your personal style. Rugs can be a bit on the pricier side, but as long as you take care of them they can last you decades. You might also search around outlet stores for options that will help you save money. You can find rugs that suit all sorts of interests too. For instance, if you prefer a geekier look then you can easily shop for items such as Star Wars and more. Other options that make customization easier involve the texture of the items. No matter what type of rug you choose, you're bound to enjoy the appearance and freshness that it brings to your home.
6. DIY Sink Cover
Kitchen space can be tight in some homes, which might bring about frustration when you're trying to prepare a meal. Instead of throwing in the towel, you might consider making your own sink cover. This is essentially a cutting board that is designed to fit over your sink. The board can be left over the basin at all times though if you prefer the appearance of the board opposed to your sink's drain. You can make these covers out of so many things, too. If you have marble counters then you might consider making a matching board, so it looks as if you have more kitchen counter space. You can also keep it simple with wood or a premade plastic option. These covers are great for prep work too, as cleaning them is easier than ever since they're already on the sink.
7. Photo Tiles
Personalizing the home can be so much fun when it comes to your family's photos. One of the best ways to add to the appearance of the home and show off your favorite pictures is to transform them into photo tiles. These can be placed on the wall to create a 3D effect that looks awesome. These tiles can be purchased online through many retailers. However, they are also incredibly easy to make on your own. You can even use soundproof materials to make them even more efficient, especially if you find yourself jamming out to loud music when cleaning. There are lots of great tutorials for these tiles, so make sure to surf around until you find the right match for your needs.
8. Decorate your Mail Box
Giving the exterior of the home a little love can be tough on a budget. Everything from new coats of paint to planting beds can cost quite a bit of money. One quick and cheap way to give the home a bit of life is to decorate your mailbox. This can be accomplished in so many ways. For instance, you might start by giving it a fresh coat of paint or adding custom made numbers to the box. You can even add your last name to the box for the personal touch you've been hoping for. Of course, you can do so much more. For instance, if you have a specific set of interests then you might consider adding something that shows that off. If you love art, then paint the box to resemble one of your favorite paintings. Star Wars fans can make the mailbox look like one of the famous space ships and so on. You can also add flowers to your mailbox. Simply add a planter or even an old tire that can be fitted around the box. Once this item is secure, add some potting soil and plant a few flowers to make it look incredible. This only scratches the surface of fun things that you can do with your mailbox.
9. Create an Accent Wall
Sticking to one color in the home can be tough. On top of that, picking a color that you're certain you won't grow tired of can be tricky. Instead of investing a lot of money in painting a full room, you might simply create an accent wall instead. This will help you to save money on paint since you will only need a fraction of the amount. It will also take you a lot less time to complete. If you don't want a solid color, then use some stencils or paint your own design. Paint isn't your only option when it comes to accent walls though. You can easily use wallpaper to add some pizzazz. Some people even use fabric to make the room look extraordinary. Fabric can be one of the best options if you're renting too, as it can be nailed up and taken down quickly when you need to move. Using old book or comic pages has also become a trend recently, which makes for a more personalized look that you can feel proud of.
10. Install a Runner
Homes with stairs can feel dull at times, especially since the stairs tend to have a uniform look. If you have carpeted stairs and you don't like them, then consider pulling the carpet up and going back to the original wooden state. Once this is complete, find a runner that shows off your personality. If you already have wooden stairs, then you're halfway to a cool new look. Of course, make sure the runner is secured well to ensure safety in the home. You can even add a runner detail to carpeted stairs if you still long for a little more style in this area.
Giving your home a special touch that will make you feel more at home is easier than you think. These ideas won't cost you a bundle and are bound to make you happier than ever. Best of all, they'll allow you to put work into the home, which will give you a source of pride that will show throughout your house.