It's time to let the laughter roll, because Red Nose Day arrives again on the 23rd day of May. If you've never participated in Red Nose Day, then you're bound to be in for a treat. This special is designed for comedians from all walks of life to gather together and have some fun while raising money for children in need. This year, there are many great charities participating too, so you won't want to miss out on your chance to join in. There are a lot of ways to do this too and many of them don't require you to spend a fortune. So, get ready for a little laugh therapy while helping to accomplish some good deeds, because these tips will fit Red Nose Day into your budget with ease.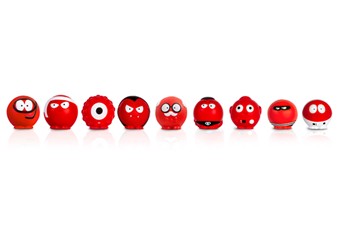 1. Buy a Nose
One of the easiest and most fun ways to participate in Red Nose Day is to purchase a nose. These noses can be found in Walgreens stores and a few other retailers, so shop around to find the option that suits you. Every nose that you purchase from an official retailer will help out specific charities, so you'll already be doing a world of good. The noses aren't expensive either, so you can purchase multiples if you want to give more. This year, the noses come in special packaging, which makes each purchase a mystery, so you can add even more fun to the experience. Of course, if you can't afford noses at the moment, then you can simply buy a party red clown nose to show your support. If you're hoping to help out then buy the unofficial noses in bulk, add fun faces to them and sell them to make more money for donations. This can be a lot of fun for kids to do too, so make sure to include them in the process.
2. Watch the Broadcast
On Red Nose Day, there is a huge broadcast on NBC to help raise funds. Comedians get together to do comedy routines, games, relays and so much more depending on the programs you choose to watch. Often, this broadcast also allows people to call in to pledge money to the cause. Sometimes, the proceeds from the number of viewers also helps to bring in some extra money for the charities the program is working with. You can find a lot of information about the line up online, so make sure to check in to see when you should tune in. This broadcast will also help to spread awareness, so check it out if you can find the time.
3. Bring Red Nose Day to Your School
Since Red Nose Day isn't the phenomenon that it is in Britain yet, you might have to take matters into your own hands to get the event added to your school. You might start by asking for a meeting with your principle to see if you can talk them into taking on the event too. There is actually a sign up page that will give the school the things needed to participate. If the school agrees to take on the event, then make sure you're ready to volunteer. This will help encourage the school to take on the event next year too. Of course, if the school can't take it on then there are some ways to help out. For instance, you can purchase red noses for your child's class or pass out flyers or coloring sheets to help the student's parents learn about Red Nose Day.
4. Start a Fundraiser
If you love to hit the pavement then you might want to start a fundraiser of your own to help out. You can sign up to do one through the program if you want a little assistance. However, you can also start a fundraiser at home. All you have to do is donate the proceeds to your favorite charity that works to end childhood hunger. You might also consider purchasing food for the local food bank with the money. There are lots of ways to earn money for the cause too. You might host a car wash, do a bake sale or even an art walk. Have fun with the experience though and make sure to laugh your way through the day.
5. Recycle Your Red Noses
Red noses are fun and all, but they can be bad for the environment. This is one thing that Red Nose Day isn't about. Luckily, you can actually take your old red nose back to Walgreens to recycle it. Even the wrappers are recyclables, so you won't find yourself wasting during this day. Walgreens will take care of everything for you without charging you an extra cent. Of course, you can always hold onto your nose as a keepsake or for play time. There are many crafts that you can enjoy with your nose too. Just, make sure it doesn't hit the trash can, so your contribution will help all the more.
6. Teach Your Children Empathy
When it comes down to it, one of the best things to take out of this special event is empathy. There are many children around the world that do not have enough to eat. So, this might be the best time to teach your children about empathy. Children should learn to show affection to others too. You might start simple with children and work your way up based on their age. You can also give children ways to empathize and help others out. One example is to ask your child to share their lunch if another child has nothing to eat at school. There are many empathy exercises online too, which can help you start out with your lessons.
7. Seek Community Events
Red Nose Day is starting to spread across the country, so you might actually find some events popping up in your area. One of the best places to check for information is the Boys and Girls Club of America. This program often benefits from Red Nose Day, so they might have a special event to increase funding all the more. If not, they might be able to steer you in the right direction to where one might be happening. Your child's school is another great resource, as most principles will know if there is something exciting going on. You might also surf around on social media to see if there are any announcements worth checking out.
8. DIY Tee
A red nose isn't the only way to bring some awareness to the event. You can also have a little fun at home by making your own tee. You don't need to go crazy on supplies either, as you should be able to find cheap red shirts for the whole family. You can even turn a graphic tee inside out just for the day. If you want to get creative then add some paint to the tee, use iron on transfers and more. The tee can even be kept as a keepsake. If you really want to bring awareness to the day then add some of the charities to the tee, so people will know where to donate when the time comes.
9. Red Nose Activities
Red Nose Day is designed to cater to children, so you know you're going to find a lot of great activities to help you keep everyone entertained. Often, you will find word games, print outs and more for children to do. This is perfect for classrooms and can help children learn the meaning behind the fun. Another great activity is to have children make up their own noses. You can even do this with paper, if you're looking to keep the craft frugal. A comedy booth is another fun way to let kids join in on the activities. Your imagination is the limit though, so have some fun with Red Nose Day and keep laughter at the front of every activity.
10. Donate
If you can't participate in Red Nose Day, then don't stress out. One of the best ways to help out is to actually donate. You can do this from the website, if you're worried about your donation going through other parties. However, you might also choose a specific charity to donate to. There are so many charities designed to help feed children that you won't have to search long to find one that suits you. You might also look into local charities that help kids in your district eat during and after school hours. You don't have to give much either, especially if you're not prepared to. Every little bit helps out.
Red Nose Day is an exciting time, especially if you're child. These ten tips will help keep the laughter going while helping you bring awareness to childhood hunger. With any luck, this special day will help keep kids hunger at bay so we can give all children the chance to grow up healthy and strong.