It's almost time to celebrate dad and all that he's done for us. However, if the dad in your life is hard to buy for or is on the spoiled side of life, then you might not know what to purchase for him. Luckily, there are lots of budget-friendly ideas that can help you get on the right path to finding the perfect gift for your old man. These ten tips are great options, even for children, who might need to make a gift instead of spending money on one. So, don't let Father's Day pass you by without trying out one of these perfect, yet frugal, gifts for the father figures in your life.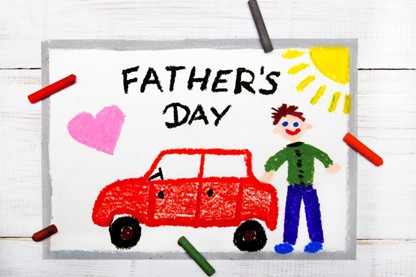 1. Remote Holder
If the dad in your life just so happens to be a couch potato, then this is going to be one of the best gifts. A remote holder can come in all shapes and sizes too, so you can truly find one that suits your dad's needs. One of the easiest ways to make a remote-control holder is to take a couch pillow and glue or sew some fabric to the pillow with compartments for snacks and the remote. You can also craft one out of cardboard or scrap wood with very little design skills. This can be a fun task for older children. Kids can even customize it with paint and stickers. There are so many other ways to make a remote holder though, so make sure to shop around for tutorials before you settle on one specific design. Dad will love the gift, especially since he won't have to waste time looking for his remote again.
2. Shoe Care Kit
Dads that have a pretty good shoe collection might benefit from a shoe care kit. This is great for dads that love all sorts of shoes too, so you can customize it to suit their needs. You can purchase a shoe care kit for a decent price but making one might be a lot more fun for the whole family. Some of the items to add to the kit would be shoe polish in many different colors, a shoe buffer and a cloth to keep them clean. You might also consider adding in some shoe glue, for stubborn shoes that dad doesn't want to get rid of. Extra shoelaces can also be an asset for this kit. To top off the kit, find dad a special bag or box to keep everything in. Kids can even make their own using basic sewing or woodworking skills.
3. DIY Shirt
Without a doubt, most dads love t-shirts. Thus, this is an easy and efficient gift to give to the man that has just about everything. Making a t-shirt can be a lot of fun too and can include the entire family. If you're looking to save money, you can even use one of dad's old shirts for your design. Of course, you can also find solid colored shirts in most department or craft stores. There are many ways for you to make a shirt, including iron-on transfers, silk screens, and fabric paints. So, you can work with an option that suits your needs. The kids can even design their own shirt, so dad will have a new top that no other guy will own. This is bound to make dad, grandpa, and even uncles feel great.
4. Chore Book
Dads that have a long "Honey Do List" can always use a bit of help, so you might want to consider having the kids make a chore book. This book can be filled with coupons that dad can use to get help on some of his chores or to simply get out of them. This can include easy items like taking out the garbage or tougher items like mowing the lawn. Kids might consider adding coupons that allow dad to get a little assistance while working on projects like building a blanket fort or having a sock war. If you want to put some money into the book, then dad can redeem a trip to the movies or a date with an individual child or even his spouse. The kids can decorate the book to suit their needs too. There are so many fun designs kids can use too, which will make the gift feel even more personal.
5. Shave Set
Most dads have to deal with the tedious task of shaving. Thus, you might want to consider adding a shaving kit to your dad's gift list. A shaving kit is actually incredibly easy to make at an affordable price. You might start by stocking up on some of dad's favorite razors. Then, you can easily make him his own shaving cream with tutorials from the internet. Some other shave items to add will be a cooling gel, special towel and so on. Another fun idea is to grab a travel mirror and decorate it for dad. You can also make a special bag that dad can use whenever he travels. This will help remind him of home while ensuring he looks professional and well taken care of when he's on the go.
6. Custom Mug
Dads that love coffee or tea will certainly benefit from their own mug. Customizing a mug is actually much easier than you might think. In fact, there are even mugs that have two layers, so you can easily add pictures to the inside of it. If you don't want to go this route, then you can have a mug custom printed with photos at an incredibly reasonable price. Pictures aren't the only option though. Kids can paint their own mug to provide dad with a special piece of artwork or message. Even if dad doesn't want to use his mug for his favorite beverages, these mugs make great pen holders for the office.
7. Digital Photo Frame
Give dad a taste of modern technology with his own digital frame. This gift will allow you to load several pictures onto one frame, which is bound to add convenience to dad's life. These frames are great for the office but can also be placed on dad's bedside table. Some digital frames can even come with recorded messages in some cases, which is perfect for dads that might have to go on business trips or deploy often. Digital frames can also be customized with buttons, stickers or anything that makes the frame a bit more personal for dad. This will help add the special touch that will make kids love giving the gift all the more.
8. Ice Cream Lock
Most parents probably know the struggle of having their own personal snack attacked by their children. Thus, an ice cream lock might be the perfect way to help dad keep track of his snack for good. There are many ways to grab this ingenious design. Ben and Jerry's actually has their own brand of ice cream lock, which helps to keep their brand of ice cream secured. There are other generic options to choose from though, so shop around to find an item that you feel will work best for you. Pair this gift with some of dad's favorite ice cream and you'll be in for a home run.
9. Alone Time
Without a doubt, everyone can use a little alone time, especially parents. So, this Father's Day, you might give dad the ultimate gift by allowing him to spend some time alone. You can easily just factor in some free time to help dad unwind on his special day. Another great gift is to call up dad's friends and have them stop by to take the man of the hour out on the town. If a date night is more on dad's agenda then try to find a babysitter, ask the grandparents or see if the kids can sleep over at a friend's house. Dad might just want an hour or two to go out and grab a drink on his own. No matter what he chooses, a little kid-free time might be one of the best ways to say I love you on this special day.
10. Food
If you haven't gathered by now, one of the best ways to most dads' hearts is to feed him something that makes him happy. So, one of the best gifts is to actually provide him with some food. This is a great way for kids to start learning how to cook as whipping up dad's favorites will be a fun way to make the day great. Of course, there are also lots of freebies that dad can enjoy on his big day too. If you plan accordingly, most dads should be able to find a wide assortment of treats that will satisfy from morning to night. You will have to keep your eye out for these deals, so planning might be last minute. However, if you call up dad's favorite restaurants to ask about deals, you should be able to make a flexible game plan.
Father's Day doesn't have to be stressful if dad is hard to shop for. These quick ideas will help kids plan out the perfect gift for dad without spending a fortune on the gift. These ideas are definitely great for dads that tend to have everything they need, so you can still offer them something a little surprising.