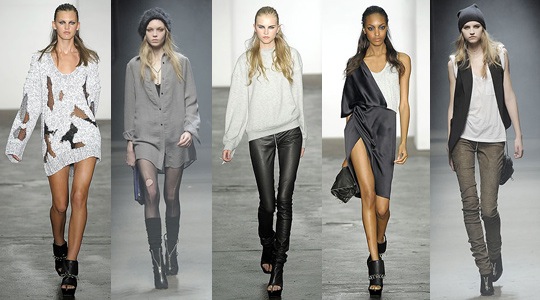 I am not going to talk about fashion chain stores like Banana Republic, Bebe, Gap, or Lord and Taylor, because they are well-known enough. They are good places to shop both online and at local stores. But there are many other smaller and niche retailers online who attract female buyers for different reasons.
1. Shopbop.com is my favorite store to buy designer's apparel. If you knew which designer fits you best, simply click into the designer's page. About 500 designers are listed from A-Z. You can find names like Alexander Wang, Maison Martin Margiela, Marc by Marc Jacobs, Kelly Bergin, etc. Designer's fashion no cheap, prices range from $100 Tshirt, $300 jeans, to a $1000 fine dress. Brands like these are also available at local Saks 5th Avenue, or Neimen Marcus. But at Shopbop you pay lower prices, at least 20% cheaper than that of local stores, and you don't pay taxes. And better yet, both shipping and return are free, which means you can try it and return it at no cost. Read the product reviews before you buy, they are very helpful.
2. Yoox.com is another place to shop designer's apparel. They carry many Europian's brands which you can not find elsewhere, such as Martin Margiela, Jacques Fath, Pierre Cardin. And in total they have more than 1000 desingers listed! Sometimes your ordered are shipped from overseas, which may take a long time to get you. But the worst thing about Yoox is that they don't offer free shipping nor free returned.
3. Bluefly.com have apparel from a few hundred of designers. Their prices are often higher than that of Shopbop. But they offer coupons very often. If you are able to use a coupon, the prices are sometimes lower. They do not have free shipping nor free return. Standard shipping is $7.95, which is not too bad though. Bluefly attracted many buyer because its luxury bags at very discounted prices.
If you are not comfortable with online only stores, Nordstrom.com and NeimenMarcus.com are your choices. They are the only brand name stores who offers free shipping and free return. You can either return items to their local stores with no questions asked, or return to any UPS stores at no cost.
4. 7ForAllMankind.com: Nice jeans!
5. 80sPurple.com: The name says it all.
6. AlternativeApparel: Handcrafted apparel made of extra soft fabrics.
7. Appleseeds.com: Classic and formal.
8. BabyPhat: More black people wear them than white.
9. BeallsFlorida.com: Low price apparel.
10. Boden.com: Boden kids are my favorite.
11. Chadwicks.com: Fashion for office lady.
12. Christopherandbanks.com: Comfortable and casual wear for older ladies.
13. Couturecandy.com: Another fashionable clothes site, similar to Shopbop. Free shipping with $150 order.
14. DJPremium.com: Another trendy designer's clothing site. Less items listed, but prices are competitive.
15. DrJays.com: Urban clothes mostly for blacks.
16. Editorscloset.com: Members only, private sale for designers' brands.
17. FrenchConnection.com: Classic Europian styles.
18. GoJane.com: Trendy shoes and clothing for teens.
19. HauteLook.com: Similar to Editors closet, deep discount for members only.
20. HotTopic.com: Funky styles.
21. JimmyJazz.com: Urban clothes mostly for blacks.
22. metrostyle: Classic wear with real steal price.
23. MidnightVelvet.com: Formal wear at very affordable price.
24. ModCloth.com: Indie, Retro, Vintage Dresses.
25. Monroeandmain.com: Casual wear and office wear at low prices.
26. PeruvianConnection.com: Luxury alpaca sweaters.
27. PinkMascara.com: Many complaints about their customer service.
28. PinkIce.com: For young chicks who want to catch the fashion trend but don't want to spend a lot, this is the one for you.
29. Rocawear.com: Urban clothes mostly for blacks.
30. Shabbyapple.com: Vintage style dresses and skirts.
31. Spiegel.com: Classic apparel.
32. Splendid.com: Country styles at affordable price.
33. TheOrchidBoutique.com: Top quality swimwear from top designers. Can't find at any local stores.
34. ToryBurch.com: Brand also available at other designer's store. Here you will find more selections and on sale items.
35. UrbanOutfitters.com: Urabn styles at affordable price