Father's Day will be here soon, so if you're still trying to figure out how to celebrate dad, then now is the time to make plans. Since last Father's Day landed during the peak of the pandemic, there weren't a lot of options to help celebrate dad. This year, things are beginning to look up with vaccines available, so many people are opting to treat dad to a special activity as opposed to a gift. These ten ideas will help you plan some fun for dad that won't cost you a small fortune.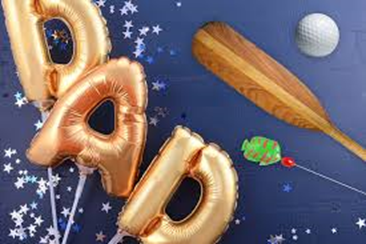 1. Car Show
A car show is a great way to help get dad out of the house while allowing him to enjoy a hobby that he would have taken in more during the last year or so. The great thing about car shows is they tend to pop up frequently during the summer months, so finding one probably won't be very difficult. You can probably check community groups or even local car groups to see what is going on when. It might require a little travel to get there, but it will definitely be worth it to ensure dad gets to enjoy the special day in style. Of course, you might want to purchase tickets to the event as quickly as possible because you may find shows sell out this season since more people are trying to make up for time lost.
2. Golfing
If dad loves to golf or is simply looking for physical activity to take on, then a round of golf might be the perfect gift. You can take dad golfing in most local places, which makes this an easy activity for you to set up. However, you can also try out different golf courses if dad is looking to broaden his horizons. Golf can be pretty inexpensive, especially if everyone owns their own clubs and skips out on the caddy, which might help to keep things on the frugal side of your gift-giving needs. Plus, golf offers plenty of time to bond which might be something dad has been missing out on due to pandemic precautions.
3. Fishing
Summer and fishing go hand in hand. So, taking dad on a fishing adventure might be the perfect gift. Fishing will allow you both to get out of the house and take in some fresh air while enjoying a hobby that you would typically take part in prior to restrictions. Fishing can help create a sense of peace that dad may be in need of too. If you're lucky, you might catch a special dinner for dad, which will add to the treat. Around Father's Day, you will find deals on fishing licenses as well as free fishing days, so make sure you know when you can and cannot fish or go through the proper channels in order to avoid problems.
4. Music on the Lawn
During the summer months, there is often music on the lawn shows which can help add a sense of fun to the holiday. You might check around within your community to see who is going to be playing to make sure it is music your dad will actually want to hear. If you can, you might also pack a special meal and some drinks to add to the occasion. This is one of the safest things you can do around other people too, as the outdoor venue will help prevent spread if you're not yet vaccinated.
5. Baseball Game
Baseball season is upon us, which means it's time for baseball games to brighten up the season. If you have a league near you, then you might want to secure tickets so dad can enjoy an old-fashioned baseball game on his special day. For the game, you will definitely want to bring some extra money for all of the stadium refreshments that you missed out on over the past year. This will definitely help to add to the experience while getting dad out in a setting that will make him feel nostalgic for the good times.
6. Camp Out
Spending a weekend outside and enjoying the fresh air is another great activity that will quickly replace the presents on dad's list. This gift will help to create a sense of joy that can't be replaced for Father's Day. When you go camping with dad, you can choose one of your favorite campsites or try somewhere new. You might also consider renting out a cabin and extending the visit if your budget and your time off will allow for this. Apart from that, you should make sure to bring some of the items that you enjoyed while camping out as a kid. Cards, music, and other activities dad enjoys are definitely a must.
7. Beer Tasting
When it comes to enjoying a good time, a beer tasting is definitely going to make some dads a little giddy. Luckily, most breweries are offering all of their services, which can help you schedule a tour and a taste test to make dad's Father's Day extra special. Of course, you might look around for places that offer the types of beers that dad enjoys. If you don't have a brewery near you, then you might call in and see if any restaurants offer beer tastings. This will allow you to get dad a special meal to help make the tasting all the more enjoyable.
8. Flight Lesson
If your dad is a bit of a daredevil, then you might consider getting him flight lessons. You might be surprised as to how frequently these classes are offered, so you shouldn't have to work incredibly hard to find what you need. You may have to get dad to sign some paperwork and put in some applications before he can take a flight lesson, so surprise him with the lessons might not be an option. However, it can still be a fun way to show dad you care and understand his desire to truly embrace life, especially after the past year.
9. Hit the Water
With Father's Day tends to come to the summer heat, so spending some time on the water might be one of the best gifts for dad. You can enjoy a day doing almost anything by the water, which will help make planning easier. If you or your dad has a boat, then this is a great option. However, if you're looking for more budget-friendly ideas then you might consider rafting or just go for a simple swim in the water. Having fun together and enjoying the beauty of summer can truly provide dad with the perfect setting for Father's Day.
10. Road Trip
When it comes to getting out of the house, a road trip is one of the best ways to jump into action. You don't have to go far on your road trip as long as you hit the road for a little while. In fact, if your dad loves to drive then he might be happy just spending the day on the road and returning home when night falls. You'll definitely want to go over dad's desires before you plan the trip unless you already know of something that he may have in mind. Make sure you pack snacks and other items to help make your trip enjoyable and safe.
Finding the perfect Father's Day gift doesn't have to stress you out. In fact, this year, dad might be more interested in embracing an activity than he is in getting a present. These ten ideas will help you find the perfect activity for dad so you can show him you love him while getting out of the house together for a while.