Summer is here, which is going to give you a few things to consider when you're planning out your family's grocery list. For starters, the weather is going to be hot, which might not leave you in the best place to enjoy a meal. There are many lighter meals you can have that will help you satisfy your hunger without forcing you to feel terrible. Another problem is going to be that the kids will be home all day and your food budget is already going to go up due to the excess snacks. These ten ideas will make dinner time a little easier, cooler, and cheaper so you can get through summer with ease.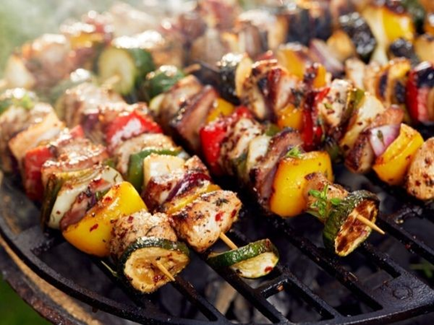 1. Hot Dogs
There is no doubt about it, hot dogs are a pretty classic summer food that won't leave you struggling to keep your budget low. Hot dogs can be cooked in many different ways as well, which will keep things fresh for you and your family. Of course, you might also consider hot dog alternatives. There are numerous different types of sausages that you can try out to mix things up. If you're looking for a healthier alternative, then there is a wealth of options there too. You can use vegetables like zucchini or carrots to add to the fun. You can also use tofu dogs if you aren't feeling the lighter vegetarian options. When it comes to hot dogs, toppings are everything, so you can add even more to your dish by offering new and exciting toppings every time you serve the meal.
2. Kebabs
Another summer classic is the kebab. This dish can be pretty simple to make and there are so many healthy options to choose from. Most kebabs offer a variety of meats and vegetables which makes this dish customizable. All you have to do is place what you want on a skewer and you're good to put it on the grill. Cooking up this dish can help save on the heat of the house. Plus, it provides everyone with the protein and vegetables that you need to be healthy. You can even make fruit-inspired kebabs if you're looking for a sweet treat afterward.
3. Tacos
Taco Tuesday doesn't have to go away during the summer months. However, you might want to transition the way you cook your tacos. For instance, instead of using ground meat that you would spice and fry up, you might consider options that can be made in your slow cooker. Cheaper cuts of meat can easily be transformed into the perfect taco, which will allow you to save money and time. Best of all, slow cooking options will give you plenty of leftovers, so you can freeze your excess to have for the next few times that you enjoy tacos. Toppings and other items can help keep the dish fresh and exciting, which will definitely add to your love of the meal.
4. Chili
Another simple option that you won't want to pass up is chili. This is another crockpot classic that will help you feel at ease in the kitchen. When it comes to chili, you will find that there is a wide assortment of options to choose from too. If you're going with a more budget-friendly option, then going with all beans will definitely help to suit your needs. No matter what recipe you choose though, you can add chili to other recipes to make them even more exciting. Chili has many health benefits as well, which can make you feel better than ever throughout the summer. Apart from that, if you keep your chili on the spicy side, it might actually help to cool your body down.
5. Salads
As the heat settles in, you might find your appetite subsiding quite a bit. Since the heat isn't doing you any favors in that regard, you might stick to salads for a little while. Salads are a great way to get the nutrients you need while helping you to lose weight or at least feel a little less bogged down by your meals. Salads can be spiced up in a wide variety of ways too. For instance, you might consider adding grilled meats to your salad for a low-carb option that will keep you filled up throughout the night. You can even add fruits to salads to give them the sweet flavor you love. Of course, you can also step away from the classic lettuce and add-ons option. Instead, you might consider using roasted vegetables and other options to help give you a little more variety.
6. Flatbread Pizza
When the pizza craving calls, you might second guess your craving because pizza and grease can be a lot heavier on your stomach in the summer heat. Rather than going all out or spending a fortune on takeout, you can ease your craving with a flatbread pizza. With this option, the bread used is much lighter and less greasy which is better for your body. You can also add less cheese to help ease any other issues you might have. You can purchase the bread ahead of time if you choose, but there are also lots of great dough recipes to help you out too. Flatbread pizzas are easily made on the grill, which will help keep heat out of your home.
7. Spaghetti
When you think of cheap meals, spaghetti is always going to be one of the top items on your list. You can easily crank out this meal in a few minutes and it will take mere seconds to complete. You don't have to always create the same spaghetti though. There are many other options that steer clear of the heavy tomato sauce that you might typically use. There are many summer spaghetti options that are filled with vegetables and are made with light olive oil sauces, which can help you enjoy the dish all the more. You can even serve some spaghetti cold, which might help you to ease some of the discomforts of the season.
8. Fresh Spring Rolls
If you are a fan of the egg roll, then the spring roll is definitely going to add to your summer fun. Spring rolls are lighter and easier to digest, which makes them a great summer treat. These rolls also aren't cooked, so you'll get nice crisp veggies in a simple rice wrap. Most of the time, these rolls are served with a special sauce but don't feel intimidated because all of this is easily made at home. You will find countless recipes and tutorials to help you make spring rolls that will continue to fill you up while going easy on your budget.
9. Chicken Salad
Another timeless favorite is chicken salad, which can also be as versatile as you would like it to be. Chicken salad is great because it is served cold, so you can cool your body down as you enjoy something packed with flavor. If you don't have a chicken salad that you love yet, then you can easily find recipes as diverse as the people that created them. Some utilize dill pickles, while others are packed with walnuts and apples. You can enjoy making them with convenient canned chicken or you can choose to shred leftover chicken for a no-waste option. When you grow tired of chicken, you can swap in tuna to help make the dish spread throughout your summer days.
10. Quesadillas
If you're looking for simplicity, then a quesadilla is a great option that you can customize to suit your family's needs. If you want to keep things simple then heating cheese upon a tortilla will make your life easier than ever. However, you can spice up a quesadilla any way that you choose. One simple way is to add leftover beans or meats so you can help stretch your grocery budget even further. You will also find that salsas and vegetables can add the hint of freshness that you desire in the summer months.
Cooking in the summer isn't always a treat. However, if you find yourself looking for ideas that will suit your budget while keeping your home cool, then you may find these ideas to be helpful. With any luck, you will be able to create a weekly menu that is healthy while still bringing happiness to the whole family.