It feels like June has just begun, but the Fourth of July will be here before we even know it. This year may look a little different than last year did, but it might not be exactly how you planned it would be when you compare it to previous years. No matter how you plan to celebrate, there is probably one thing that you have on your mind already. That is, how can I stay cool during the holiday? July is notorious for being hotter than hot, so these ten tips should help you find a few ways around the heat while allowing you to enjoy your celebration of the 4th.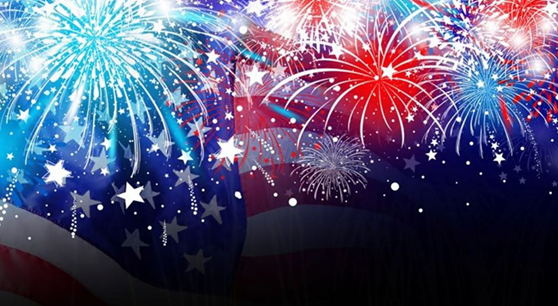 1. Grill Out
Doing anything with the oven might be out of the question for the next few months. It's hot and that contraption only makes it even more miserable. The best thing you can do to avoid this heat while you're celebrating is to grill out. It might not be fun standing outside while you cook, but you will be able to head indoors into the cool air to enjoy your meal. Grilling out can actually help save on your electricity bill too because your air conditioner won't have to do extra work to keep your home cool. Of course, you will also get to enjoy some delicious foods without having to deal with pots and pans, which can help save you money on your water bill.
2. Go to the Theater
A lot of theaters will have special deals for the Fourth of July, especially since so many are hurting after the pandemic. So, if you're lucky you might be able to find a great deal on a few features that can keep you feeling cool all day long. Some theaters are even allowing you to rent out your own space for parties, so if you're concerned about covid-19, or anything else that might be going around at the time, then you can keep your party exclusive. Apart from that, heading to the theater will allow you to keep your thermostat a bit higher which can help you avoid higher energy costs while you celebrate.
3. Water Fun
With temperatures on the rise, you may find yourself wanting to splash in some cool water. If you have a pool then that is probably your best option, even if you're just dipping your toes into a kiddie pool. Of course, you can enjoy so many other forms of water fun. Water gun fights and balloon wars are always a great option. However, if you feel creative you may be able to think out of the box to come up with a few ideas that suit your family. You can also come up with relay races and other options to help you feel excited about all of your water fun.
4. Visit Loved Ones
If you are able to visit a loved one and it is safe to do so, then this might be your best option for the holiday. Even if means driving somewhere, you'll still get to enjoy the air conditioning in your vehicle, rather than your home. This holiday might be one of the best times to catch up with loved ones that you didn't get to see as the covid-19 virus doesn't do as well during the hot weather. So, you will at least have a chance to see everyone before there is another lockdown when cool weather arrives. If you're vaccinated, you don't have to worry anyway, but with children and so many vulnerable family members still unable to get the vaccination, you may still have to practice precautions.
5. Cold Desserts
Nothing says summer quite like all of those delicious cold desserts. Instead of spending a small fortune on these items, you might consider trying your hand at making them yourself. There are so many recipes for homemade ice cream that you might want to try out several different varieties before the end of the holiday. Popsicles can be as easy as freezing juice, but there are also many options that involve adding in fruits and more. You might also consider trying out options like snow cones or ice cream cakes. There are so many things you can try that it is bound to add some fun to the day.
6. Watch a Parade
The Fourth of July is bound to bring some parades to your community. If you haven't seen any announcements about them you might check out your community's website to see if one is scheduled for your community. If not, then you might have to drive a little while, but you should be able to see one in action in a neighboring community. When you go to the parade, you might find a place that you can sit and relax in your vehicle. This will keep you out of the heat while allowing you to still enjoy the sights. There will also be parade options online and on the TV, so if you're not feeling like journeying out in them then you will definitely want to go that route.
7. Patriotic Crafts
If you're stuck inside because of the heat, then you won't have to worry about getting bored. There are numerous craft options that you can take on to help keep you from getting bored. If you're looking to enjoy a patriotic craft option then you might consider making planters that show off red, white, and blue designs. This can easily be done with some paint, sealer, and planters that you already have in the home. You might also consider making some banners that you can hang up inside or outside of the home. Kids may even have a blast making Uncle Sam-inspired hats that they can wear throughout the day. There are lots of other ideas online too, which can help you find the perfect options for your family.
8. Red, White, and Blue Foods
When it comes to creativity, the Fourth of July definitely deserves a round of applause. So many people have worked to create a huge selection of red, white, and blue foods that will definitely suit your appetite while allowing you to enjoy the holiday all the more. There are so many recipes you can make without having to be a professional chef or Pinterest mom. Of course, most of these items are desserts but don't let that stop you. If you're hosting a party, then you can also make a wide variety of fun drinks too. One example is adding strawberries and blueberries to a clear soda. You can even make this drink alcoholic if you choose to.
9. Picnic Inside
Picnics are another staple for the holiday, but that doesn't mean that you have to have one outside. After all, who wants to sit out in the scorching heat on the ground that is probably hotter than the sun beating down on you? Let's not mention all of the summer bugs that will also have their eye on the food that you brought in. Instead of going crazy over an outdoor picnic, put some effort into making an indoor picnic amazing. You can enjoy a similar setup and serve foods that you would traditionally have. Kids will love the idea and it will help make the holiday feel all the more special.
10. Enjoy a Firework Show
When you think Fourth of July, fireworks probably instantly come to mind. This is probably one of the best activities that you can partake in for the holiday without having to worry about it getting too hot. When it comes to firework shows, you can probably see numerous options by simply stepping outside when the sky grows dark. However, if you want to be up close and personal then you might check out where community shows will take place and stay in your car during the fun. You can also check out shows online if you're not feeling like dealing with the hot air.
The Fourth of July can be just as budget-friendly as you hope it to be, as long as you try to stick to simple activities. These ideas will not only suit your budget, but they will allow you to enjoy some fun without getting too overheated in the hot sun. With any luck, these ideas will help you make the best of the holiday as we slowly return to the world we once knew.