If your kids are out of school for summer or will be soon, then you might be wondering how you're going to keep them entertained over the next couple of months. For a lot of people, summer camps aren't an option because of Covid-19. With vaccines still in the works for most age groups, you may find camps can't risk the spread and are thus sitting another summer out. There are lots of great virtual summer camps to choose from though. These ten camps offer a low-budget approach to summer camp that won't cause your child to be exposed to the virus.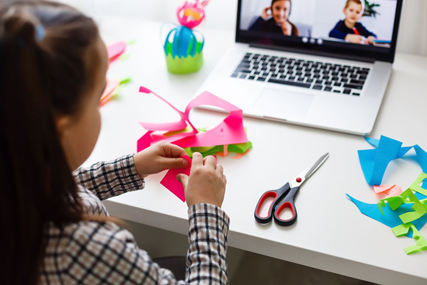 1. Virtual 4-H Camp
4-H is a part of almost every community, so it is no surprise that the camp is going digital to help meet the needs of the children around the nation. If you're unfamiliar with 4-H, then it might be helpful to know that this organization is devoted to mentoring children and helping them to learn important lessons that can help with daily life. With a virtual 4-H camp, you will find many of these lessons such as sewing, cooking, and even a few options revolving around agriculture. However, you will also find a variety of classic summer camp activities such as arts and crafts and courses that cater to STEM activities.
2. Camp Wonderopolis
When it comes to STEM, Camp Wonderopolis is going to be the place to go. This camp brings a huge selection of STEM courses for your child that is absolutely free. The website for the camp is incredibly user-friendly, as well, which makes signing up your child a breeze. You can search through a wide assortment of age-appropriate classes that are actually themed to interest your child. There are also activities that you can enjoy outside of the classroom, which can definitely help make the virtual camp entirely customizable for your family's needs.
3. YouTube Camp
YouTube fans won't be able to resist all of the fun they will have with YouTube Camp. As you can imagine, YouTube Camp is going to be based around videos, which makes it a great idea for kids that might still have plans for summer break. Camp users can find crafts, STEM projects, and so much more to help them get on track and enjoy a variety of fun activities. YouTube Camp does require you to make payments, but if you don't want to pay, you can always look up videos on your own and create a summer playlist that is perfect for your family.
4. Camp Supernow
Camp Supernow is another service that you might want to check out for your child. The special camp offers similar courses to the other camps mentioned, which gives your family all the more options to choose from. Like the other camps, you can pick and choose the classes and themes that you want your family to explore. You will find a little something for all age groups, as well as crafts and projects for the entire family. If you're not ready to make a financial commitment to the website, you can enjoy a free one-week trial to help you decide if it is a match for you.
5. Makers Summer Camp
As the name implies, this summer camp is going to provide you with hands-on activities that you can help your children step away from the TV to enjoy some fun. This camp largely caters to items that you make, so you will need to gather some art supplies before you can enjoy the activities. You will also find plenty of STEM options too, which can help your child to advance in school while having plenty of fun.
6. Varsity Tutors Virtual Camp
Another great option for your children is Varsity Tutors Virtual Camp. This special camp is designed to allow you to improve your child's imagination while they work to boost their knowledge. Camps are designed with themes that truly speak to the children involved in them. You find themes like fairytales or LEGO to help suit your child. These camps are filled with interactive activities and can boost knowledge in a number of different topics. The camp caters to children of all ages too, which will definitely make it easier for you to choose the right things to occupy your child's mind.
7. Outschool
Outschool is a great resource for homeschool families and families hoping to help their child improve their education. You can access Outschoolyear-round. However, in the summertime, Outschool offers a special camp that is designed to help bring your child plenty of excitement. Outschool offers everything from basic classes like math and language to extracurriculars like dancing and crafts. Children are placed in small classrooms too, so they're certain to enjoy the experience while getting the attention they need to succeed.
8. Sawyer
Sawyer is another website that connects you to a wide assortment of classes. You can find just about anything from actual physical activity camps to those designed to help your child thrive in the world of STEM. Sawyer is designed with simplicity in mind, as well. You can shop around for camps based on your child's age or their interest, which will definitely make it easier than ever for you to find something extraordinary. Prices vary on the website as well, so you'll have to shop with your budget and supplies in mind.
9. Happy Camper Live
Like many of the other virtual camps mentions, Happy Camper Live offers a huge selection of activities that will help keep your child happy and active during the summer months. This website offers a fun interface that will inspire your child to have a lot of fun as they interact with the classes of their choice. You do have to pay for most of the classes on this website, but the camp does offer a one-week free trial so that can help you figure out if it is the right camp for you. Apart from the trial, there is a section with plenty of crafts and other items to ensure you get to enjoy some of the classes offered at no cost to you.
10. iD Tech
If you have a scientist in your household then this is going to be a great camp for them to enjoy. iD Tech offers a huge assortment of classes based on technology. This camp can be a great jump start for high school and middle school kids hoping to study in the technological field when they move on to college. It is also perfect for students that are interested in all sorts of STEM activities. Like with other camps, you can pick and choose the classes you want, which can help make summer a great stepping stone to the future.
Keeping kids busy during the summer months can be incredibly difficult. However, these ten tips will ensure your child has a lot of fun while learning plenty of new things during their downtime. These camps might not be traditional, but they will help your child to truly have fun and embrace everything that summer learning has to offer.