Labor Day is a nice long break for most people. However, it also provides a good time to shop for items you might need for work, school or everyday life. Every Labor Day, retailers use the holiday to get rid of stock that might not have sold during back to school days. They also work to get rid of summer clothes, last year's appliances and so much more. This can be a great asset for you as it means you can stock up on everything you need to make life a whole lot more convenient. These ten tips will help you maximize your savings on the things you need, so you'll know exactly what to spend your Labor Day weekend looking for.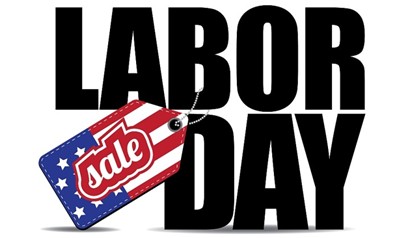 1. Glasses/Contacts
With most students already back in school or planning to attend just after Labor Day, many retailers will take advantage of the new year by offering sales on glasses and contacts. If you're in need of a new pair of glasses, then you might want to head to your local vendor to pick out a couple of awesome looks for less than you'd think to pay. You will be able to take advantage of the same shopping deals online too, but make sure to shop wisely when ordering glasses online. Contacts will be found at a much cheaper price during the holiday too. However, your best bet is to shop online for these items as this is where you will find the great bulk deals. Of course, most optometrists will be closed on Labor Day, and maybe even the whole weekend. So, it is important to get your prescription updated before the holiday sales begin.
2. Clothes
This year, there are going to be a ton of clothing sales to choose from. Your best option will be to look for summer clearance as everything should be on the clearance rack at this point. However, you might also want to look at autumn fashions, too. If you're shopping for back to school items, then you might even be able to stock up on winter jackets and more. The best thing about Labor Day sales is you'll probably find some sort of deal at just about every store you go in. However, some of the major brands that have already started their sales will be up to 50% are Old Navy, Nordstrom, Barneys, Foot Locker and so many more. This will help you get the wardrobe you need for less money than you'd ever expect to pay.
3. Makeup
Believe or not, but makeup does have an expiration date. So, if you bought products for back to school last year and they're still lingering around in your collection, then it might be time to clear things out. Luckily, Labor Day will definitely bring some major sales when it comes to makeup. You should be able to find some of your favorite brands on sale in department stores, brick and mortar brand stores, as well as online. Although many makeup brands intend to offer sales, Sephora is one of the few makeup stores that has come forward about a huge sale. So, you might want to check out your local Sephora store or JC Penny during the Labor Day weekend.
4. Subscription Boxes
If you love getting surprises in the mail, then you're bound to love the deals you'll find on
subscription boxes. There are a ton of subscription boxes now, so if you surf around you're bound to find something that will suit. From books and geeky accessories to socks and wardrobe options, the deals are certain to help you in many facets of life. However, food subscription boxes should be where the majority of the savings are. There are lots of these meal options to work with too, so you can try out a couple of options or subscribe to a food box that you know you'll love. Even the snack boxes will appease your appetite, which can help save on your grocery bill too.
5. Mattresses
If you're in need of a new mattress or you're looking for something more comfortable for your college student, then Labor Day is going to provide you with the sales you need. Sales might not be as great as they were during Memorial Day, but they will be the last major sale before next year when it comes to mattresses. Your local stores should be able to provide you with lots of great sales. Usually, when you shop locally you can even have your old mattress removed for free or a small fee. You might also find some incredible deals online as there are numerous online stores that offer well priced mattresses. Of course, you should always look at reviews for these items. You should also look into fees to remove your old mattress.
6. Computers
With college kids heading back to campus, you might be in the market for a new laptop for your student. Luckily, Labor Day is going to offer lots of great options to keep you happy. You should be able to find deals on some of the top brands like Dell, HP, Apple and more. Most retailers that offer electronics should have lots of deals to choose from, which is good if you prefer to go in and check out items before you make a choice. Of course, you will also find some great deals online, which is perfect if you have an idea of what you already want. However, you will find some incredible deals during Black Friday, so if you don't need a computer right away, you might hold off until the huge savings at the end of the year arrive.
7. Appliances
Labor Day is often a time in which many stores try to ditch some of their old appliances because the new stock will arrive in October. If you don't mind purchasing a 2019 model or older then you might be able to find an extraordinary deal on an appliance that you want. Many stores, like Best Buy, Home Depot, Lowes and so on will certainly have some awesome prices to work with. Small appliances will also be on sale too, which is perfect for anyone moving into their first apartment or dorm room. You might also stock up on small appliances for the holidays as they make great gifts for friends and family.
8. Fitness Gear
Fitness gear is pretty trendy right now and most stores are counting on the trend in order to sell some major gear during the Labor Day weekend. Thus, if you're lacking anything, this sale is probably going to be one of the best times to stock up. One of the most important things you should check out is fitness clothes and shoes. You might even be able to catch back to school sales too, so you can save even more while you're out shopping. Fitness gadgets will also be a great option, especially with new models releasing around the holidays. Best of all, you might find some deals on gym memberships to help celebrate back to school season and more.
9. Grills
Although Labor Day has arrived, summer isn't quite over yet. However, many stores will try to get rid of their grill as if summer is long gone. So, if you are in need of something to cook delicious meals outdoors then you might want to swoop in grab a grill at a reduced price. Since there is still some warm and moderate weather ahead, you'll be able to enjoy the grill for a few more weeks before its time to pack it in for the day. Of course, if you are going to buy a grill late in the game, you might consider purchasing a cover too. This will help keep your grill protected from the elements while it's not in use.
10. Furniture
If you need a few new options for your home, then shopping for furniture is definitely going to be something exciting during the Labor Day sale. Many stores have already proclaimed there is going to be some great deals during the Labor Day weekend. Wayfarer particularly has come out with teasers about the huge discounts they will be offering. These sales can be especially helpful if you're trying to fill up a new apartment or dorm room too. So, you should be able to get the home of your dreams without spending the money you would have expected to.
Labor Day sales are the last big hoorah before Black Friday, so make sure you have some fun shopping for the items you need. These sales should help you with necessities, so you can worry less about shopping for these items during the holidays when you might prefer to spend your money on fun items. With any luck, you'll easily be able to find some deals that will suit your retail therapy desires.