Let's face it, getting a groove when it comes to early mornings can be hard in the first few weeks of school. No one really wants to be up that early and breakfast seems to be the last thing on everyone's mind. However, breakfast is incredibly important for young minds, as going to school on an empty stomach can cut back on learning and the joy of being at school. Luckily, there are a few tricks that you can enjoy in order to make your mornings smoother without forcing anyone to go without breakfast. These ten ideas are healthy, tasty and will make leaving in a hurry possible. So, up your breakfast game and keep your budget frugal with these easy ideas.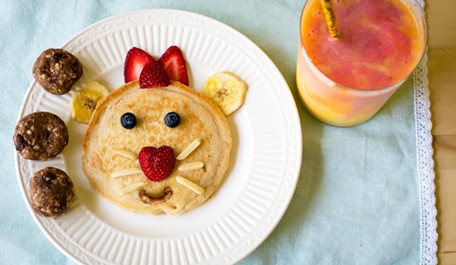 1. Oatmeal
Oatmeal has been a classic choice for breakfast for some time now. However, actually cooking it on the stove top might leave you short on time. You can always cut corners with the premade packages, but these tend to be packed with sugar and unnecessary ingredients. Luckily, there is a way to make oatmeal that can help save you a lot of time. The first way is to use your crock pot. Before you head to bed, add the ingredients you want and place it on low. When you wake up in the morning, you'll have a piping hot meal for everyone. You can even save the leftovers by freezing them and microwaving them when you need another meal. The second way is to embrace overnight oats. This just requires you to add the ingredients to a jar and then place it in the fridge overnight. In the morning, microwave the contents and you have a hearty breakfast. You can even make individual options to suit everyone's taste buds.
2. Frozen Burritos
Without a doubt, frozen burritos are a great option when it comes to easy meals on the go. This dish can be made in so many fun and innovative ways too, so you can mix things up or cater to specific tastes. Best of all, the ingredients for burritos are extremely affordable and can even be purchased in bulk so you can make even more burritos. Best of all, these items are so easy to freeze and reheat that you'll feel like they're your favorite part of meal prepping. You might try classic combos like eggs and cheese or bacon and eggs, but you can also spice it up with vegetables for family members that might be more adventurous. This dish can be eaten on the go too, so it makes the perfect options for days when you're running late.
3. Yogurt Bark
Kids that have a bit of a sweet tooth won't be able to resist pigging out on yogurt bark. This healthy dish can be eaten on the go and is perfect for the first and last weeks of school due to the hot weather. All you need to make yogurt bark is yogurt, honey and toppings of choice. Some of the best items to add to the mix are nuts, fruits and granola. You can even add oats as a filler. Once you've mixed everything up, spread it thin on a cookie sheet and freeze it. After the mixture is frozen, you can break it up and store it in the freezer. This bark also makes a great after school snack, so it definitely won't go t waste.
4. Breakfast Sandwiches
Sandwiches are another easy item to throw together in a hurry and eat on the go. Much like burritos, these items can also be frozen and eaten whenever the mood arises. Best of all, you can make a wide assortment of options. For instance, you can use regular toast, croissants, English muffins and anything else that strikes your fancy. Breads can be filled with eggs, meats, cheeses, vegetables and more. You can even offer sweet option by using waffles as bread and stuffing them with jams, fruits and so on. This gives everyone a bit of variety to work with, which will definitely keep mornings fresh and exciting. Plus, these dishes won't cost a lot to make, so the only thing you'll have to invest in is your meal prepping time.
5. Egg Muffins
Another simple option that is healthy is egg muffins. All you'll need to make this easy breakfast is a muffin tin, eggs and anything else you want to add in. All you have to do is scramble up the eggs and then add in everything that you want to mixture. You can also make a wide variety of options to suit individual tastes, which makes this a hit with most families. You can even substitute eggs for egg whites for those looking for a healthier option. Once you have the mixture ready to go, pour it into the tin and then let it bake. These muffins can be frozen and reheated later too, so you can use them to stock your freezer for easy meals on busy days.
6. Breakfast Casserole
Breakfast casserole is another amazing way to feed the whole family with very little effort. All you have to do to make this wonderful dish is turn the crock pot to low and add all of your favorite ingredients. Egg is the most common item and it acts as an excellent binder. You can use meats, cheese, vegetables, and so much more to make the dish amazing. One of the bet things about casserole is you can use items that you need to get rid of too, so you won't have to deal with food spoiling. Also, you can slice up the casserole and freeze what isn't eaten.
7. Cinnamon Rolls
Cinnamon rolls will definitely help to make a morning fantastic. So, you might want to consider adding this dish to the mix on test days or days your child might be dreading, like the first day of school. This dish does take a bit more time to prep as you must mix and prep the dish. However, you can do this in bulk and freeze the dough so its easy to pull out and pop in the oven. If you prebake the rolls then you can always pull them out of the freezer and simply microwave them to get things started.
8. Breakfast Bars
Breakfast bars can be an incredibly healthy snack that is packed with lots of energy. You can do so much with breakfast bars that you might not run out of options for years. One of the easiest ways to make breakfast bars is to mix cereal with a binder. These aren't the healthiest bars though, so you might look for alternative ideas. Another option is to make your own granola bars. There are lots of recipes online to choose from, which can definitely help you find a match for the whole family. You can also make protein bars with egg whites, dates and other healthy ingredients. The internet will definitely help guide you to try new things when it comes to this dish, so have fun with it. Kids will love the portable foods and might even want them as a snack too.
9. Homemade Pop Tarts
There's no doubt about it, kids love pop tarts. However, the stuff you buy in stores is incredibly unhealthy. So, you might consider whipping up your own batch of pop tarts. This is actually much easier than you think as all you have to do is learn how to make the pastry dough then fill it with fruits, peanut butter or jams. You can make your own filling too, which will definitely cut back on sugar. Once you have your pot tarts stuffed, pop them in the oven and enjoy the delicious smell. These treats can be frozen and eaten as a cool treat, or you can cook them in the toaste for a meal that is easy to eat on the go.
10. Rollups
If you have a few minutes in the morning, then you might consider making some rollups. This dish is very simple as all you need is a tortilla and then whatever else you choose to place inside of it. You can use eggs, cheese and veggies or keep it sweet with peanut butter and bananas or strawberries and cream cheese. If you don't have tortillas in the home, then you can flatten out regular bread and use it in replace of the tortilla. Rollups won't keep as well as the other foods in the freezer, so it might be a meal that you make when you do have some time to concentrate on breakfast. All the same, it is still a cheap and irresistible option that you'll love.
Making breakfast for the family doesn't have to be a hassle when school begins again. These ten options won't take you long to make and will make delicious and healthy foods that can be eaten on the go. With any luck, breakfast will soon become the joy of your family, which might make your life a lot easier.