Did you know that August is National Picnic Month? If not, then you might want to gather up some of your favorite picnic items and enjoy a nice meal with the people you love outside. Picnics tend to be an affordable activity, but there are always ways to make things cheaper if you're looking to be even more frugal. These ten ideas will help you to make incredible choices that will ensure your picnic is not only delicious but will cost you next to nothing. So, get ready to have some fun with the rest of the month, because picnics are bound to be all the rage in your household thanks to these tips.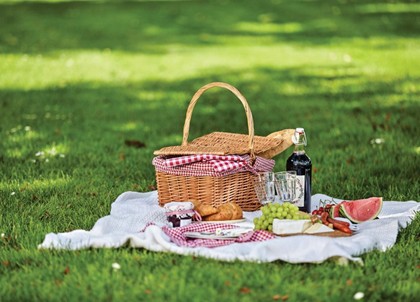 1. Reusable Water Bottles
When it comes to packing a drink for a picnic, most of the time we're fast to pack something that can just be thrown out easily. This seems like the easiest option in most cases, but it isn't always the most frugal of options. You might consider ditching prepackaged drinks if at all possible. Instead, pack a reusable water bottle. This will afford you more space for water, which can help keep your family hydrated in the hot August sun. On top of that, you can refill them at a water fountain or other source of water if you do run out of drinking water. You don't have to keep things strictly water, either. Instead, you can add some fruit to make the water taste better than ever. If you aren't feeling water for the meal, then store tea, lemonade or just about anything else in the water bottle. You'll still save money this way and will produce less trash.
2. Pick a Free Location
Part of the battle with picnicking is choosing where you want to host yours. In most cases, you can find a place that is free, but you might be surprised by how many places will charge you a fee. One of your best options is to choose a public park. These destinations tend to have plenty of places for you to enjoy your meal and dispose of your garbage. You might even be able to use their barbecue pits and other supplies for free. If you have another destination in mind that isn't public, then you might contact the facility that owns it. Sometimes, facilities don't mind guests as long as they clean up after themselves. National parks also host free days, so you can always save money by going on days that won't cost you an entrance fee.
3. Go for Appetizers
Picnics don't have to be all about meals. In fact, you can pack finger foods that are just as satisfying. This might be even better if you plan on playing games and enjoying other activities in the summer sun. Appetizers can help ease hunger while also ensuring you don't overdo it while eating. Some simple ideas for appetizers would be finger sandwiches, chips and salsa and lettuce wraps with fillings of your choice. Of course, you can also keep it simple and tasty with a vegetable and fruit platter that will satisfy everyone. Appetizers help to slow down eating which can help with the bonding experience that picnics create.
4. Stick With Sandwiches
Of course, if you do plan on packing a meal for dinner, you should keep it cheap and simple with sandwiches. You can do so much with sandwiches too, which will make it simple to satisfy everyone. From the classics like peanut butter and jelly or cold cuts to more extravagant items, you won't have to bust your budget just to make this dish. You can even make items like burgers or chicken sandwiches if you want things to be even more filling. No matter what you choose to do, the sandwiches will certainly be a hit with everyone, which will make life so much easier.
5. Use Materials You Own
A lot of people think that they need to go out and buy things to enjoy a picnic. This isn't exactly the case though. Instead of spending money on a picnic basket and blanket, you can easily use items that you already have. For instance, instead of taking a blanket, you might want to take a hot/cold bag. This will help to keep the food at the perfect temperature for your meal. It is also perfect for drinks, desserts and more. Plus, these bags zip, so you won't have to worry about wind catching your items or bugs getting into them when you're playing games or enjoying other activities. A picnic blanket is of no use either. Instead, just grab a blanket from home. This will probably offer a much softer option too. Plus, all you have to do is toss it in the washer and you're good to go.
6. Think About Shade
One of the key elements of a comfortable picnic is staying cool. This might be tough to do in most areas in August, so you'll have to take some extra precautions. For instance, you'll need to look for shade as soon as you get to your destination. If you can find tables beneath an awning or a shady tree, then you've most likely found the prime spot for your picnic. However, if you know you're going to be going somewhere that doesn't have any shade then you might consider bringing your own to the table. For instance, you can use a large umbrella or bring a tent to help keep the space cool.
7. Consider Games
Picnics might be a bust if all you plan on doing is eating. So, instead of just packing food, you might pack some games too. If you're trying to keep things simple, then slip a pack of cards into your picnic bag and play a few rounds of age-appropriate cards. Another option is to bring a ball along, which will open up a multitude of different games that the whole family can enjoy. If you're not sure how to make the task fun then look online for ideas, as there are more than you probably thought possible.
8. Protect Your Skin
There's one thing about picnics that can really ruin everything and might even cost you some money in the long run. That is the elements. It is important to protect your skin when you spend long periods of time outdoors. This means you should wear clothes that will help block UV rays if you have them. Sunscreen is also a must when you go out. A day without sunscreen can cost you a hospital visit as well as many problems in the future. The sun isn't your only issue though. You should also bring bug spray along for the ride, as you're definitely going to be hit with mosquitos and other pests as you try to eat. By protecting your skin, you'll be able to enjoy your time at the picnic more without dealing with aftereffects.
9. Skip Plastics
Another aspect of picnics that can add to the price tag and the frustration is plastics. You can find plastics in more than just drinks too, so try to avoid them as much as you possibly can. One of the easiest ways to do this is to avoid wrapping your foods in plastic wrap. Instead, wrap items in a napkin. This will ensure everyone has a napkin and will save on the number of things you have to throw away. You should also pack foods in reusable packaging where you can. If you don't want to cook, try to avoid foods that are covered in plastic as this can force you to spend too much on the items you serve and will leave you with lots of garbage that could end up harming animals.
10. Make it a Potluck
Picnics don't have to be small either. Instead of keeping your picnic private, you might want to ask others to join in on the fun. Simply have everyone bring a dish that they can share and the party should be exciting. This is a great way to try new foods, meet new people and learn how to play exciting games. Potlucks are great too because it means no one is really burdened by the cost of the event. All you have to do is show up with the food or drink that you promised to and you're in store for some fun.
National Picnic Month is a great time to enjoy the last days of summer. They can also bring a touch of nostalgia to your day, which will make you want to enjoy them more often. No matter how or why you picnic, these ten tips will help you keep the event cleaner, frugal and more fun. So, don't let the month pass you by, as you might miss out on some good old-fashioned fun before school begins.