Temperatures are rising! Even though it is getting pretty hot outside in most places, summer doesn't officially begin until June 20th. This gives you plenty of time to plan an epic day filled with fun activities for you and your family. The solstice is a great time to help children understand the importance of seasons while also celebrating all of the fun you have during the summer months. If you're looking for ideas to keep everyone busy on a budget, then these ten options are certain to suit your plans for the solstice and the entire season.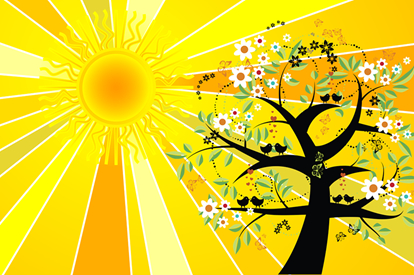 1. Climb Towards the Sun
One of the big symbols of the summer months is the sunshine. It sticks around longer during the summer and its hot rays make it possible to get outside and swim. One great activity that will add a touch of magic to the holiday is to have children climb towards the sun. This can easily be done while hiking. Simply have the family walk up an elevated trail so it feels like your kids are actually walking towards the sun. You can also do this with mountain climbing if your children are old enough to safely do this. Of course, you should always take precautions such as sunscreen and sunglasses to ensure no one is harmed while having fun.
2. Solar Pizza Oven
If you'd like to teach your kids a little science, or even just a survival hack, then making a solar pizza oven is another wonderful option. All you need for this is a cardboard box, preferably a pizza box, black construction paper, aluminum foil, and plastic wrap. Line the bottom of the box with black paper and add tin foil to the sides of the box. Then cut a hole in the top of the box and place plastic wrap over the hole firmly. The heat that the sun provides combined with all of these elements will cook anything in the box. So, you can have kids safely make their own pizza, cookies, and so much more.
3. DIY Greenhouse
Summer is a great time for planting things. So, creating your own little greenhouse is a fun way to keep kids occupied while allowing them to grow their own produce or flowers. There are so many ways to approach making your own greenhouse, so you can easily find tutorials online that will suit the age groups that you're working with. If you're not interested in making an entire greenhouse then you might consider a terrarium. This craft not only allows children to learn about gardening but can help them understand the greenhouse effect.
4. Summer Crafts
Another fun way to celebrate summer is by giving your children some summer crafts to enjoy. There are so many crafts online that you can find almost anything that will keep kids occupied and having fun. Most of these crafts will be based around the sun, which is great for little ones learning shapes and colors, as they will have the opportunity to work with primary colors, and circles, and triangles. Of course, you can also find crafts based around summer themes, like the ocean.
5. Water War
It isn't quite summer without a water war or two. So, one way to bring in the new season is to have an incredible water bottle. You can use just about anything for this, as long as your family is having fun the supplies won't matter. Water balloons and water guns are two of the more common items to use. However, if you don't have these on hand then you can try cutting up sponges for a water war or using squirt bottles. There are even tutorials online that will help you make your own water gun, which can keep kids busy for quite some time.
6. Lake/Beach
Nothing combines Mother Nature and summer together better than a trip to the lake or beach. These destinations will allow you to soak up some sun while giving you the perfect place to cool down. Generally, a trip to the water is pretty cheap, if not free, so you can totally enjoy yourself without having to worry about going over budget. If you pack a picnic and plenty of water, you'll be set for a day of celebrating the season in the best possible way.
7. Bonfire
At the end of the day, when the sun goes down and the heat finally begins to lift, you might want to consider a bonfire. Although you won't really need a bonfire to keep warm, it can be a source of excitement for the family. If you're not certain how to get a bonfire started, there are tutorials online to help you along the way. Once you get your fire going, you can cook hot dogs, make smores, and enjoy any other summer food staples you please. It also creates the perfect setting to sing songs and tell stories. If you can't get a permit for a bonfire then keep things low scale with a fire in your fire pit at home. Of course, you should watch out for burn bans, so you don't get a fine for burning or put your property and the property of others at risk.
8. Enjoy Sun Weaving
Sun weaving is a traditional craft that many different cultures have to utilize to celebrate the sun. This type of weaving can be hard to begin with, so you might need to check out some tutorials to get started. Once you get the hang of things, sun weaving can help you relax while you make a beautiful decorative item that your family can cherish. They do have kids to help you get started on your sun weaving journey, but if you're looking to save money, then online tutorials should help you to find the right setup and technique to make your weaving fun instead of frustrating.
9. Suncatchers
Another fun project, especially for toddlers, is sun catchers. These can be made in so many ways and from so many themes that you can't really go wrong. One simple way is to cut out a shape for your child to use and then have your child use tissue paper to fill the center of the shape. When it is filled, you can use a laminate strip to secure the colorful design, or simply utilize packing tape. When the project is complete, you can tape the item in your window. Another way to tackle this job is to simply have a child paint an object, like a paper plate or plastic oatmeal lid. The painting can then be hung in the window so the sun can catch all of its amazing colors.
10. Plan Your Summer
As the day winds down or when you simply need a cool down from the heat, you might consider having a sit-down talk about summer. You can chat about activities that children might want to do or plan out vacations. You may also want to talk about how your children will continue on with their education during the summer months, or chores that kids will need to take on while they're home. You might even want to talk about meal ideas or recipes that you might want to learn to cook together as summer nears.
The summer solstice can be a whole lot of fun for your family while still being light on your budget. These ten ideas can help you kick off summer the right way while offering you plenty of ideas to keep the whole family busy as summer rages on.