With summer vacation in full swing and the holidays rapidly approaching, you might find yourself wondering if your home is going to be safe and sound during these high crime times. If you don't have a security system in place and want one, then you have a lot of options to mull over. However, if the price is a priority, you might find yourself grasping at straws to find a good match for you. Luckily, there are many options to choose from that won't leave your home unprotected while you're away. These ten options will certainly help you factor in your budget as well as your peace of mind, which will truly make life better.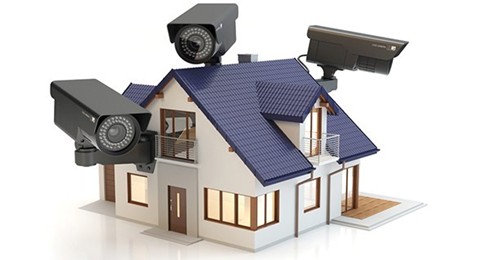 1. Ring
The Ring has been buzzed about over the past year quite a bit. The system starts out with a secure doorbell, which offers a camera and speaker so you can talk with whoever is at the door without actually having to open your door. Best of all, the doorbell hooks to an app, so you don't even have to be at home to answer the door or monitor it. If you have a Samsung smart home, then the Ring will connect to your products to make it even more efficient. The doorbell isn't the only thing to purchase though. You can find flood lighting, motion sensors, cameras and a whole security system. This set is easy to build as you go, but also features bulk discounts. You can even find a payment plan to help you out if you can't afford everything upfront. Best of all, the monitoring price for this system is only $10 a month, which is basically your typical weekday lunch at a bistro. Finally, you install everything yourself, so there aren't hidden fees to deal with.
2. Adobe
Adobe home security, not to be confused with the software, is another install it yourself company that can save you big time. Plans for the security service start at $8 a month, which is next to nothing when compared with other companies. Best of all, you can purchase the items you need instead of having to deal with bundles. Each individual item is priced fairly, which will allow you to shop as you can, so you don't stretch your budget too far. This company even offers signs, some of which are lit with solar power, to add even more security. If you do wish to bundle shop, you'll find some great deals that will help you feel more secure from the very beginning.
3. Nest
The Nest is actually very similar to Ring only is powered by Google. You will find home security devices, a convenient doorbell, indoor and outdoor cameras as well as a smart thermostat. These products work together to offer you the peace of mind you need whenever you're home or away. The devices connect with anything that is compatible with Google, which includes major brands like Sony, LG and Toshiba. Nest can be installed on its own too, but if you're having trouble then you can pay for a professional to do the job for you. The only setback for Nest is the fact that they don't offer their own monitoring. You can go through Brinks for this service, which means paying their fees and adhering to contracts.
4. Vivint Home Security
Vivint Home Security has become one of the leading names in the security business over the past few years. This is largely because the company makes it incredibly simple to get your home secured in next to no time at all. The company will also offer maintenance on your security items. Plus, you will get a sign for your yard, which will add even more security to your space. However, you do have to choose to have a contract with them. This means working with their bundle options for your home, which might not offer the right materials for you. The cost monthly can be low though, so it might be a good option if you're okay with long term contracts.
5. SimpliSafe
If you're looking for a company that can actually do it all, then SimpliSafe might be one of the best options. This company will give you a personalized bundle based on the description of your home and your needs. The security items can even be installed yourself, so you don't have to worry about paying any extra. Although you do have to pay monthly for the service, about $14.99, you can end the service or pick it back up whenever you please. This service offers fast dispatching and 24/7 monitoring to suit your safety. It also alerts you when there is a fire, flooding and so much more. This service can be used with your Alexa too, which will add even more convenience. There is also an option for a duress pin, which can dispatch assistance to you in no time. The company also offers free shipping and returns as well as a 60-day money back guarantee if you are not satisfied.
6. ADT
ADT is one of the most trusted names in home security. It has been around for 140 years, so you know they must be doing something right when it comes to protecting the homes of its customers. This company doesn't offer a simple plan that covers a wide range of customers. Instead, you'll have to call in or look online to see a quote based on your home and your personal needs. The company also requires a contract, so you will be stuck with the service for a few years. However, there is a 6-month money back guarantee, so you can try it out to see if it will work for you. Plus, the company will pay up to $500 of your insurance deductible if a break in does happen while your home is protected by the company.
7. Brinks
Chances are, you've heard of this company fairly often. Brinks offers security for a wide variety of things, including moving money from stores to the bank, airport security and, of course, security for your home. It was also ranked the number one home security system just last year. This service will provide you with everything you need to monitor and protect your home from anywhere in the world. Of course, since the company is more popular and highly ranked, you are going to pay a bit more for the service. This isn't entirely bad though, because you will know you're going to get what you pay for. However, monthly prices for the equipment won't run you over $20 a month, so if you don't want to pay upfront then you won't have to ruin your monthly budget either. Obviously, this service will cause you to stretch a bit further than some of the others, but if you're looking for reputable coverage then this is the way to go.
8. Scout
Scout home security has been skyrocketing in popularity. This system allows you to build your own bundle, so you can choose the items that are right for you. You can also be walked through the process by a professional to ensure you will have the system you need to totally feel comfortable when you're away from your home. You can also add new items to your security hub as needed. The company offers month to month plans as well, which will allow you to use the service whenever you need and put it on hold if you're having trouble budgeting. You can also choose a self-monitor method as well as a police supervision method, to ensure you get the coverage you need.
9. Front Point
Front Point also has high ratings that can help you feel more at ease with your home. You can start your service out with a discount on supplies thanks to many of the offers the company provides for new customers. This service also allows you to not only protect a home you own but is perfect for anyone in an apartment hoping to find some much needed security. The plans for this company start at $99, but you will have to put in your information to receive a free quote for your own personal needs. You will also have a contract with the company, but it won't last as long as other companies on this list.
10. DIY it all
Of course, if you really are on a tight budget, then it can't hurt to DIY all of it. If you're going for as cheap as possible, you can purchase faux cameras and signs claiming to be using a security system. This will help give the illusion that you're covered at all times. This obviously won't give you the same protection as an actual system, but it can help detour criminals from stopping by your home. Other than that, you might keep an eye out for clearance cameras to help set up a secure basis for the home. You can also look for more efficient locks, a digital doorbell and so forth. These materials can be bought as you gain the money, which will certainly make it easier to keep your home protected without throwing your budget to the wind.
Protecting your home doesn't have to stress you out in the long fun. Instead, it can be an exhilarating experience that leaves you more at peace with your home. These ten options will allow you to shop around for the best plans for you, so you can feel safe and sound while keeping money in the bank.