Rosh Hashana is just a couple of weeks away and if you're looking to celebrate the Jewish New Year, you might be stressing about your budget. Luckily, you can easily enjoy this holiday on a tight budget. You might not enjoy the extravagance that you normally would, but you won't miss it after using a few easy budget-friendly trips. These tips may even help you shape a new way to embrace the holiday so you can fully enjoy celebrating the New Year without leaving your budget overly stretched.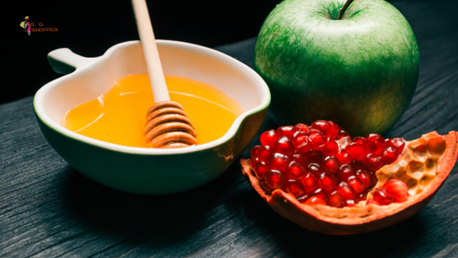 1. Say Yes to Substitutions
When it comes to Rosh Hashana, food is definitely a big deal. However, that doesn't mean that you have to spend a small fortune on an extravagant meal. Yes, the meals associated with the holiday tend to be more formal, but that doesn't mean that you can't make substitutions to make the meal budget-friendly. To begin with, you might consider having chicken as the main dish instead of dishes like lamb or beef. This will cut back on the spending substantially. You might also consider using items that you already have in your pantry. For instance, if a recipe calls for prunes, but you have raisins in your pantry, then use these instead. These simple substitutions won't change the quality of the meal and they'll help you save quite a bit of money.
2. Beauty in Simplicity
There is so much beauty in simplicity, so make sure to use this in your favor. You can make so much of your celebration simple. For example, choose a meal that caters to everyone's favorite flavors. For instance, a meal heavy in homemade bread and soups will excite the family while still offering plenty to rejoice in. Choosing items that are simple and cheap to make can make the holiday feel more enjoyable as it will take some of the pressure off of you as you celebrate. Even keeping décor to a minimum can make the holiday more enjoyable. So, this New Year, don't concentrate on going all out, instead treasure the beautiful things in life that have been cherished by your family for generations.
3. Enjoy Water
Beverages tend to take up a large portion of a budget when you're hosting a meal for loved ones. There are many ways to cut back on spending money on this part of the budget while leaving your guests completely satisfied with what you have to offer. Instead of wasting money on sodas, wines, and other beverages you might consider going with water. You can create a wide assortment of infused waters that will make your guests wonder why they don't enjoy the mixtures on a daily basis. With fruit playing a major role in the holiday, you can enjoy the fruits you have to make your water delicious. There are many recipes online that can help you truly get more out of your water.
4. Shop in Bulk When Needed
Shopping in bulk is a great way to cut down on the budget of any holiday. However, it isn't always the most frugal of options. If you're shopping in bulk, then you need to be careful because it won't always suit your budget to do so. Only shop in bulk for items that are actually going to be used. If you're purchasing items in bulk because the price is low, then there is a good chance your buying items that may not be used. Even if the deal seems great you should pass it up if you don't actually need it. Unless you want to share the cost with others and split up the items, so they aren't as overwhelming in the home.
5. Apples and Honey
Apples and honey are traditionally a major part of the Jewish New Year. This tradition can also help you save a lot of money. You can use apples and honey throughout the celebration. So, make sure to add it to your budget for appetizers, snacks, and desserts. You can also use apples and honey as ingredients for recipes to help stretch your budget even further. Apart from that, you can set out apples and honey as decorations, so you can easily save money on décor as well.
6. Accept Help
When it comes to holidays, you might be reluctant to receive help when you're hosting. Many take it as their duty to make their guests experience incredible. You don't have to take it all on alone though. If someone asks to bring a dish, then it will help out immensely if you graciously accept their offer. This will cut down on the money you need to spend on the event as well as the time you have to spend in the kitchen. Apart from that, it allows others to share a piece of their story with you, which can make the experience all the more incredible.
7. Embrace the Farmer's Market
The Farmer's Market is going to be a great asset for your holiday experience. A trip to the farmer's market will help you find the best possible ingredients for your holiday dishes and snacks. Best of all, everything will be local which means it will be better for you. You'll find most of the fruit you need for your meal, but you might also use the farmer's market to purchase honey. Honey purchased locally not only helps locals, but it can help your immune system and cut back on allergies. During your trip, you'll probably find some fun things to do which will add to the entire experience.
8. DIY Card
Sharing some love can be hard when you don't live near your loved ones. That is why sending out cards can be a great way to bring joy during Rosh Hashanah. Of course, you can purchase cards in the store, but this takes a lot of fun out of the experience and will cost you more money than you'd expect. Creating cards can help you show off some creativity while giving everyone a personal message that comes from the heart. This is also a great way to engage the kids in the holiday, as they help you to create fun cards for family members.
9. Pottery Gifts
If you'd like to give gifts during the holiday, then making them yourself can be a lot of fun and save you some money. One of the easiest things to make is pottery. This is great because so many aspects of the holiday use pottery in one sense or another. One easy thing you can make is a tray to display fruit. You can paint it with apple accents, or anything else that strikes your fancy. Other than that, you might consider trying your hand at making a honey pot. This will make a great symbol for the holiday and will ensure people remember you whenever they enjoy some honey.
10. Visit a Farm
Keeping the family busy during the holiday can be tricky especially if you're trying to stay on a budget. One of the easiest things to do is head to a farm. Usually, farms that offer fruit picking have plenty to do during the autumn months as they hope to get rid of some of their harvests. When you head to the farm, you can easily pick the apples you need for your holiday celebrations. You can also take part in fun activities like corn mazes, fruit picking, country inspired games. This will help you purchase what you need while allowing you to help out local farmers in the process.
Rosh Hashanah is a great time to bring the family together while celebrating. It never has to be an occasion that is going to cost you a small fortune though. These ten tips will help you choose the best possible option for you, so you can get the most out of your holiday and your budget.