The holiday season is around the corner, which means it's time to start planning all of the holiday traveling that you hope to do. Unfortunately, hotel stays aren't exactly budget-friendly. Luckily, there are quite a few options that can help you save money on the hotels that you actually want to stay in. These tips can help you ensure holiday travel won't leave you hurting as you recover from the holiday months and will ensure you have more enjoyment as you take to the air or roads.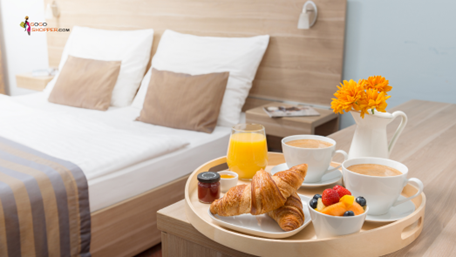 1. Travel in the Off Season
If you can avoid holiday travel, you absolutely should. Staying with a loved one is always a better option during this time. Instead of booking hotels for this period of time, you should save your money and book for the off-season. This will allow you to find hotels at a more affordable price. It will also mean you can travel without dealing with crowds. You may even get a better room during your stay and won't have to share the amenities with a lot of other people.
2. Read the Fine Print
A lot of hotels like to take on hidden fees. So, when you're quoted a price, this often isn't the price after the fees that are tacked on. One of the best things you can do is look at the fees before you sign anything confirming your room. If you don't see anything on this, then call up the hotel and ask what their fees are. They will have to disclose this information. If you don't agree with a fee, a lot of the time you ask for it to be waived. Many hotels will do this, especially if you're looking for a room during the off-season.
3. Enjoy Continental Breakfast
A lot of hotels offer a continental breakfast to draw in customers. This is included in the pricing the hotel creates, so utilizing this amenity can help you save extra money. Some hotels go all with a breakfast that rivals local restaurants. Other hotels will offer the basics like bagels, yogurts, oatmeal, and so on. No matter what you choose to do, enjoying your breakfast at the hotel can cut out the price of one of your meals. Most will also offer coffee options, so you won't have to go out to purchase coffee either. It might not seem like a lot of money, but as the days pass, eating breakfast for free will help cut back on the price you pay for your travels.
4. Use Loyalty Points
If you travel a lot, then loyalty points may be your key to cheaper hotels, especially around the holiday season. Most hotels are a part of a chain, so when you stay with any of their branches you will receive loyalty points that you can use within the branch of the chain. Every time you stay in a hotel you will earn points, but some hotels will offer other ways to earn points. So, it is important to do some research to know which loyalty programs you'd like to join. This will also allow you to know exactly what perks you will receive when you sign up.
5. Use Your Credit Card
Although charging expenses might not be your cup of tea, it can actually be beneficial when it comes to booking a hotel. A lot of credit cards will give you extra points for hotel rooms, which means you can use these points for rewards later on. Of course, you should know about your credit card reward policy before you book your hotel through this method. You should also pay attention to the interest rate on your card, so you can easily pay it off when you can. If you have questions about this, you might call your credit card company. Sometimes, they will offer special deals for specific brands.
6. Always Book in Advance
When planning a stay in a hotel, the most important thing that you can do is to book in advance. You should try to do this several months in advance if possible. You will be able to not only secure your room but choose a room that is nicer. You may even have a better chance of upgrading your room when you check out, which can make your stay even better. Booking early can also earn you some major savings which will be great for your travel experience.
7. Business Hotels
Business hotels can be a great asset for anyone hoping to save some money. These hotels are designed for individuals that might be traveling for conferences, or even those that may need to stay in an area a little longer. Typically, these hotels don't book up on the weekend though, because most business takes place during the work week. So, you might look into booking at one of these hotels on the weekend when booking rates tend to be lower to entice people to stay. There are lots of great business hotels out there, so make sure to do research to find which works best for you.
8. Browse Listing Sites
Listing sites can be your best friend when it comes to finding a hotel to suit your needs. However, in order to find the best possible deal, you should browse all of the listing websites available. This will not only allow you to compare prices, but it will help you find the lowest possible deal. Most of these websites also offer reviews, so you can spend your time reading them and finding options that will suit your unique needs. This can be a big help as it will allow you to book with confidence.
9. Bundle with Airfare
If you're planning on traveling a long distance or simplifying your destination, then you're at an advantage when it comes to your savings. Often, when you bundle with your airfare, you'll get even deeper discounts on your hotel stay. Many airlines will partner with chains to make this happen, so you can feel satisfied that you're going to get your money's worth. You'll have to go through a travel agent or a booking website to find these deals, so make sure to shop around using both options to lock in the best possible price.
10. Call the Hotel
Booking online is incredibly convenient, but you may not get the best possible price when you do this. Instead, you should always try calling the hotel before you book online. Sometimes, if you call the hotel then you can haggle down the price or even upgrade to a better price. Even if they aren't willing to negotiate, you can take down a price so you can compare it with other hotels and online prices.
Booking a hotel doesn't have to leave you fearing for the price that you're going to have to pay. These ten tips will help you to find the best possible deals so you can enjoy your time away from home without dealing with the prices of staying elsewhere. You may even be able to find a new hotel chain that you enjoy, which can make traveling a lot easier for you.