Autumn is basically here, which means it's time to upgrade your decor. If you're ready to embrace the autumn months, you'll be happy to know that many of the decor trends for this season are functional, stylish, and easy to maintain on a tight budget. These ten ideas will make you feel like your home deserves to be featured in a magazine while allowing you to fully embrace your artistic side to create a warm and inviting home.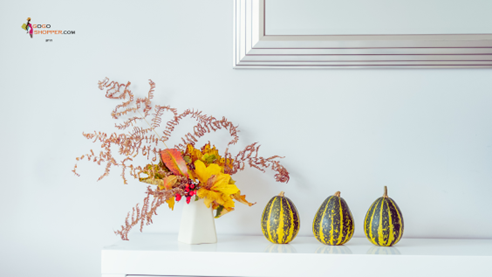 1. Earthy Tones
In true autumn fashion, earthy tones are going to be one of the biggest trends of the season. This year you'll want to purchase items with stunning browns and oranges. However, there are many other tones that are considered earthy which will make your home truly pop. If you want to go all out for the autumn months, then an accent wall in earthy tones will truly transform the space. However, if painting is too time-consuming or not something you'd like to do then there are so many other options. Accent pieces, such as decor items, flowers, pillows, and blankets are a great choice. You can even add in art pieces to highlight the earthy tones and bring out your love of autumn.
2. Wooden Accents
Wooden accents are going to be big this season. If you're looking for a big project to undertake, then you might consider adding wooden paneling to your home. Replacing the floor with wood or faux wood options will also pop. Apart from that, you might consider adding wooden furniture that will stand the test of time. If you don't want to purchase new furniture, then you might consider adding wooden accents to the furniture that you already have. Other than that, wooden sculptures or art pieces will add plenty of charm to the home while satisfying the trends.
3. Weaving
This season woven things are certainly making waves in the trendy section. If you want to add comfort to your home, then purchasing woven items will do the trick. Decor that features weaving is going to be very easy to spot in more stores. You'll find everything from furniture options to small decorative pieces that you'll love showing off. The best thing about this trend is you probably already have many options to choose from in your home. You can also create your own weaving to show off in the home.
4. Crisp White Focal Points
Another simple trend to hop on board with is crisp white focal points. This can be anything from your walls to stylish decorative items. This trend is easy to channel too as many homes already feature white walls. All you need is to freshen them up for a look that everyone is going to compliment. Apart from that, you'll find that adding hints of white to furniture is almost effortless, A white pillow or blanket accent can do the trick. However, older items might look incredible when reupholstered. Pieces of art that are largely white or white sculptures can also define a room and make it trendier than you'd ever expect. The crisp white trend will make most rooms more spacious and cleaner which can make you feel more at home.
5. Wreaths
Wreaths are returning as a trend you'll want to hop on board for during the autumn months. Typically, you'll find wreaths with leaves and other fall elements in stores. The wreath can also be swapped out to suit the holidays. For instance, you can add Halloween or Thanksgiving wreaths to ensure that you have a change of flavor during the season. There will be lots of wreaths to choose from on the market, but you'll also find that wreaths are pretty easy to make on your own. This can save you hundreds of dollars.
6. Pendant Lights
Boring light fixtures are out this season, which might be cause for concern if you're trying to keep up with trends. Swapping out light fixtures isn't really a hassle though. With a few tutorials, you'll be able to jump on the task without batting a lash. This season, pendant lights that become the focal point of the room are the way to go. You'll be able to choose from a wide variety of selections with many suiting a wide range of budgets. Of course, following trends like crisp white colors or earthy tones will also help you to keep up with the fashion trends with ease.
7. Curves
Curvy is big this season, which will help make your home look incredible. You can find curvy in so many aspects of design. One of the more common ways to add it in is through furniture. Chairs with curvy backs, rounded tables, and accent pieces that are curvy will definitely make your home look incredible this season. You can also stand out with red blankets or rugs. One of the easiest ways to incorporate curves into your home is to add in art pieces that show off circular designs. You can even make these yourself, which can add to the personalization of the home.
8. Marble
Marble is big this year. Although it is typically found on countertops and can be very expensive, you'll find that marble can be added to many aspects of the home. You can even make your own paintings that look like marble. Adding these special touches to the home can transform the way it looks and feels, which is incredible for helping you add a luxurious feel to the home while still catering to the autumn vibes.
9. Patterns
This fall is all about the patterns which will make decorating a lot of fun for everyone. You can choose from a wide variety of patterns too. Florals, vintage prints, and even subtle designs will be trendy. However, checkerboard patterns are going to be the best possible choice for you. You can add patterns to just about everything too, which makes it a simple way for you to decorate without having to go the extra mile. An easy way to incorporate patterns is to use contact paper on surfaces or add fabrics as accent pieces. This will certainly keep things on the cheap side while allowing you to explore your creativity.
10. Mirrors
Another big trend for the season is mirrors. You can place these everywhere to add to the home. The great thing about mirrors is they help to create the illusion of space, which can truly add to a room. Your choice of the mirror really doesn't matter either. You can choose mirrors with vintage frames or those that offer a modern appeal. You can even have mirrors that stand in the place of art or complement an art piece. How you use the mirror depends on your own personal taste, so have fun with it. If you're looking for a cheap way to add mirrors to the home, then hitting the thrift store would be wise.
Decorating for autumn can be a fun way to make the most out of your home's aesthetic. These ten ideas will keep you on budget while allowing you to truly feel confident in your setting. Between the warm colors and stylish designs, you'll feel even more at home in your surroundings without stretching your budget.